Lenovo to launch its Vibe X2 on 4th September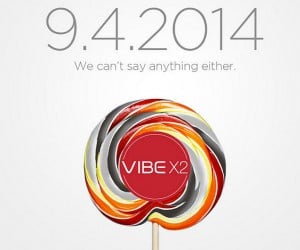 Lenovo has sent out invites for its event on 4th September at IFA, Berlin. Surprisingly, these invites feature a lollipop with Vibe X2 written in the centre thus fuelling claims that the company is all set to launch its latest smartphone, the Vibe X2. The lollipop seems to be hinting at Android L, the latest version of the Android operating system. The invite is topped by a satirical statement on top which says 'We can't sat anything either.' This statement is definitely a take on Apple's punchline on its invite which says 'Wish we could say more'. Healthy humour before the start of IFA surely points out to a great event ahead. The invite also reveals more that the real name of the latest version of Android i.e. Android L is 'lollipop' and not 'lemon meringue pie'. However, Google is yet to confirm this news and unless coming from Google, the world cannot believe any speculation.
The Vibe X2 will be released in a few days but if the leaked reports are to be believed the phone has a 5 inch HD screen. It is powered by a dual-core processor and 2 GB RAM. It also has a 13 mega pixel rear camera with LED flash and a 5 mega pixel front camera. According to the leaks, the phone is an exact replica of its predecessor the Vibe X but it has a better processor. The Vibe X is currently priced at INR 22,999 which is INR 3000 less than the price at which it was launched in December last year.