Xiaomi looking forward to launch its Mi Band in India at just $13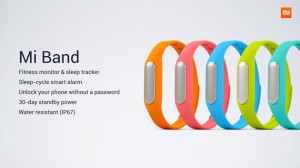 Xiaomi could launch its wearable device, the Mi band by the end of 2014 in India, as soon as it passes the regulatory guidelines. The device is ultra affordable and is priced at a mere $13 which comes out as INR 700. Xiaomi's global vice president, Mr. Hugo Barra made this announcement recently. It was said that the device relies solely on Bluetooth and has a standby life of 30 days.
As the device is to be worn like a watch, it is an added feature that the Mi Band is water resistant. It is equipped with a fitness monitor which syncs with the Xiaomi smartphone with help of the Mi and android app. However, the device does not display any metrics on itself as such and the user has to finally use the phone itself for details of the workout. It also comes with a sleep monitor. The Mi band app developed by Xiaomi can extract details from the device like the number of calories burnt, number of hours slept, etc.
For the fashion conscious, the Mi band comes in 6 colourful variants – blue, brown, pink, black, grey and purple. Another purpose solved by the device is that it can be used to unlock the Xiaomi smartphone without typing any passwords.
Samsung is the world leader in wearable smart devices and has three new products up for release – Gear 2, Gear 2 Neo and Gear fit. Other major players in this market are LG (G watch), Motorola (Moto 360) and the soon to be launched Apple's iWatch. These products present a tough challenge in front of the Mi band. The other products have more features and are more power packed. The Mi band with very few features has only one shining quality i.e. its low price.