Xiaomi now showing its charm in Indonesia : 5000 Redmi 1S sold in 7 minutes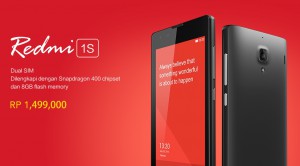 It is not at all surprising to know about the flash sales of Xiaomi devices in India. In India, Flipkart, the sales partner of this China based company has always ended the flash sales in few seconds because of the high demand of the products of Xiaomi. But this time it's not Flipkart, it's Lazada.  In Indonesia, Xiaomi has collaborated with Lazada for the sale of its smartphones and all other smart gadgets. The company has claimed that this joint venture has proved very fruitful for both the partners. Lazada has declared that the newly launched Redmi 1S from Xiaomi vanished from the site in just 7 minutes. Xiaomi has expressed its happiness over this sale.
But are these facts are true or they are just rumours spread as the publicity stunt!! The doubt arises because the website of Lazada crashed during the sale for around 42 minutes. Some reports have mentioned that after one hour the option of sale gets transformed to "sold out". It was the first flash sale from Xiaomi for the online sale of its smartphone Redmi 1S in Indonesia. The reports from the company has unveiled that 5,000 phones were sold out in just 7 minutes. Although the first flash sale of Indonesia is not able to beat the records set up in Indian flash sales of Xiaomi phones. In India, 40,000 Redmi 1S was out of the stock in just 4 seconds. The Lazada will do free home delivery of these smartphones. Redmi 1S was launched officially last week in Indonesia.