ZOPO Mini Hei 3 4G cellphone goes on sale on September 25; costs 999 RMB (162.80 USD)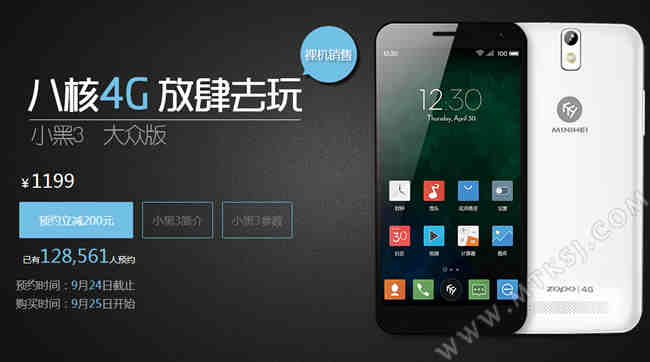 On September 25, the first batch of ZOPO Mini Hei 3 will go on sale. Reports posted by ZOPO show that nearly 130,000 people have already pre-ordered this phone in the company's official website. Those who pre-ordered can buy the phone for 999 RMB. After the first batch of phones are sold, it will cost 1199 RMB (195.43 USD).
The first version of the Zopo Mini Hei 3 that will be released is the Popular Version which has weaker specs than the ZOPO Mini Hei 2 but supports 4G internet. The Mini Hei 3 uses the MT6592M and MT6290 dual-processor and supports TD-LTE, TD-SCDMA, and GSM networks. It also supports dual-SIM making. Not many 4G devices support this.
The Mini Hei 3 sports a 5.5-inch 720p display screen and a 5mp/14mp dual-camera, has 2G RAM and 16GB ROM, is powered by a 2700mAh battery, and supports a gyroscope, electric compass, Hall switch, OTG, and Wifi Display. Its OS is based on the Android 4.42.