The VEB V2 (199,999 RMB/32,631 USD) is the most expensive Chinese cellphone around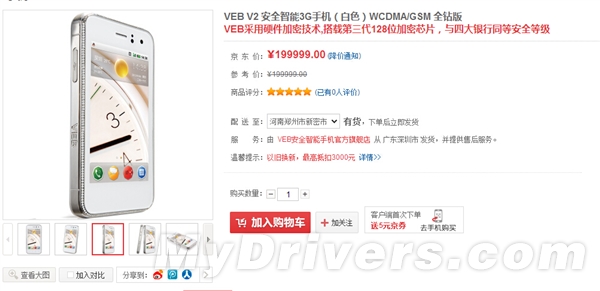 What is the most expensive Chinese cellphone? It is probably this one.
An Android 3G cellphone called the VEB V2 recently went on sale online and its biggest selling point is said to be the fact that it uses a third-generation 128-bit encryption chip, similar to the ones that China's big four banks use for security purposes.
The price is unbelievable as the VEB V2 costs up to 199,999 RMB. The specs though are very week. It only has a 4-inch 480 x 800 display and 512MB RAM.
VEB's other devices are not exactly cheap either. Their cheapest phone costs 7999 RMB (1305.11 USB), while their two other devices cost 37999 RMB (6199.87) and 49999 RMB (8157.78 USD).