Meizu MX3 get a price cut to 1299 RMB (211.55 USD) in China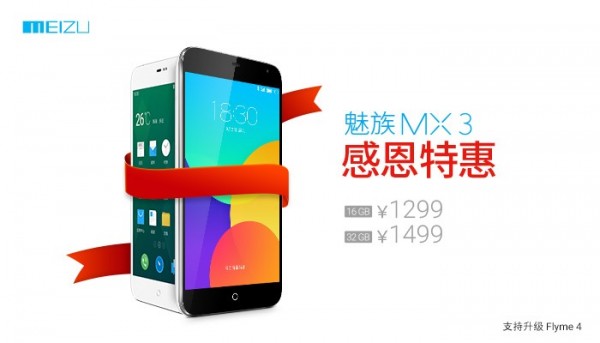 Today, Meizu announced that they will do a price cut to the popular Meizu MX3 smartphone in China. The 16GB, 32GB, and 64GB versions of the MX3 will soon cost 1299 RMB, 1399 RMB (227.84 USD), and 2099 RMB (341.83 USD), respectively.
The Meizu MX3 sports a Sony 8mp camera with an F2.0 aperture. The technology used for its camera allows the Meizu MX3 to high-quality photos in the dark. It is also worth mentioning that the 32GB and 64GB version are both NFC-supported, transforming your cellphone into a cellphone wallet or mass transportation card by using it to make payments.
Those who want this phone can buy in China's 1000 Meizu stores, Meizu's online store, etc.