Huawei Honor 6 Plus to use Kirin 925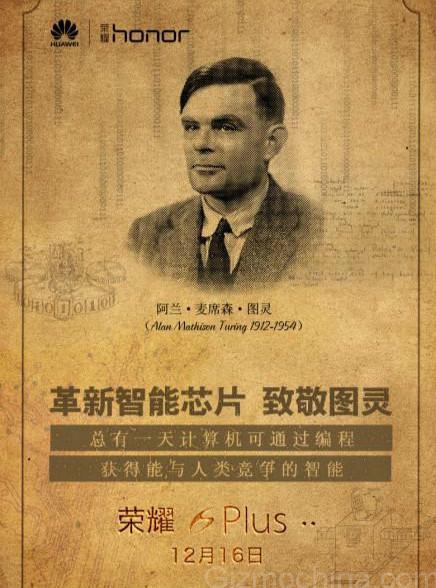 As we approach the end of 2014, electronics companies are trying to make one last impact by releasing new products. Xiaomi has just released an air purifier. Then you have Meizu which will soon launch its new brand, the Meizu Blue Charm Brand. Not to be left out, Huawei is also going to release a new product called the Huawei Honor 6 Plus which will be formally launched on December 16. The other day, Huawei released a new poster for the Honor 6 Plus in the official Weibo account of its Honor subsidiary. The poster features a photo of Alan Turing, which Huawei makes a tribute to. Below it is a message that says, "To revolutionize smart chips in memory of Alan Turing". As of now, most of Huawei's cell phones use processors made by its in-house CPU manufacturing company, HiSilicon. The Huawei Honor 6 Plus will not be any different as it will use a new processor provided by HiSilicon.
The Huawei Honor 6 Plus will use HiSilicon's Kirin 925 CPU chip. This octa-core CPU chip has a maximum frequency of 2.0GHz. With a chip this powerful, the Honor 6 Plus could be a good choice.
As HiSilicon continues to grow, it is beginning to make an impact on the market while competing with the likes of CPU giants like Qualcomm and MTK, and it will only grow further.
As for its other specifications, the Huawei Honor 6 Plus will sport a 5.5-inch 1920 x 1080 display screen. It will also have 3GB RAM. In addition, it will also sport an 8mp front-facing camera and two 8mp rear-facing cameras. Its operating system is the Android 4.4.2-based EMUI OS.
What do you readers think? It could make a nice Christmas gift, right?
[socialpoll id="2236804″]