Huawei Honor 6 Plus Officially Launched
The original Huawei Honor 6 had quite a success if we consider the pack of specs it had and the price it offered.
Today, while the Huawei's event is still going on, we would like you to give some info about the brand new Huawei Honor 6 Plus. Here is a short hands-on video and some pictures for you to see:
The new device appears to be quite a beast of the phone as it spots the specs like 5.5″ Full-HD display, dimensions of 150.46 x 75.68 x 7.5mm, home-made octal-core Kirin 925 processor, clocked at 1.8 GHz, which is said to be better than Kirin 920 chip, i3 Sensor Hub technology (we will detail it more later), 3 GB of RAM, 32 GB of storage, which can be further expanded via Micro SD card slot up to 128 GB, dual-camera setup on the back with dual 8mpx sensors, which are able to produce 13 mpx pictures, 5 mpx front facing snapper,  it has a dual SIM card slot, OTG function, infrared port, NFC support.
Here are some more pictures in the gallery:
Camera
During the introduction video the Huawei walks through the history of photography and ensures that for a greater quality of the pictures, the lenses must capture more light. The company seeks to provide new photography solutions "by thinking outside the box". The Huawei assures that the new device is a photography beast!
What is more, it has what Huawei calls a "Symmetrical dual camera technology". The device packs two 8mpx sensors on its back and it can take 13 mpx shoots due to the software implementation. One of the advantages of this technology is the fact that sensors can take as twice as much light into it than a single sensor. Thus, it should assure a great picture quality in the dark and assure faster shutter speeds. Also, it has pixel size of 1.98 um. Moreover, the octa-core Kirin 925 chip has a separate SLR-grade ISP to ensure the professional looking photo quality. Thus, it eliminates the need for large sensors on the phones. When you want to take a picture, two sensors work simultaneously to achieve faster focus and capture more light (they are said to be working "like human eyes"). Also, the camera has a closed-loop motor to achieve a blazing-fast focus of 0.1 seconds. Furthermore, the device features some more fancy technologies for a great depth-of-field effect as well as the brand new Vision Camera technology works for low light shots. Also, there is new image noise reduction technologies as well as 3IE algorithm system in the pack. In addition, the dual-camera setup is made of ultra-strong zinc alloy frame, where two sensors are kept strictly in parallel to ensure the absolute precision.
All of this is to ensure the ultimate camera experience for a user. We will need to wait for a full review to see if it can live up to the expectations.
Moreover, the Huawei Honor 6 Plus has 3600 mAh battery, which is very huge as it can even work as a power bank to charge other devices.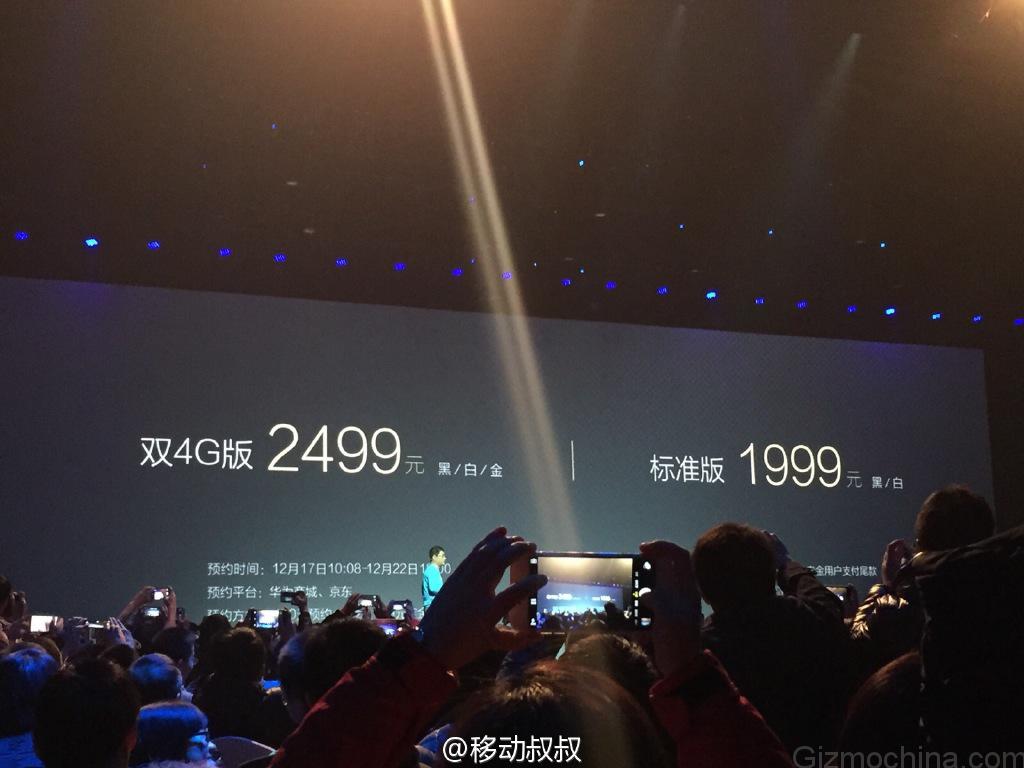 Dual SIM version of Huawei Honor 6 Plus, where both SIM card slots support 4g network (it has the same frequencies as Huawei Mate 7) will cost 2499 Yuan.
The version, which also has two SIM card slots, but only 1 SIM card supports 4G LTE, will cost 1999 Yuan.
The device can be pre-ordered tomorrow, and shipped one week after pre-order. One of the Huawei's vice-presidents said that he predicts that this device can be sold at the amount of 10 million units. There is not word on international availability and pricing yet.
[socialpoll id="2238355″]