OnePlus launches 10000mAh battery pack for 14.99 USD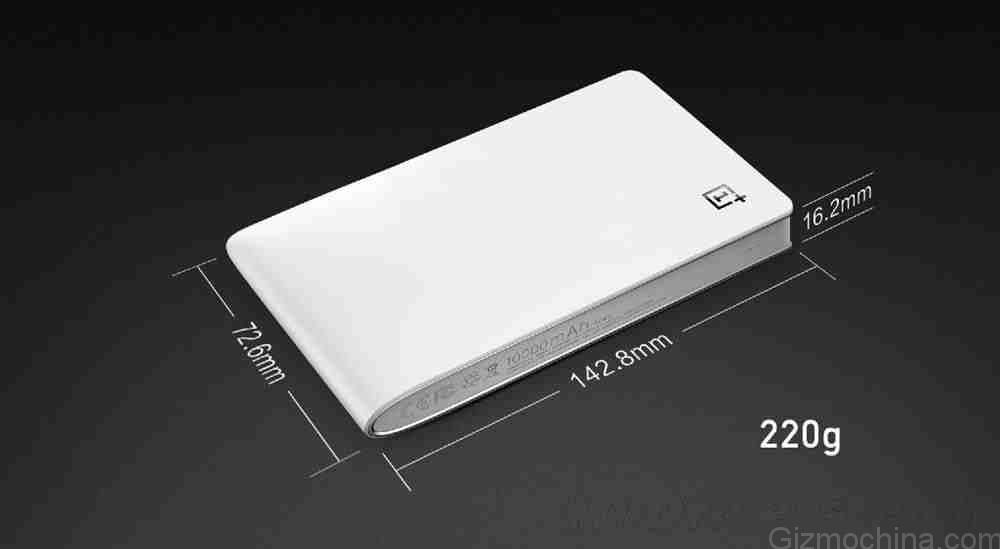 OnePlus has been on the news a lot for the last several months. First, there is the leak of a couple of pictures of what is allegedly the OnePlus One Mini. It is said to have dual 8mp cameras and use the Android 4.4.4 operating system. It also has a 5-inch display screen and uses the Qualcomm Snapdragon 615 CPU. Also back in November, they fuelled rumors of a new first generation device by saying that a new "evolution" will take place soon.
That is not all. Yesterday, OnePlus announced that they would release two new products today. Some speculated whether one of them would be the OnePlus 1S cell phone or a wearable device. Now they revealed one of the two devices and itt turns out that it is neither.
Instead, they launched a new external battery pack. This new battery pack from OnePlus uses a Lithium ion battery chip from ATL and is said to be able to charge the iPhone 6 at 4.5 times the rate. Its dimensions are 142.8 x 16.2 x 72.6mm. It also weighs 220g and comes with four LED lights. This battery pack from OnePlus costs 89 RMB in China and 14.99 USD abroad. It will go on sale this January.
Having already launched one of its two new products, one cannot help but wonder what OnePlus' other product will be released today. Will it actually be the OnePlus 1S cell phone or some kind of new wearable accessory? Maybe they will launch a new pair of earphones like the OnePlus Silver Bullet earphones.
Anyway, the OnePlus battery pack looks pretty good. So, for those who want a new battery pack to carry when they go out with their cell phones, you better mark your calendars.
[socialpoll id="2238571″]