OnePlus One Mini may have 5-inch screen, Snapdragon 615 processor, and cost 1499 RMB (241.95 USD)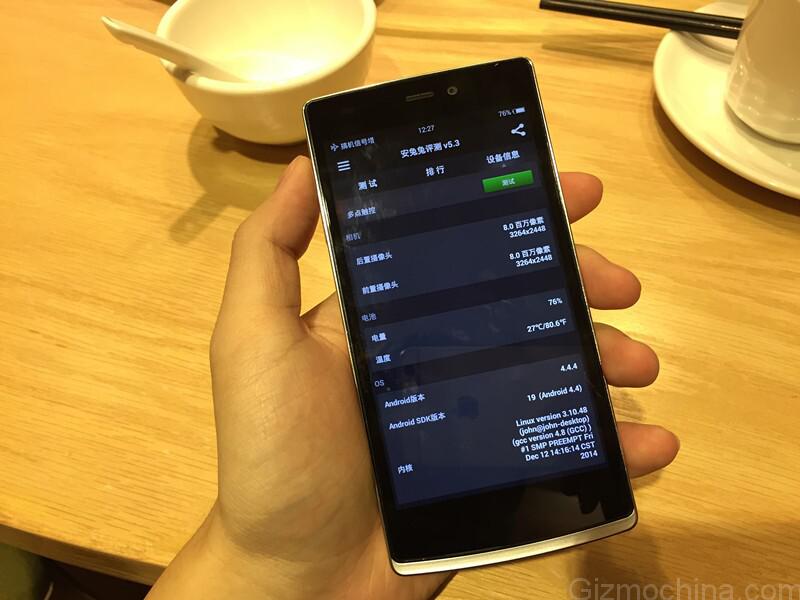 Recently, an image of what seems to be a new phone from OnePlus was leaked online along with information about it. It is supposed to be a Mini version of the popular OnePlus One. It is also supposed to cost 1499 RMB, sport a 5-inch display screen, and use the Qualcomm Snapdragon 615 chip.
According to the information provided by Antutu, this device has dual cameras, both of which are 8mp cameras. Its operating system is the Android 4.4.4. As the pictures show, it has a black front and white back just like the OnePlus One.
The second half of 2014 has been quite a busy time for Chinese cell phone manufacturer, OnePlus. Back in September, the company announced their intention to release the 64GB version of the OnePlus One in India for INR 25,000 or $415. This phone sports a 5.5-inch 1080p display screen and has the 2.5GHz Qualcomm Snapdragon 801 CPU. In addition, they released their own pair of earphones called the "Silver Bullet" earphones for 99 RMB (16.13 USD). They also released a version in collaboration with American electronics company, JBL. This version has speakers and earphones made by JBL and the entire package costs 2199.99 RMB (359.04 USD).
With the possible release of a OnePlus One Mini, this makes us wonder if they will release many other versions of the OnePlus One as well as what their plans are for 2015. Will they release a OnePlus One Pro? What will be their follow up to the OnePlus One? Will it be called the "OnePlus Two"? These are just some of the questions we are wondering and hope we can find out soon. For now, we will just have to wait.
[socialpoll id=" 2238270″]