Coolpad Dazen X7 photo shows world's first glass cell phone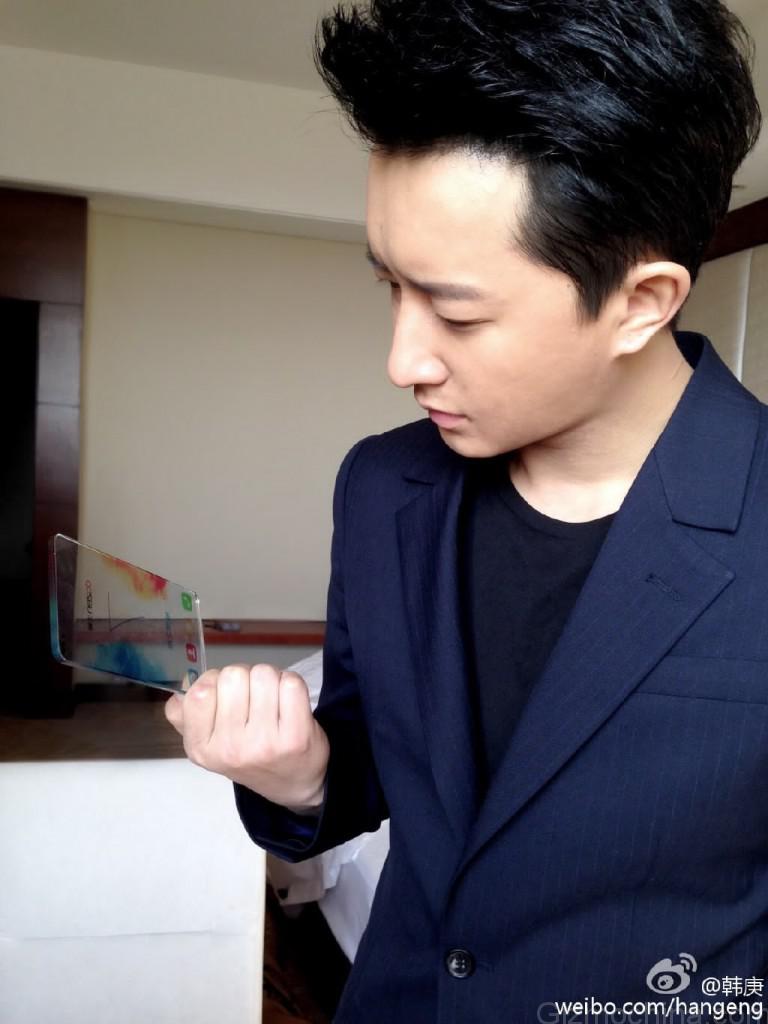 Coolpad has been very busy for the last several months, especially with their Dazen subsidiary. Last November, they revealed the new logo for its new sub-brand which has the word "Dazen" in it. This Dazen is a combination of the words "Dare" and "Zenith" and based on the logo's style, it is obvious that they are targeting the youth demographic. They also recently announced a re-release of the original Coolpad Dasen F1, tentatively called the "New Coolpad Dazen F1". This new version uses the MTK MT6752M octa-core processor (1.5Ghz) and supports FDD-LTE, TDD-LTE, WCDMA, and GSM networks. It also sports a 5-inch 720p display screen and has 2GB RAM and 16GB ROM. It also comes with a 5mp front-facing camera and 13mp rear-facing camera. It is powered by a 2000 mAh battery and its operating system is the Android 4.44-based Cool UI. As you can see, Coolpad has been busy preparing their upcoming releases, and that is not all.
Today, pop star, Han Geng, released a photo in his Weibo account that shows what is purportedly the upcoming Coolpad Dazen X7 high-end phone. As the photo shows, the phone is completely made of glass. The Dazen X7 is this year's flagship phone for Coolpad's Dashen subsidiary, and Han Geng is the first to post a photo of it. The Coolpad Dazen X7 will make its debut on January 8 and may cost around 5000 RMB (807.04 USD). It may be the first ever cell phone to be made entirely of glass.
As January approaches, we will see more information about this phone coming out soon. This picture confirms that it is made of glass. A metal glass case is definitely stronger than steel and very hard. It also looks really pretty and is very scratch resistant.
[socialpoll id="2238260″]