Possible Design Sketches of the IUNI U4 Are Exposed
IUNI is one of the companies in China that managed to make a great start and shake up the competition. They may not have a market share like Xiaomi, but they are indeed a big threat in the future. This becomes even more obvious, because the company uses very similar marketing strategy – top-notch hardware for an amazing price.
What is more, the IUNI puts a lot of effort to the design of their products. They have already proven that by manufacturing their all metal smartphone – IUNI U2. It does not matter that it was released quite some time ago, it still offers a bunch of specs packed in a very attractive, high quality and compact design.
Company's latest device – IUNI U3 also has one of the top hardware components, which are packed in a quite brilliant body. This time around, the IUNI decided to use more plastic instead of metal, but still, the alloy chassis and frame makes it quite a looker.
This time we have some interesting news for you as we see as what can possibly be the next flagship – IUNI U4.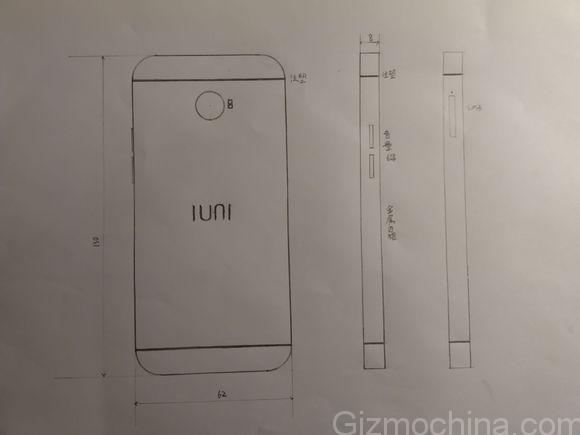 If the numbers on the sketch are correct, the device should be in the category of compact smartphones. The length is supposed to be 130mm as the width is marked as 62mm. As far as thickness goes, it should be 8mm, which puts it in average category. Well, if we consider the latest Vivo X5 Max, it would be quite a fatty. In the end, 8mm is fair enough for most of people.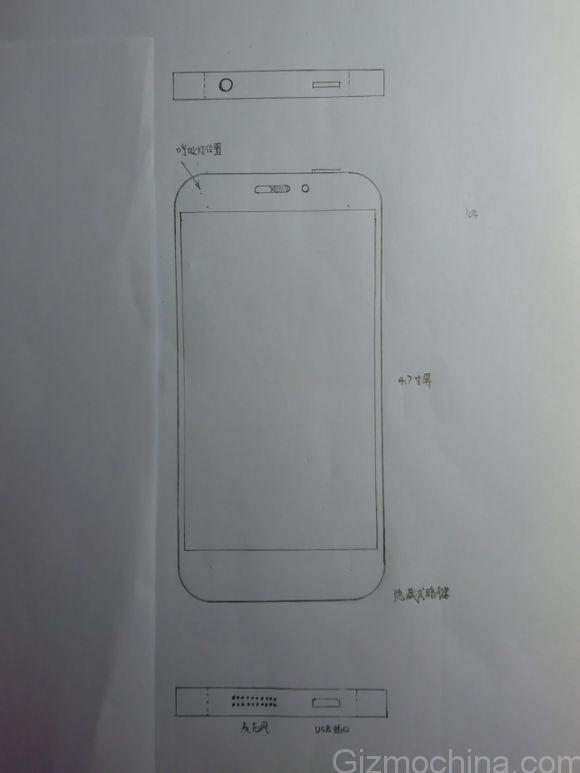 As far as other design elements go, the device is expected to have quite good screen to body ratio, where 4.7″ screen is chosen to assert the compact phone's category. Also, there is a  headphone jack and power on/off button on top, speaker grill and micro usb port on the bottom.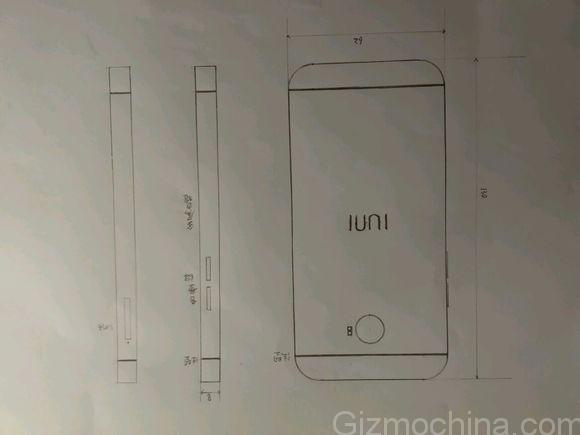 What is more, there are two tripes at the back of the device, which impose the fact that the phone will be made out of aluminium or other alloy. Also, there is a camera with dual LED flash.
Having seen these design sketches we liked it. Well, but we noticed one aspect, which is the inspiration coming from another company (guess what). However, given the fact that the company always manages to offer amazing specs for even more amazing price, we may accept it.
The above sketches also suggest that some of the previous leaks, which implied the fact of existence of IUNI u4 already in flesh and blood turn out to be fake.
All in all, this is quite interesting move by IUNI to produce a compact class device. So far it seems that only Sony has managed to offer a compact device with no compromise to the specs (Z1 or Z3 compact series). Can IUNI do the same?
[socialpoll id="2238763″]