Meizu Blue Charm devices may not come with Flyme UI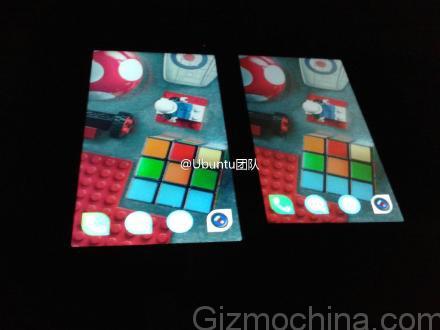 We are just one day away from the official event scheduled by Meizu but we are regularly getting new leaks about the upcoming Meizu Blue Charm devices. While the company hasn't confirmed the existence of  such a brand as of yet, we expect tomorrow's announcement to confirm and make it official.
Today, we have some interesting news about both the upcoming Blue Charm devices. In a set of pictures leaked earlier, there are two Meizu devices running an entirely different looking OS/ UI instead of the company's Flame 4.0. One is larger than the other, which could be the Meizu Blue Charm Note and the other being the Meizu K52, the 4.6-inch model.
From the pictures, it looks like both the models are running a modified version of Jolla Sailfish OS. The icons at the bottom are similar to the ones seen on the Sailfish OS. Moreover, the overall interface too looks similar to Sailfish, which could mean that the new Meizu device may feature this instead of Android.
However, that is very unlikely and even if Meizu Blue Charm devices did have this UI, it would most probably be just a launcher and not an entirely new OS. Sailfish has been growing pretty steadily, but the app store and the overall operating system still has a long way to go to replace an OS like Android. Another possibility is that this can also be a different variant of the two devices, for those interested in having Jolla Sailfish, but even that does not sound practical. So, for now, we think that this is just a Sailfish launcher on top of Android 4.4 KitKat OS!
Lets recap the Meizu Blue Charm Note which hit TENAA around two days back.  It features a 5.5-inch 1080p resolution display, 64-bit MT6752 octa-core processor clocked at 1.7GHz; 2GB RAM, 16GB storage capacity; 13MP rear  + front 5MP front cameras, 3050 mAh battery and TD-LTE, TD-SCDMA, and GSM network support. For more information on Meizu Blue Charm Note, check out our earlier post.
This is an interesting new piece of information but take it with a grain of salt. Meizu has been developing Flyme UI for quite some time now and there is no need for Meizu to abandon that in favor of an entirely new UI.
Luckily, we don't have to wait too long to find out more about the upcoming Meizu Blue Charm devices as the company is expected to announce them both along with a number of other Blue Charm gadgets at the 23 December 2014 event.