LEAGOO Lead 7 Review: Best smartphone under $120? (4500mAh battery + 8MP front camera)
Leagoo Lead 7 – a new player in the long-running smartphones market.
Leagoo is a new brand name for many, but for some, who have used the company's previous smartphones, the brand will be well recognized. This is because, in just a matter of a year, the company has developed and released a number of successful products in the market.  We have already reviewed some of the company's phones in the past, and they have all turned out to be surprisingly good for their price tag. For example, both the Leagoo Lead 3S (it made it to our best smartphones under $100 list!), and the Leagoo lead 2, performed exceptionally well for its price tag.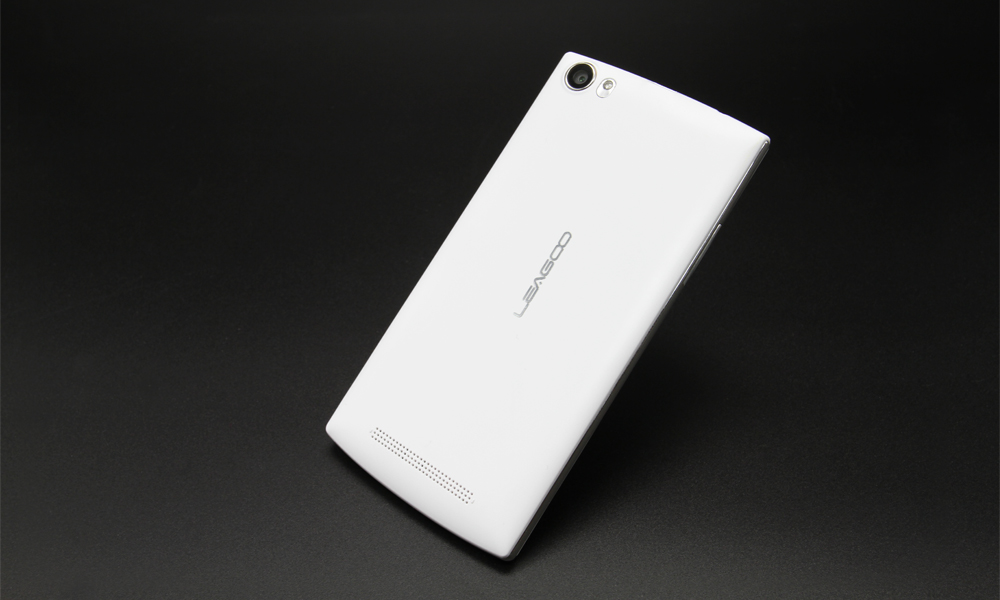 This time around, we are looking at another gem of a product from LEAGOO, the all new Leagoo Lead 7 flagship. Yes, the company has put the best of everything that you can get in under $130! And trust me, you won't expect these features in this price range!
Its time to look at the TOP FEATURES which makes this device one of the best, if not THE BEST phone in its price range.
First amazing feature: 4500mAh battery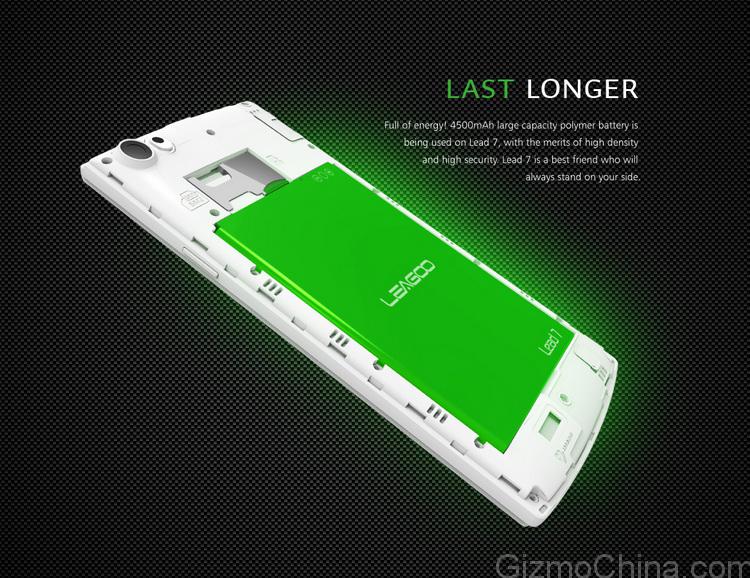 Yes, you heard it right! The phone has a very large 4500 mAh battery. Even phones in the $200-$300 price range struggle in this category. The battery is so large, that we don't think you'll ever need to worry about your phone's battery again. Yes, there we said it, the thing that haunts most smartphone users these days is exactly where the Leagoo Lead 7 triumphs! The cherry on the cake is the charge time. The phone will charge to 80% from 0% in under an hour! Thats a very impressive feat for a 4500mAh battery device. Further, even when your phone has switched off due to 0 percent battery, it will start again as soon as you plug in the charger. You no longer need to wait till it reaches to 1 percent.
Coming to the most exciting part of the device, i.e. its talk time. The Leagoo Lead 7 is capable of giving you an impressive, 23 hours of talktime in a single charge! You can listen to your favorite music for up to 30 hours or even watch videos for up to 16 hours by charging it just once. And if you are worried about running out of charge when the phone is idle, don't, because this battery has a massive 450 hours of standby time.
And if you have other devices with small batteries, don't worry as Leagoo Lead 7 can also act as a power bank to charge these devices. Just plug in a OTG cable between the two devices and Lead 7 will instantly transfer the charge to the connected device.
Overall, the Leagoo Lead 7 is the ultimate phone that you can get in this price range. Its enormous 4500 mAh battery throws every other competition out of the game.
Second wonderful feature: MTK6582 Quad core 1.3GHZ Processor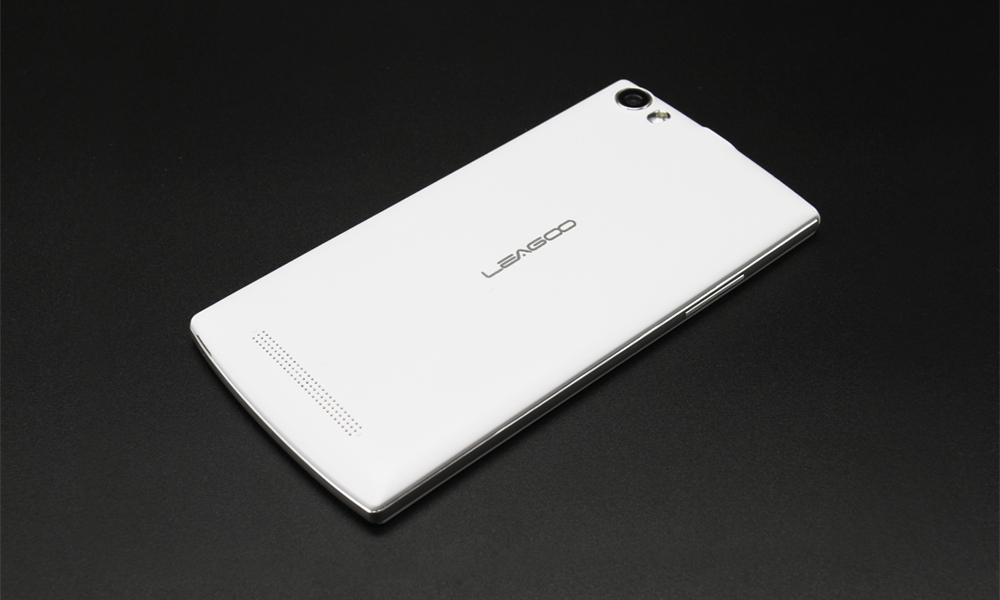 MTK6582 processor is standard when it comes to budget phones. So, it no surprise that the Lead 7 packs in this quad-core processor clocked at 1.3GHz with 1GB RAM. While this isn't the fastest processor out there, the performance is quite decent and you can pretty much do everything you want on the device with the SoC. Moreover, the Mali 400MP multi-core GPU will handle your graphics needs pretty smoothly.
Third wonderful Feature: 5.0 Inch 1280 * 720 HD JDI IPS Screen
LEAD 7 is equipped with a 5.0 inch JDI display, which applies low temperature poly-silicon technology and is beneficial to improve 30% permeability and reduce the power consumption. Once again, this screen is pretty much standard for any device in this range and is good enough for satisfying all your entertainment needs.
The 5-inch display is particularly handy for operating the device. Its big enough to watch videos and play games with ease, yet compact enough to operate it even with a single hand. You may call the 1280 x 720p resolution low, but remember that just a couple of years back, even 540p displays were considered good enough. And the flaghips came with a 720p screen which was considered awesome. So, you should have no complaints with this wide angle 720p display!
Fourth wonderful feature: 13.0MP Master camera and 8.0MP Front camera 
The Lead 7 features dual cameras. The rear camera measures 13MP and has f/2.2 aperture. Most smartphones don't have the main camera with 13.0MP in this price range. However, this phone takes thing a bit further by integrating the stacked CMOS sensor technology by Sony, 5P lens and other complicated technologies.   The 13MP shooter will make sure that your pictures are not pixelated and you get clear shots, both in day as well as night.  Of course, night shooting won't be the best in such cheap phones, but a little bit of additional artificial light should get you decent and clear shots.
The front camera is even more awesome. Given the popularity of selfies, the phone comes with a 8MP shooter up front, which is uncommon among phones in this price range. To make things more interesting, the company has a special beauty shot feature which allows users to select the make up before taking the selfie. This makes sure that you get a very good looking picture.
Fifth wonderful feature: OTG, 3G, Google play store, multi-language
You have every other practical feature that you need — OTG, Google Play Store support and even multi-language support. As mentioned above, the OTG is particularly useful in charging your other devices. Google Play store ensures that you have millions of free and paid apps at your disposal and multi-language supports ensures that everyone can use the phone in their native language.
Sixth wonderful Feature: Beautiful Design

The Leagoo Lead 7 looks very different than other traditional offerings in this price range. The phone has round look, thanks to its slighly curved top and bottom edges. This gives it a unique look, setting it apart from the numerous block rectangular designs available in the market. The color options are standard, so you have white and black colors to choose from.
Both the colors looks exceptionally good, but if we had to choose, we would go with the white version because it looks a lot more premium.
Colorful and Smart UI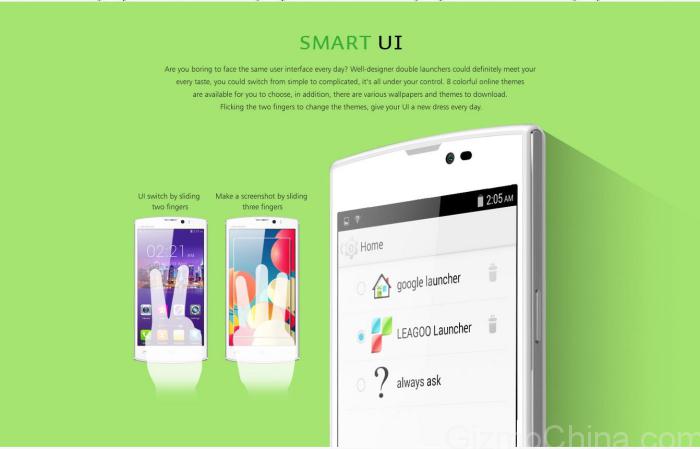 LEAGOO UI 3.0 keeps the flat design style and further improves the user experience. The phone basically runs on Android 4.4 KitKat out of the box with this Leagoo UI. It comes with several nifty features to ease up your every day interaction with the phone. For example, you can switch UI by sliding two fingers, or make a screen shot by sliding three fingers. There are many gesture features available too!
LEAGOO XENDER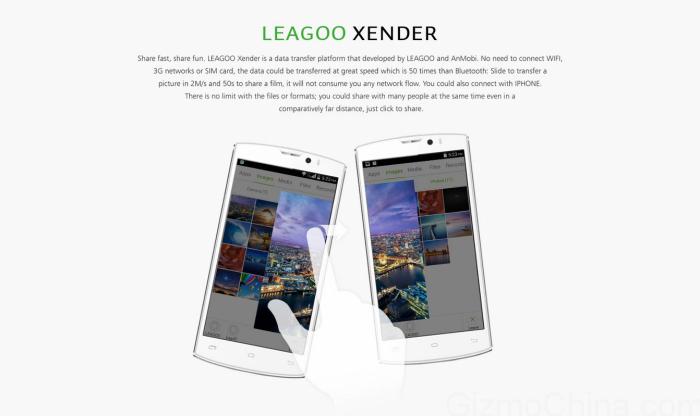 LEAGOO LEAD 7 XENDER is a data transfer platform that is developed by LEAGOO and AnMobi. This advanced technology enables you to transfer anything to and from your phone with speeds that are 50 times faster than a traditional Bluetooth connection. And if you are wondering about data charges, then you'll be surprised to know that the phone does not need Wi-Fi or 3G networks to conduct this transfer. So, its a very good way to share things between two phones.
Check out the video below to see how well it works in real life. We have also added a coupon after the video to reduce its price tag by $15 for a limited period!
Now, you see why we think this is the best phone in its price range?
To make things even more fun, we have got a special coupon for you. Usually the phone retails for more than $130+ on the online stores, however, we have received a special coupon which allows you to buy it for just $114.99.  Yes, you get a discount of more than $15 on this already cheap device, which definitely makes it one of the best phones in its range.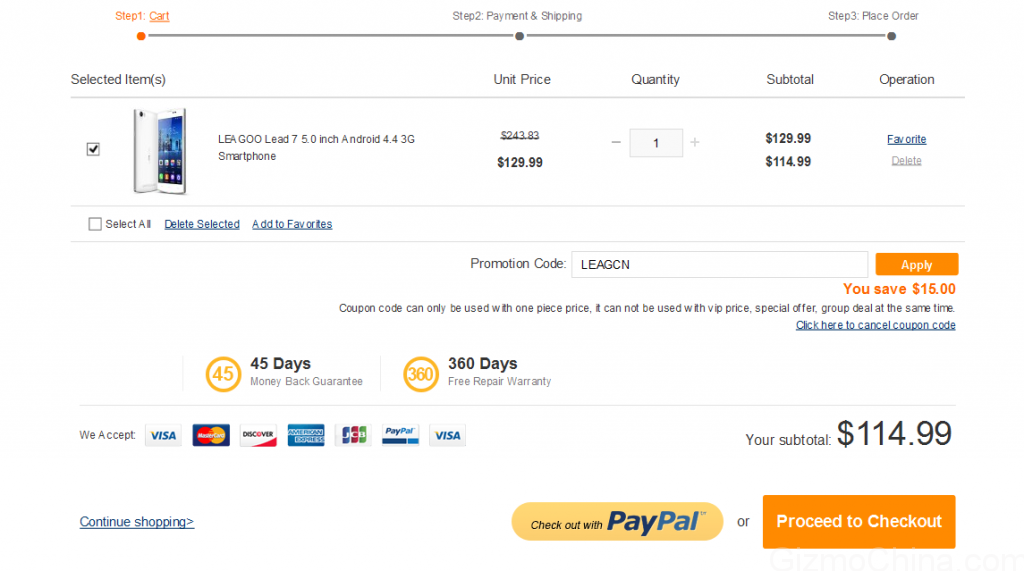 Unfortunately, the above deal expired. But we have got another deal for you guys from everbuying.net.
You can buy the device from the reputed online reseller, everbuying.net for $117.98 with a coupon from discountion.com ! We don't know when this coupon expires, so make sure that you make the purchase as soon as possible.
[socialpoll id="2247011″]
Full TECH SPECS:
Brand / Model
Brand / Model               LEAGOO Lead 7
System
OS                                    Android 4.4
CPU                                MT6582 Quad Core 1.3GHz
GPU                                Mali  -400MP
RAM                               1GB
ROM                              8GB
Extend card                  MAX supports 32GB Class 10 Micro SD Memory Card (TF-Card)
Screen
Display Size                 5.0 inch HD
Screen Resolution       1280×720
Screen Type                IPS-LCD, Multi-Touch Capcitive Screen
Display Colour          16 Million Colors
Color                               Black / White/ Gold
Dimensions                  144 x 71.6 x 8.9 mm
Net Weight                    165g with battery
Camera
Front Camera                 8.0 mega pixel, supports Skype Video Calls
Rear Camera                   13.0 mega pixel / Auto Focus / Flash Light
Band
2G GSM:                            850 / 900 / 1800 / 1900 MHz
3G WCDMA:                     850 / 1900 / 2100 MHz
SAR                                     0.5 W/Kg
SIM Card                          Slot Dual Sim, supports W+G / G+G
Support Format
Audio                                   MP3, AAC, WAV, etc
Video                                  AVI, MP4, FLV, 3GP, MOV, ASF, MPEG, RMVB, H.263, H.264, etc
Data Transfer & Connectivity
Data transfer                      Bluetooth 4.0, USB 2.0
Mobile internet                  WiFi, EDGE, GPRS, UMTS, HSPA, HSPA+
GPS                                      GPS, A-GPS
Functions / Features
Functions / Features         G-sensor, P-Sensor, FM radio, Wifi, GPS, Multi-touch, Dual SIM, Schedule Power on/off
Sensor                                   Gravity Sensor, Proximity Sensor
Battery
Battery                                      Li-Pol Battery 4500mAh
What's in the box
What's in the box               Battery x 1, Earphone / Headset x 1, Power Charger x 1, USB Cable x 1