Xiaomi Mi Note vs iPhone 6 plus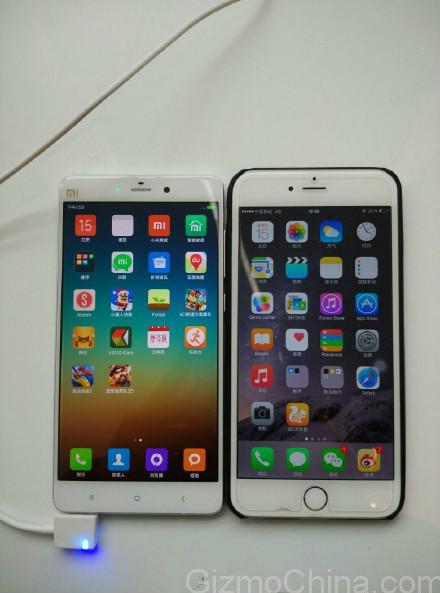 Today's the day! Xiaomi held a launch for its new releases, one of which is the Xiaomi Mi Note cell phone. This phone, Xiaomi has boasted, is said to be bigger than Apple's iPhone 6 Plus. Today, we see if that is the case with Xiaomi Mi Note vs iPhone 6 plus. At the launch, Xiaomi CEO, Lei Jun, introduced the Xiaomi Note cell phone and compared it with Apple's iPhone 6 Plus. Let us take a look, shall we?
Here are some discrepancies between the Xiaomi Mi Note and the iPhone 6 Plus that the company noticed. This phone is 0.15mm thinner than the iPhone 6 Plus. It is 11g lighter than the iPhone 6 Plus. It is also 3mm shorter in length. Its dimensions are 155.1mm x 77.6m x 6.95mm. It also only weighs 161g and sports a 5.7-inch display screen.
The reason why the  MiNote is shorter than the iPhone 6 Plus is that it does not fingerprint scanner at the bottom. It also has a lower gamut count because it has a low brightness index.
Furthermore, the Mi Note is also the first Xiaomi phone to have a OIS camera. It does not have a protruding camera unlike the iPhone 6 Plus. This is because it has a lower optical index.  The front is covered by a 2.5D glass protector, while the back is covered by a 3D glass protector.
The Xiaomi Mi Note, seems like an interesting phone. This phone is said to use Qualcomm's Snapdragon 810 processor which they will showcase on January 23. This processor is said to be Qualcomm's most powerful cell phone processor to date with eight cores and its use of the Adreno 430 GPU.
With the introduction of the Xiaomi Mi Note, maybe we can now turn our attention to the follow-up to the Xiaomi Mi4, the Xiaomi Mi5, which is set to come out this year as well. In fact, some photo samples taken by the phone have already been posted. We cannot wait to see it.
[socialpoll id="2246680″]