Thin Phones Madness Continues With a Ivvi 4.7mm Smartphone!
It seems that the madness among the manufacturers continues. A lot of them one to be "the only" or "the best", or "the first" in a certain department. Well, it seems logical in the technology sector as it is moving at an extremely fast pace. However, another thing, which is kind of a trend now, is a the thickness or we should better say the thinness of the smartphones.
We all know that the Cupertino company usually strives for making thinnest and lightest devices, but it seems that this trend is moved to China at the moment. Just recently, Oppo bragged about its R5 as being the thinnest smartphone in the world. Well, it was, but not for a long time. After that Vivo came up to steal the show with its amazingly thin Vivo X5 Max, which has the thinness of just 4.75mm.
However, Vivo may not be happy at the moment as we may have a new king of thinness in the smartphone world!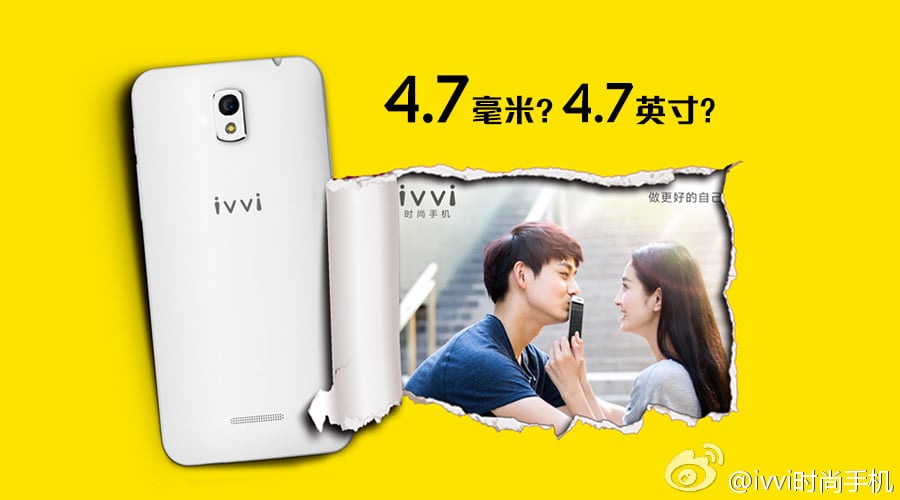 There is a smartphone brand called Ivvi, which is a sub-brand of quite popular Chinese brand Coolpad. It seems that they are ready to break the world's record by introducing a 4.7mm device! That is "even" half a millimetre thinner than Vivo's offering!
In addition to this, the the upcoming device is said to have only 4.7 inches display. That would make device not only extremely thin, but also very compact. What is more, the device seems to be made out of plastic (not metal like Vivo X5 Max), have a speaker grill on the bottom of the back. Lastly, it may have a protruding camera with a single LED flash on the back.
We can't wait to see once the company releases this device. We have no doubts that there will be some tradeoffs like a small battery capacity, which would lead to a short battery life. That leads us to the never ending question: what is better, an extremely thin device or better battery life? Let us know in the social poll or in the comment section below.
[socialpoll id="2248632″]