Meizu's M1 Note Mini benchmark scores leaked for three different editions
A few days back, we reported that Meizu M1 Note Mini will probably come in three different OS variants. We already saw a picture showing off these three editions and now, we have another picture leaked which has the three models with their benchmark scores.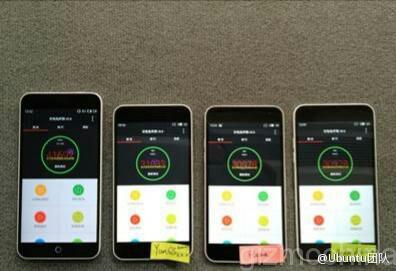 According to the image, which is not very clear, the three models have almost the same benchmark scores. On the extreme right lies the native Android running M1 Note Mini. This particular device scores about 30,978 which is almost the same as the model on the left running Meizu's own Flyme OS. To their left lies the M1 Note Mini YunOS, which scores only slightly higher at 31,033 points. For comparison, we also see the larger M1 Note on the extreme left which scores about 41,600 points.
The Meizu M1 Note Mini benchmark scores look quite good. So, from these pictures, we can conclude that despite the budget placement, all the three editions will be powerful enough to carry out day to day tasks.
We have already seen the pictures of the upcoming device and the phone definitely looks better than most other competitors in its price range. Even before this leak, the specifications were spotted on GFXBench , giving us an idea what to expect in terms of performance. The phone will reportedly feature a 4.7-inch display with 1280 x 728 pixel resolution. Meidatek's Mt6732 64-bit processor will power the device along with 2GB RAM. You can find more details in our previous article.
Expect official details by tomorrow evening as Meizu has an event in the afternoon. Stay tuned for more detailed updates.