Lenovo Vibe Z3 Pro flagship images and specs leaked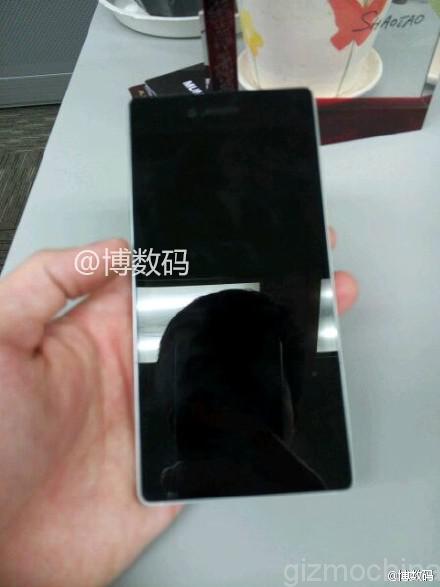 We already know that HTC has a flagship in store for us at MWC 2015. Even Samsung is rumored to unveil the Samsung Galaxy S6, which could come with dual edge display at the event. Now, the latest report from Weibo tells us that Lenovo will have something for its fans at the event. The device at MWC could be the Lenovo Vibe Z3 Pro, which will succeed the 6-inch Lenovo Vibe Z2 Pro phablet.
We also have some alleged pictures of the upcoming device along with most of its tech specs.
According to the leak, the phone will feature a solid metal frame. It looks like the company has reduced its size from the massive 6-inches to somewhere around 5.5-inches. The front is fully black, so we can't really see the bezels or the area below the display which usually has the capacitive buttons. Coming to the back, there is a strip which looks like metal going over one side of the phone. The camera is located on the strip. From the images, it looks like Lenovo Vibe Z3 Pro may feature a glass back, but we can't be sure of that right now.
Coming to the specs, the phone is said to come with the latest 64-bit octa-core Snapdragon 810 processor along with 4GB RAM and 64GB ROM. The front will feature a 5.5-inch 2K display. At the back, there will be a 16MP camera with OIS, Lazer Autofocus technology, and three LED flash. Interestingly, there will be a dedicated camera button too. Also, the speakers are located at the bottom, which is a better place than the rear speakers on most smartphones. The source also reveals that there will be mute control keys on the device. Inside, the phone will feature a 3400mAh battery which will be non-removable. Finally, like most flagship phones to be released later this year, the Lenovo Vibe Z3 Pro will come Android 5.0 Lollipop OS.
It looks like Lenovo may have taken some design inspiration from Sony for this upcoming flagship. But, from what we have seen till now, the device does look good.
We don't have to wait too long to get official details as the source says that the company will announce the device at MWC 2015.
So, what do you think about this new device? Looks good?