First MT6795 smartphone with 2k display and Android 5.0 spotted on GFXBench
MT6595 was one of the best processors released by Mediatek in the past few months. However, we didn't see many smartphones running this octa-core SoC. In fact, most smartphone these days are opting for a slightly slower but with a 64-bit architecture, MT6752. Mediatek's MT6795 will reportedly bring the 64-bit architecture to the high end platform and now, we have a glimpse of what could be the first smartphone to use this processor.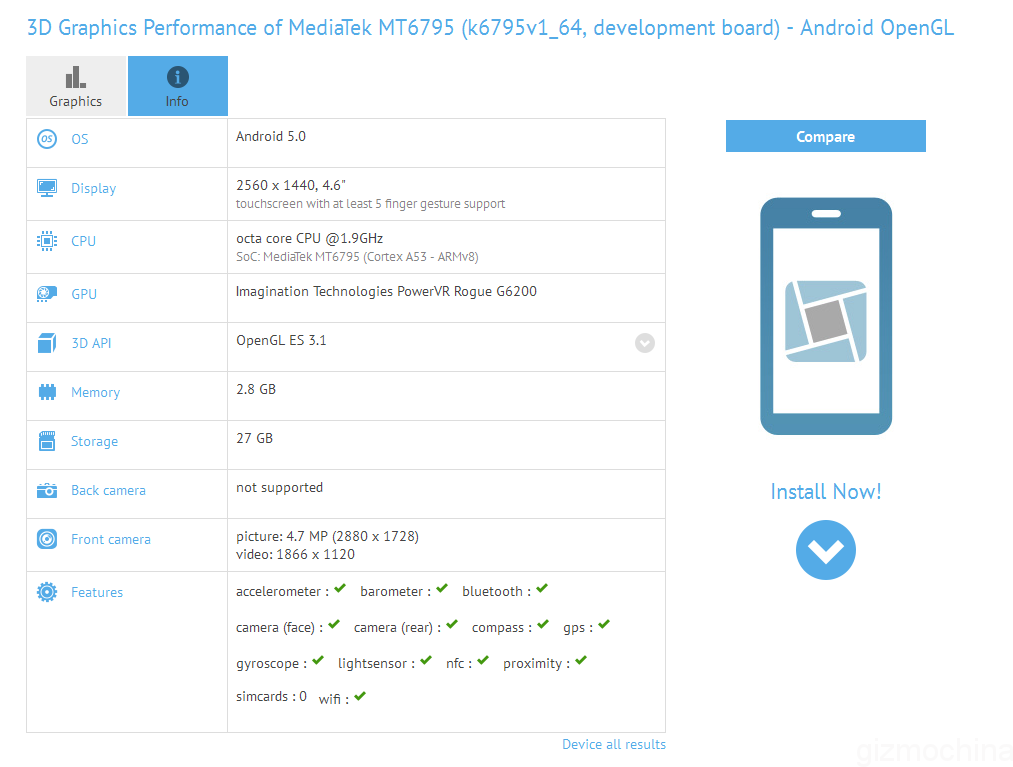 A recent entry on GFXBench reveals some of the details of a device code named k6795v1_64. The entry is interesting because it shows that the phone runs on the MT6795 processor along with 3GB RAM. MT6795 is based on the ARM's Cortex A53 architecture (not A57 which is a lot more powerful but battery consuming) with eight cores clocked at 1.9GHz. For GPU, the phone has PowerVR G6200. The listing also reveals that the phone features a 5MP camera and a 4.6-inch 2K display! Finally, it comes with 32GB internal storage and runs on the latest Android 5.0 OS.
The overall specifications of the phone are quite unusual, especially with a 2K display on a 4.6-inch screen as well as a low end 5MP shooter.
However, we think this might be a test unit and not a retail product. Companies are known to test their products on various benchmark sites before releasing it publicly and this just might be the case here. One more reason why we think this is the test unit is because of the naming. The phone is code named k6795v1_64, development board. So, this could just be a unit assembled for testing the capability of the processor.
We expect a lot of new high end affordable smartphones with 2K display and even 3GB RAM to feature this powerful 64-bit MT6795 processor. It could be even mainstream companies like HTC, which is rumored to release a Mediatek powered variant of its flagship device, HTC One M9 in the coming months.
Anyways, stay tuned to the website for more details. Also, check out the GFXBench link down below for more info.