MT6796 64-bit SoC built on 20nm process could be unveiled later this year
Mediatek has been gaining some ground lately with many established manufacturers going with their low cost yet powerful processors. In fact, just a few hours back, we reported that the new Sony Xperia E4G will use Mediatek's MT6732 quad-core SoC.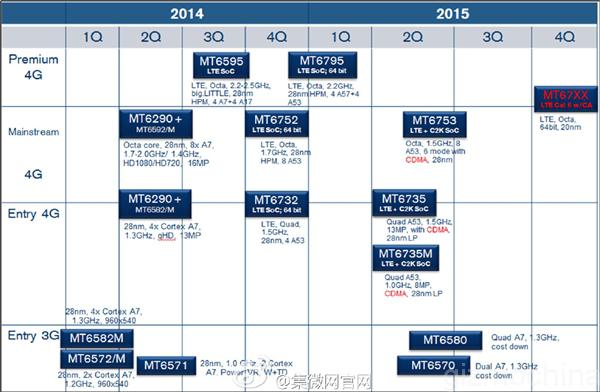 A few weeks back, the product roadmap for Mediatek was leaked and in that image we saw an interesting processor which was going to be announced in Q4 2015. The image revealed that the SoC will be built on the advanced 20nm process and support LTE networks. Looks like the rumored processor could be the upgraded version of the MT6795, the upcoming MT6796.
It is said that the MT6796 will be an octa-core 64-bit processor which will support high speed 4G LTE Cat. 6 networks. This will allow download speeds up to 300 Mbps. Naturally, the processor will be targeted at the high end market.
The current MT6795 processor is built on a 28nm process and has just entered mass production. It is said that many domestic as well as international OEMs have decided to incorporate this high end processors in their devices, but we have not yet seen any major releases from these manufacturers.
However, since the SoC has entered mass production and a major tech event is just around the corner, we may see some MT6795 powered smartphones at MWC 2015. Back in January, we saw a variant of HTC One M9 in the benchmark tests using this new Mediatek SoC, and if its true, then we could see the device in action at the event in Barcelona.
Anyways, lets wait and watch whether we'll see some Mediatek powered smartphones at MWC this year.