ASUS to launch Zenfone 2 with 4GB RAM on March 24 in China
ASUS made the headlines back in January at CES 2015 by releasing a number of affordable yet powerful Zenfone 2 smartphones. The Zenfone 2 lineup has a number of different variants, all priced according to their specifications.
Just yesterday, ASUS unveiled the entire Zenfone 2 lineup in its domestic market, Taiwan. This helped clear some things about the different variants of the device, since all of them are called as the Zenfone 2.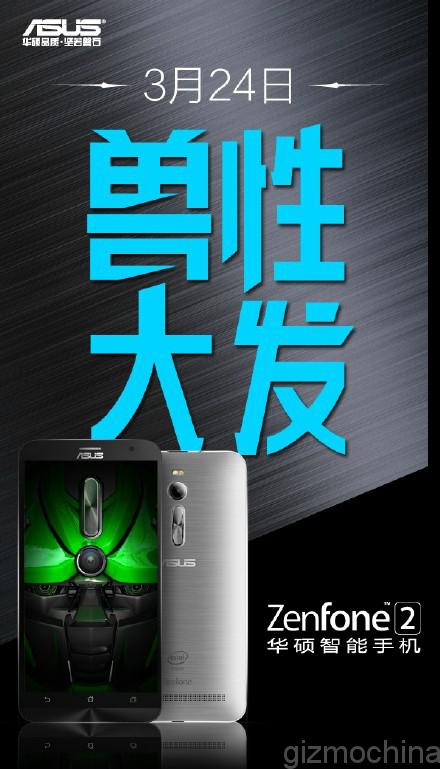 Now, the company has released a new teaser on Weibo which confirms a Chinese launch of its latest flagship lineup on March 24. It is assumed that all the four models that were unveiled in Taiwan would make it to the Chinese market.
There are four different variants of the Zenfone 2 smartphone. At the top is the Zenfone 2 ZE551ML which features a 5.5-inch display, 4GB RAM, 13MP camera, 2.3GHz quad-core Intel processor and 32GB of internal storage. Below that is a slightly toned down version which features 2GB RAM and 1.8GHz quad-core Intel processor. In Taiwan, the top model retails for around $285 and the second model for $220.
There are two other phones in the lineup, namely ZE550ML and ZE500CL. The former model features a 720p 5.5-inch display with the same 1.8GHz processor and 2GB RAM as the earlier mentioned model. But the internal storage is reduced to 16GB. Finally, at the bottom is the ZE500CL which features a smaller 5-inch 720p display, 2GB RAM and 1.6GHz Intel processor. The ZE550ML will cost about $190 and the ZE500CL will the the cheapest of the lot costing about $160.
Expect the pricing of the models in China to be similar to the pricing in Taiwan.
The Zenfone 2 clearly looks like one of the best value for money lineup in the market right now. If ASUS manages to price the 4GB RAM model under 1800 Yuan like in Taiwan, we can expect a very good response for the device in China.