Doogee Iron-Bone DG750 Review – Good or Bad?
Doogee is one of those Chinese manufacturers, which is trying to stay under the sun in the fierce competition of smartphones. We have to take a look at the device to tell you if it is worth your attention or not and this time around we have a brand new Doogee Iron-Bone DG750 as a review unit. Is the "Iron Bone" name worth your attention? Let's take a look. We wanted to thank Comebuy for providing us with a review unit!
VIDEO
SPECS
| | |
| --- | --- |
| Display | 4.7 inch 960X540 (below HD) |
| Processor | MTK6592, Cortex-A7 Octa core,1.7GHz (32-bit) |
| RAM | 1GB |
| Camera | 5MP Front/8MP Back, |
| Connectivity | Bluetooth, 3G, 4G, GPS, WIFI, GSM,EDGE, GPRS, UMTS, HSPA, HSPA+, |
| Battery | 2.000 mAh Li-polimer |
| Dimensions | 132 x 67 x 8 mm |
| OS | Android 4.4.4 Kitkat |
| Storage | 8GB (can be expanded up to 64GB via Micro SD) |
UNBOXING
The device comes in a plain box with some pics of the smartphone on it. Also, it says that Doogee is the "King of Design", so you better be sure what you are dealing with.
The smartphone comes with a screen protector, quick start guide, USB charging brick, USB cable and the pair of headphones. A fairly standard bunch of contents.
The initial impression is that the device is well made. It spots a metal-zinc alloy frame and metal buttons. Also, there is a textured plastic removable cover.
The device has the 5mp snapper on the front along with the 3 capacitive keys on the bottom. They are not backlit, however. Taking a look at the right, you will find a metal volume rocker and power on/off key. On the top of the device there is a micro USB port and a headphone jack.
If you flip the device to the back, you may find a familiar textured plastic finish. It is a copy of Samsung Galaxy Note 3's white faux leather finish, which is actually a plastic. We actually like it as it gives a comfy grip in your hand. Also, it does not attract fingerprints and smudges like glossy plastic. The cover sits ridiculously tight, so you don't want to take it off very often unless you want to break your nails.
Under the hood there are two SIM card slots one being a regular and another being a micro SIM slot. Also, there is a micro SD card slot up to 32GB, but I checked it and it works with 64GB cards as well. The battery capacity is 2000 mah.
The back spots an 8mp shooter along with a single LED flash. Also, there is a mono speaker on the bottom.
The screen is 4.7 inches in size, but the resolution is just 960X540, which is below HD. The display seems to be pretty good for a budget device. It spots decent colour reproduction, but they are very cold. Still, the panel is bright and sharp enough for daily tasks. Anyway, we have to judge it according to the low price.
INITIAL IMPRESSIONS
The very first immersions are that the device is well made and we have to say thanks to that quality metal frame. The design is not really original, though. The front looks like the Xiaomi Mi4, the back is borrowed from the older generation Galaxy Note series. On the other hand, it is nothing new that Chinese companies like doing design mashups.
The UI seems to be quite fluid and responsive at the first glance. I tried to play a few games and it went quite good.
USER INTERFACE
The device is running Android 4.4.2 Kitkat out of the box. The UI looks to be pretty simple with just some Doogee icons and runs smoothly. In general, it is very close to the stock Android experience.
I mentioned that the device is running smoothly in the video mini review, but after using it a bit longer, I had a few hiccups there and there. They are far from the deal breaker, but I have to let you know that it is not as smooth as e.g. recently reviewed Zopo ZP530 device with a 64-bit Mediatek chip.
The settings menu is nothing out of ordinary. Doogee goes with a trend and has some gesture controls. I've tested only tap to wake, which works fine. Also, scrolling up to wake  up the screen is also working great. Still, drawing gestures are slower than just using tap to wake or clicking the physical button.
The Doogee DG750 has some basic apps pre-installed. That includes calculator, calendar, torch, FM radio etc. From what I've tested the apps seem to be responsive and work great.
MULTIMEDIA
The music app is fairly standard and has a minimal design. It works smoothly.
As far as the speaker quality, it is loud, but the sound quality is average. Well, for the sub-$100 device it is quite good. The audio output via headphones is above average as well.
As far as 1080p video playback, it runs smoothly. However, if you want to scroll back and forth, there is a noticeable delay. Still, if you want just to hit a play button, sit down and relax, the device gets the job done.
Gallery app is simple and easy to use. I didn't find any issues with it. Zooming in and out is fast and responsive.
Browsing experience is average. First, the screen is quite small, but that's not the point. You can read news and stories, but scrolling may sometimes involve a bit of lag. It is not that bad, but it is noticeable.
On the other hand, considering that the screen resolution is not even HD, the sharpness of the text is good.
PERFORMANCE
As we mentioned in the UI section, it is fairly simple and almost a stock Android. Usually it runs smoothly, but, however, there is lag there and there a few times. The hiccups are not that bad and they are not happening all the time, but this does not let us call the performance stable.
BENCHMARKS
I may sound that I'm repeating myself, but I never care about any synthetic benchmarks. Still, I know that some of you guys are interested in it, so I ran through the Antutu benchmark test. I have to say that the Doogee managed to score a very respectable score, which is close to the LG G3. For the device that costs $100 it is very good.
In the end, who knows – who is cheating and who is not in the benchmark tests?
GAMING
As far as gaming, I tried to play quite graphically intensive Asphalt 8 game. You can judge it by yourself, but it seems that the device can handle it without any issues. Indeed, the graphics look good and I didn't get any lags so far.
CAMERA
Camera app has some basic functions you would find on many Android devices. The app is fairly simple and you can adjust some general settings. Taking pictures and shooting videos is fast during the daylight, but it naturally becomes noticeably slower, when doing the same thing in low-light scenarios.
Picture Quality
The daylight pictures have average quality. Sometimes you can a decent looking photo, but it is a hit or miss. The white balance and exposure settings are not stable, thus it may not give natural looking results. The colour reproduction is also a hit or miss. In general, the device tends to capture colder looking images, but sometimes it manages to take some images with natural looking colours.
If you take the smartphone inside, situation gets worse. The shutter speed becomes slower and you have to keep your arm steady. Otherwise, you may get a blurry picture, which is unusable.
In the end, this is just average shooter and it is far from being on par with the flagship or even decent midrange devices.
BATTERY LIFE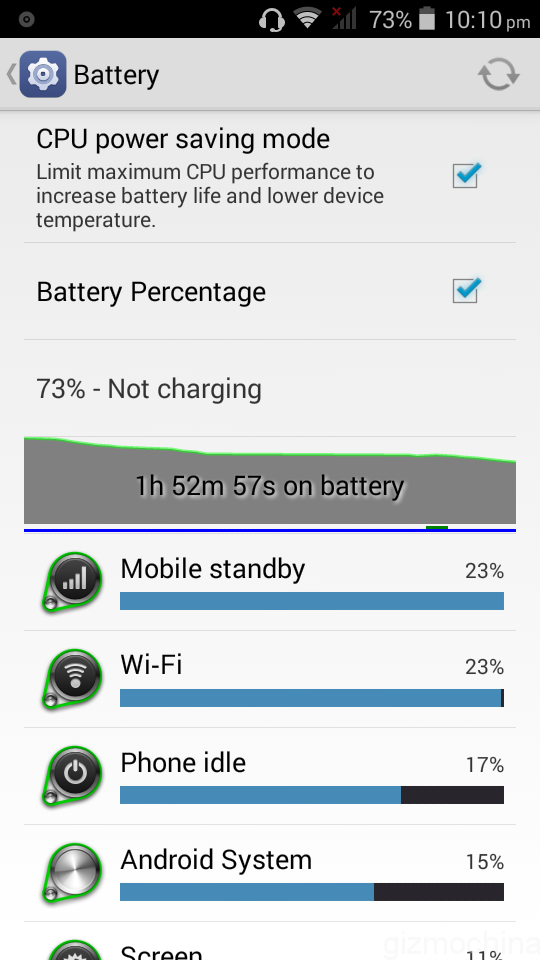 This may not be the best screenshot as the device was just roughly 2 hours off the charger, but the smartphone tends to take a lot of juice for no reason. I'm talking about "mobile standby" here. The thing is that the SIM card was even taken out for a day, but it seems that the device is still looking for a network coverage.
Having said that, Doogee DG750 manages to last a full day on an average use. If you do too many intensive tasks, it may die much earlier though.
CONCLUSIONS
So there you have it, Doogee DG750 budget smartphone ($99). What we liked is the build quality as it spots a metal frame along with the metal buttons. However, the whole design is not original as it is a mashup of different devices. But we are not saying anything new, this is what Chinese manufacturers love to do (it rhymes! lol). Still, for the $100 price range, you will get a quality looking device, not a chunk of cheap plastic.
As far as UI, it is pretty simple as it looks like almost stock Android. It has some nice looking Doogee icons and some other touches, though. However, we have noticed some minor lags or hiccups there and there. Thus, we cannot say that the device is a stable and smooth performer.
The device can handle some more intensive tasks like gaming. The graphics are not the best, but they are handled without lag, which is great for a budget device. What we have noticed a bit annoying is the 1080p video playback. It is running smoothly and everything is okay unless you start quickly rolling back or forth as a noticeable lag kicks in.
The camera quality is just average. It has an 8mp shooter, but the performance is a hit or miss. Luckily, sometimes you can get decent looking photos, which can be used for social networks.
The battery life is decent for an average user. It can last you a full day if you do not do any intensive tasks all day.
Finally, the device has some pros and cons there and there. For the price of just below $100 it is not a bad offering as the whole. However, we didn't find any exceptional about it that we could say that is the leader in the sub-$100 devices category.
In case the Doogee Iron-Bone DG750 got your interested, we checked out the lowest prices for you (we will update the article for the lowest prices available):