ZTE Nubia Z9 Max sale delayed to next month, blame the complex manufacturing process!
ZTE Nubia Z9 Max was one of the best looking flagships of 2015. The metal and glass design made it look way more premium than its competitors. The device was supposed to go on sale at 10 AM on April 16. However, now, Nubia's official Weibo page has released a new image which says that the ZTE Nubia Z9 Max sale has been delayed to next month.
The company had unveiled two models back on March 26, namely the ZTE Nubia Z9 Mini and the Z9 Max. The Mini went on sale, earlier this month and was sold out within just 58 seconds. The company revealed that over 68,700 units were sold in the flash sale.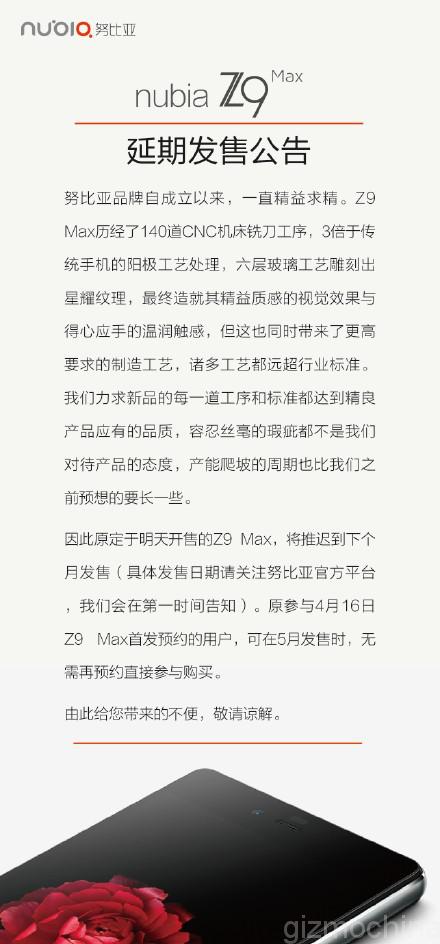 The Z9 Max was scheduled to go on sale tomorrow, however, now interested customers will have to wait till next month to order the device. The company blames the complex and intricate manufacturing process for the delay.
The device uses a double glass and aluminum body. It is processed through CNC machining and other complex processes, which requires a lot of time. The company reports that due to its extreme quality control measures and complex manufacturing process which are above industry standards, the production got delayed. So, the Z9 Max will only be available for purchase sometime in May.
Apart from the beautiful body, the ZTE Nubia Z9 comes with top-end specs. The phone runs on the Snapdragon 810 processor with 3GB RAM and 16GB of expandable storage. You get 5.5-inch full HD 1080p display up front. At the back, there's a powerful 16MP camera while up front, you have an 8MP shooter. The phone supports 4G LTE networks, NFC, dual band Wi-Fi and OTG among other connectivity features.
The ZTE flagship turns out to be a great buy for its 2499 price tag. However, the delay is definitely going to disappoint ZTE fans in China.