Huawei dresses up its full metal Flagship P8 with The OAXIS Ink Case
Huawei just dropped the bomb in London and everyone is flocking to get a piece of it. It comes as no surprise as we have been teased for months before its unveiling and now we can get our hands on it. At a glance, there is an octa-core CPU with HiSilicon Kirin 930 chip and 3GB RAM under the hood, powerful enough to run 1080 x 1920 pixel 5.2 inch display and a stunning 13MP RGBW rear camera. All this is spectacular but we were really surprised by an additional element and it was not the phone itself.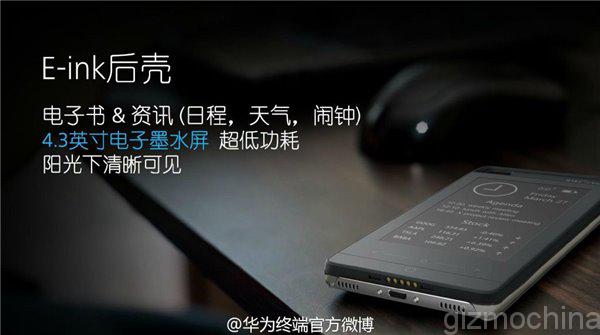 During their London unveiling they also showcased a sleek new accessory that made their phone look extra edgy. The P8 model is dressed up in the tuxedo known as the 4.3″ OAXIS Ink Case. Yes, we are talking about the company that made the ink case plus. The screen is fitted over the back panel of the P8 and is designed to be glare free and has self sustaining power. In fact, it even increases the battery life of the phone itself. The screen is only 4mm thick and has its own independent charging port. To promote this cool accessory, Huawei also collaborated with iReader to bring you an unlimited amount of ebooks from its free trial service.