Digoor DG1 IP68 Rugged Phone with PTT Walkie Talkie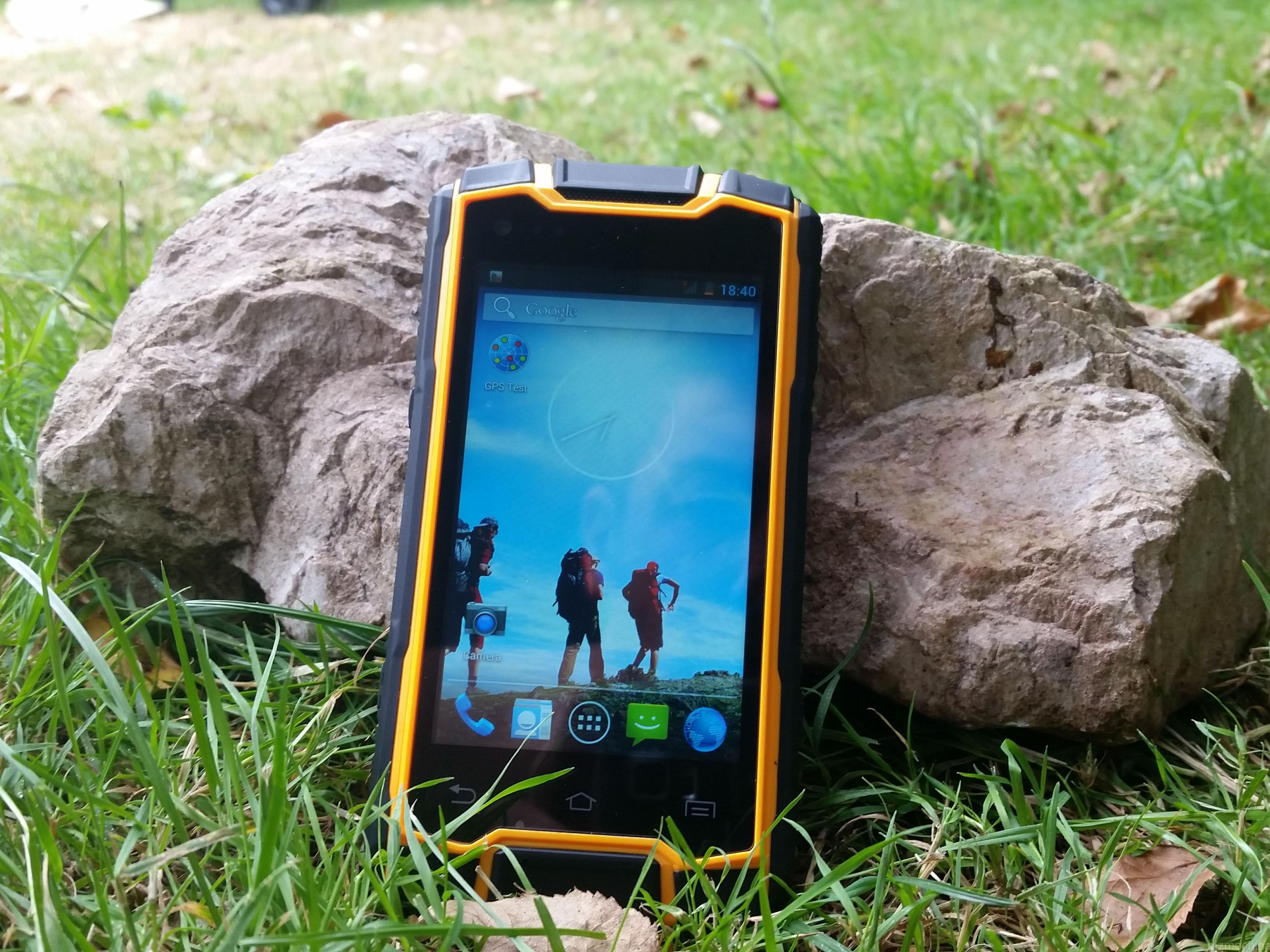 The phone comes in a sturdy box containing the phone, walkie talkie ariel, rear battery cover removal tool, usb cable (this has a standard micro usb connector but is longer to clear the rugged casing), a 3200mAH Li-ion battery and a 2pin Euro style charger block.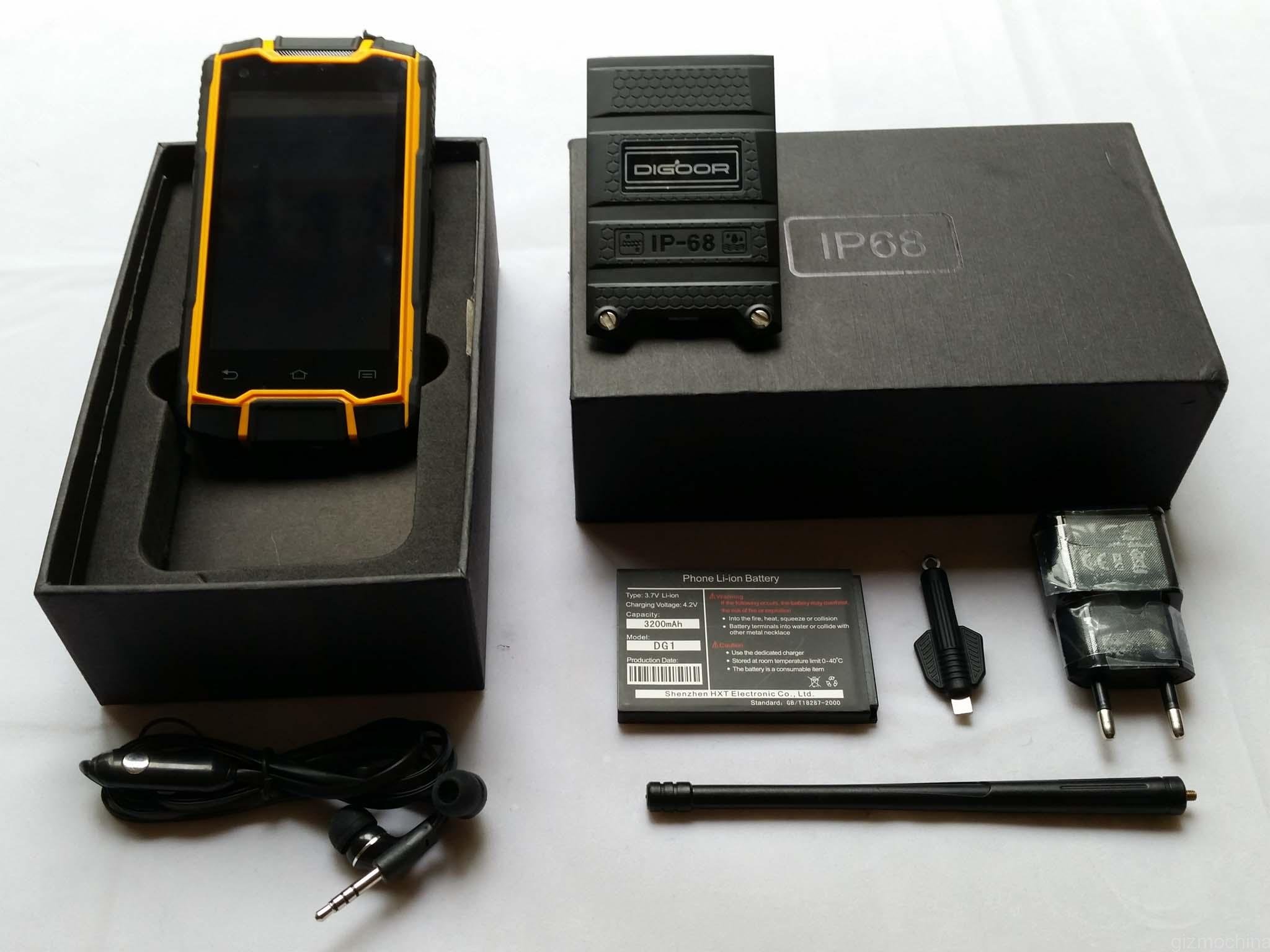 Having put the battery in and fired up the phone I was greeted with a stockAndroid 4.2.2 Ui, the screen is actually set back a little inside the protective casing to help protect it from damage from drops etc, it takes a few minutes of use to get used to the fact that you are not directly touching as you would with a OGS style screen, but soon becomes second nature.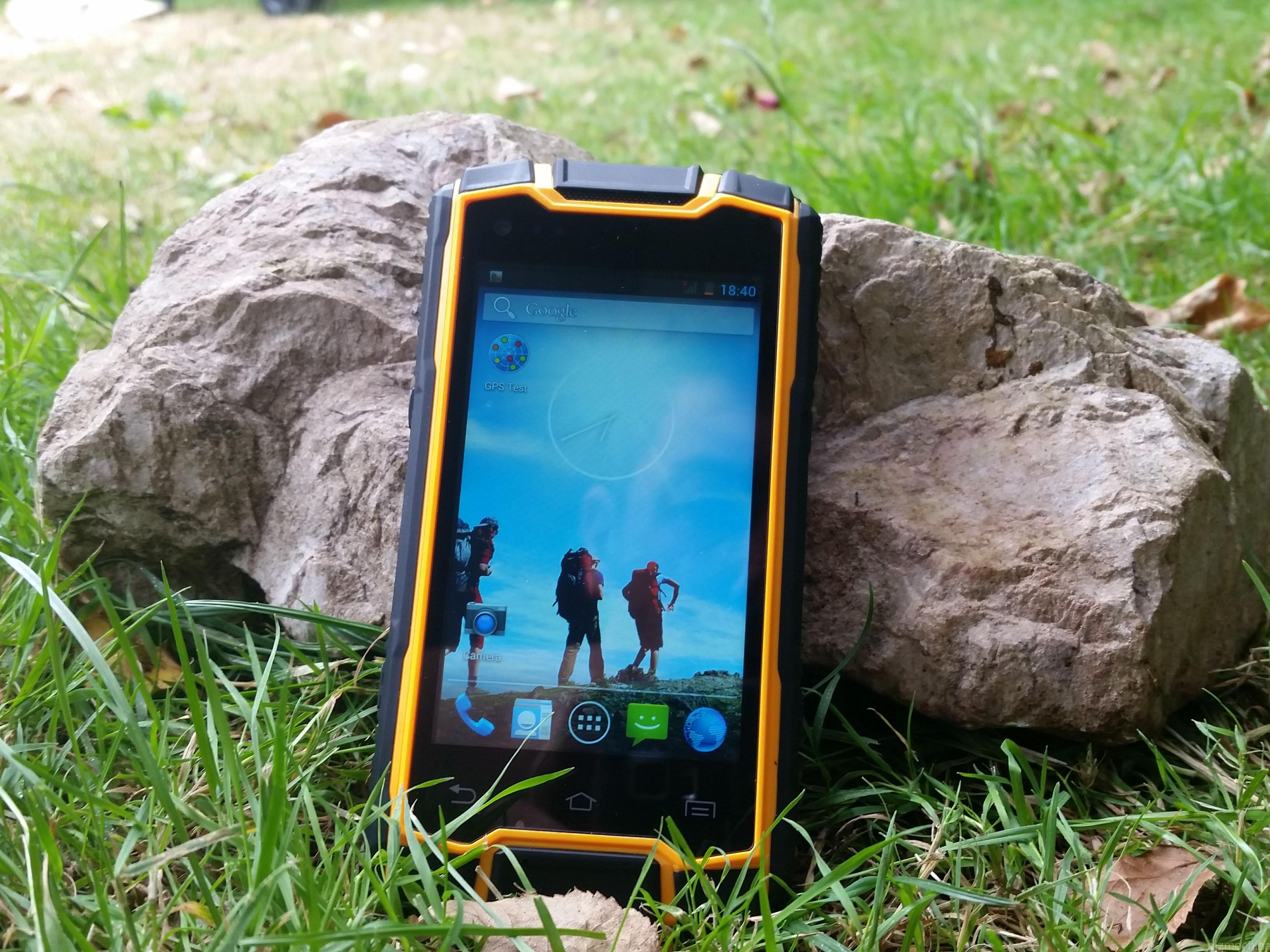 The screen itself is a 4″ 480 x 800 WVGA IPS unit capable of 5 point touch, the brightness is not bad and can be seen in bright sunlight, the viewing angles are also very good.
Whilst the screen resolutions may be lower that we now expect on midrange and above phones, its worth remembering that this is a rugged phone that needs to not only survive impacts, dust and water but have a long enough battery life to keep you going and possibly even save your life one day, lower resolution screens use substantially less power than HD, FHD and 2K screens.
As mentioned above the phone runs stock Android Ver 4.2.2 which gives it a very clean interface and makes good use of the Mediatek MTK6582 processor.
The phone also includes some really nice goodies that you won't find on flagship style devices, these are toys that the more intrepid amongst you will find very useful.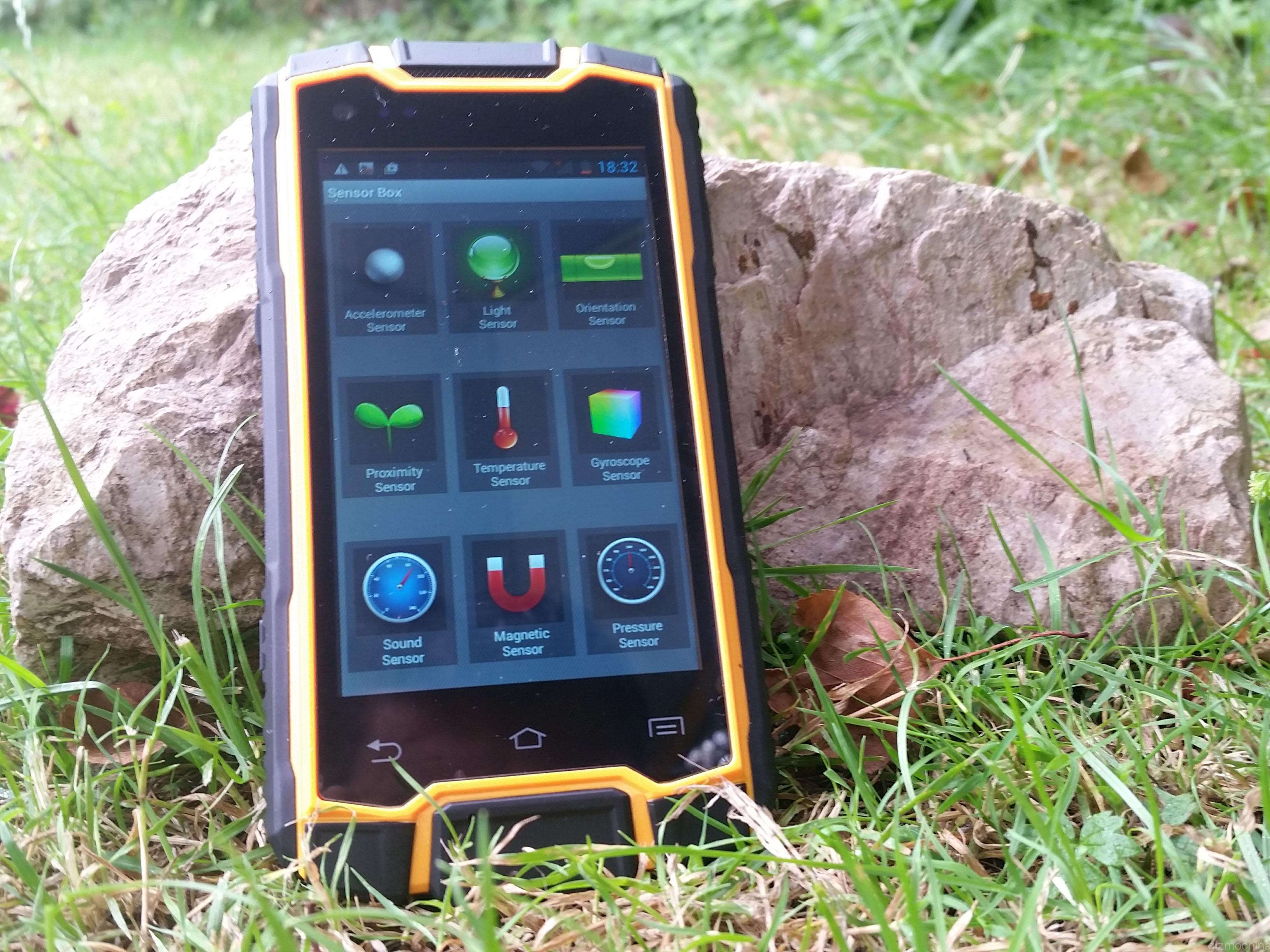 The sensor box App for example contains things like a temperature sensor giving ambient temperatures in both Celsius and fahrenheit, sound sensor giving external decibel readings, this would be very useful if you are working on site and noise levels have to be kept within certain parameters, but also fun if like me you enjoy loud car stereos and would like to see who really does have the loudest system!, pressure sensor providing a reading in mBars this along with other apps available from the app store can be used to properly calculate elevation.
The magnetic sensor is also able to show details of magnetic fields (and helps to align the phone to North for digital mapping).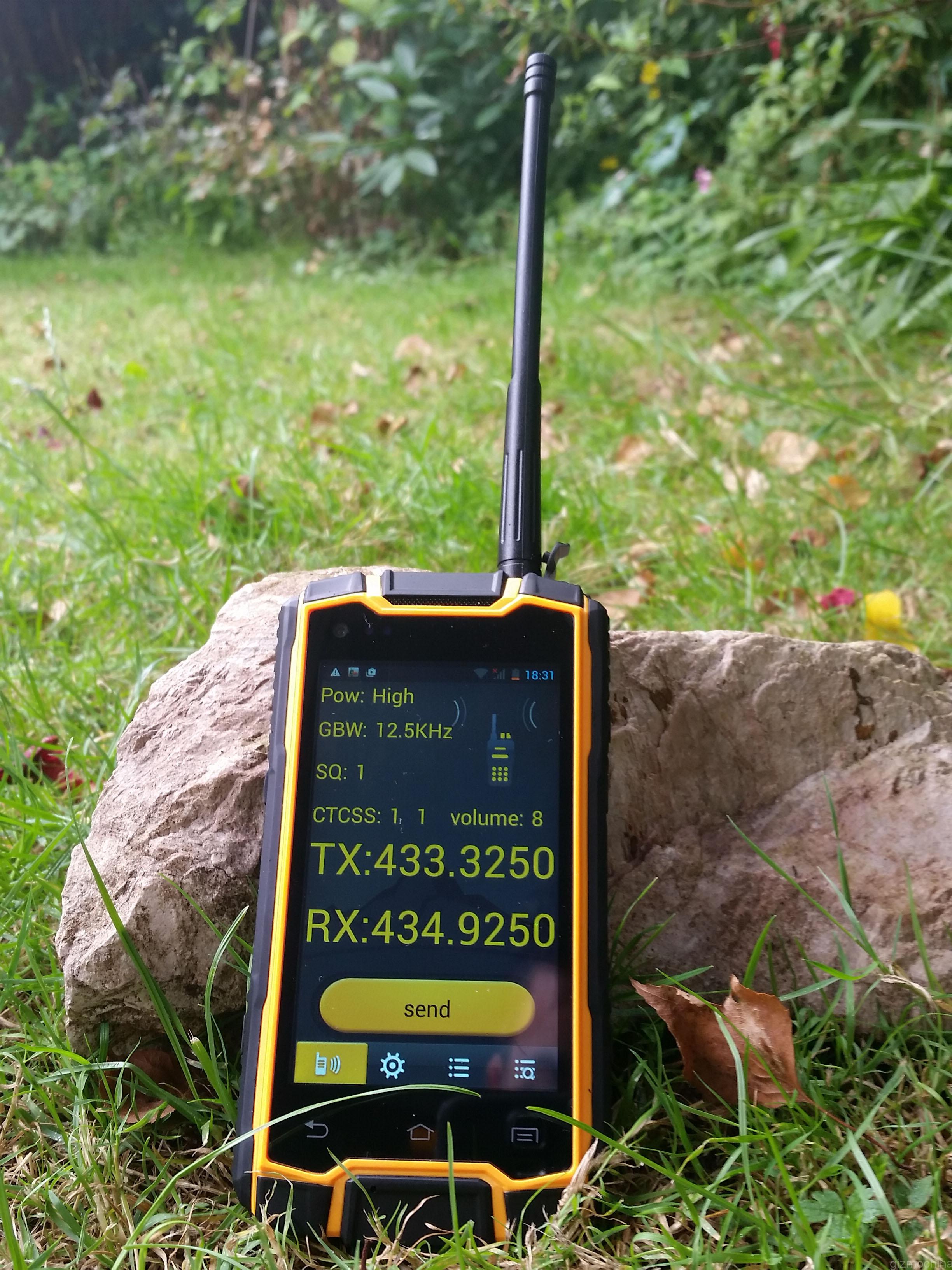 But the killer feature of the DG1 is the PTT transceiver, once you screw in the walkie talkie ariel and launch the PTT app you have access to a high powered 1W phone based walkie talkie capable of operating between 400-470mhz in the UHF 70cm bands, the range is around 3-5km dependant on obstructions.
If you are out and about in the wilderness or working on sites where there is very little or even no telephone signal the addition of the Walkie talkie feature is something that will make your life easier and could also save your bacon.
The rear camera is a 5mp unit and whilst not giving the best quality compared to some of the 13mp units seen on other phones, it is more than capable of capturing a special moment whilst your out and about in places that you would not normally be able to take your standard flagship phones.
It is worth noting that if you are out in direct sunlight, playing with the camera settings a little before taking a shot is very much worth doing in order to get the best possible picture (switching from auto white balance and selecting sunlight for scene will give much deeper colours).
The front facing camera is ok for selfies but again this is not a phone that you would be carrying to replace a proper camera, be it a DSLR or true point and click.
Speaking of going places where you would not normally take a phone or camera, the phone has an IP rating of 68, the 6 means that it is totally dust tight and the 8 means that it is protected against prolonged effects of immersion under pressure, this is a phone that you can take pretty much any where without fear of damage.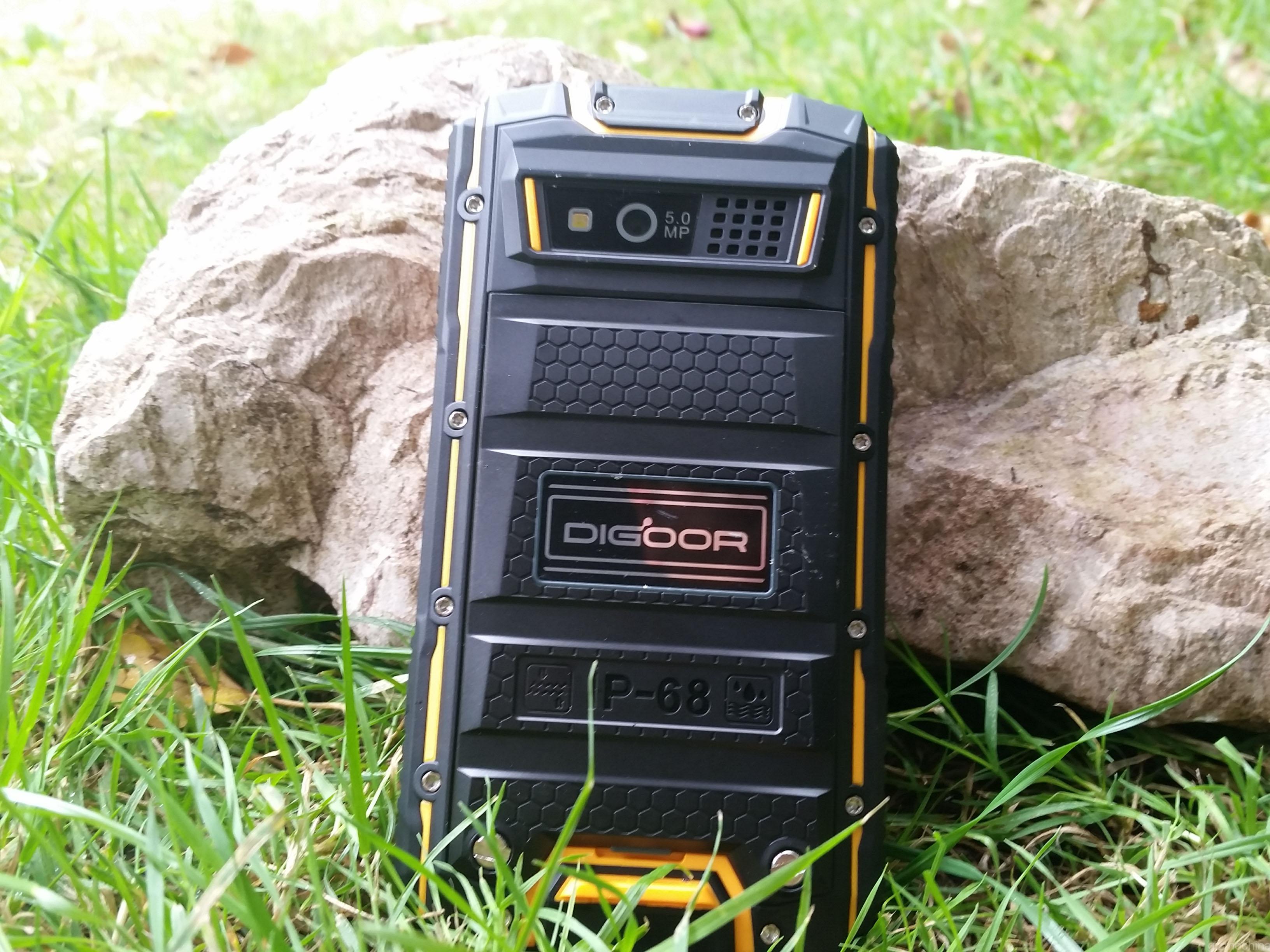 When you compare this to the Galaxy S5 which has an IP rating of 67 (the 7 means that it is protected against temporary immersion) you will see that this phone offers a go anywhere solution.
The battery life is not bad and has lasted over a day and a half without charging so far.
The phone features various hardware buttons, to the right of the phone are standard volume up and down keys as well as a dedicated camera key 
The left of the phone has the PTT button as well as a dedicated S.O.S button that can be setup on the phone to give one touch access to local emergency services, there is also a dedicate reset button.
The top of the phone houses the power button as well as the lift up flap providing access to screw the provided walkie talkie ariel in to the DG1.
At the bottom you will finds the micro USB connector as well as 3.5mm headphone jack.
Having given the phone a thorough test, it feels very well built  and considering the choice not to use a 64bit processor the OS runs very well and has great GPS.
If you need a go anywhere phone you could do a lot worse than the DG1.
Please leave comments and questions below