UMI Code GiveAway: Get Discount Coupons For Buying The UMI Hammer S
As you would know, UMI is hosting "UMI Hammer S Treasure Hunt" from Aug 10 to September 10 where it will give out $100, $50 and a lot of $20 coupons every single day to purchase the UMI Hammer S smartphone.


All you have to do is find coupons codes from a number of different places like their official Facebook page, UMI Fan Group, UMI Community etc. Even gizmochina with banggood.com have been given a bunch of UMI Codes to giveaway.
So, five lucky comments on this article will get one UMI code each.
Just write what's your favorite feature of the UMI Hammer S in the comments section below and we will give the code to five of you randomly. Its as simple as that! 
We aim to give out all the five UMI Codes in the next few hours, so hurry up.
Once you have the code, use the wheel to grab a lucky discount coupon. You can get $100, $50, or $20 coupons everyday. Once, you have the prize, you have to use it within 48 hours or else it will expire.
Lucky Wheel Link HERE: Head Over To The Lucky Wheel To Generate Your Prize. 
Then, head over to banggood.com to purchase the phone at discount using the coupon!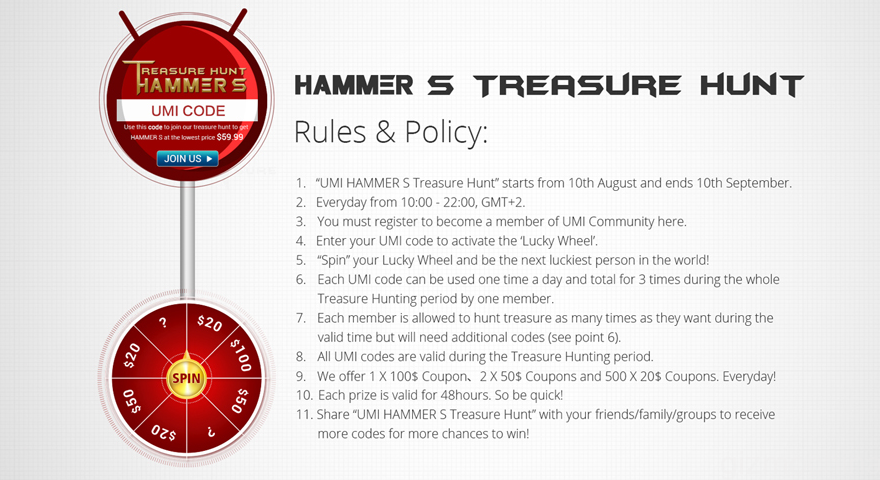 After the coupon, the phone which is already affordable (@$159) can be bought for much cheaper. And considering the specs that you get, it turns out to be a great deal.
Here are the UMI Hammer S specs summary:
A. Touch fingerprint ID unlock
B. USB Type-C
C. 5.5inch LTPS screen
D. Latest Lollipop 5.1 system
E. 3200mAH high capacity battery
F. 3D Metal design body
G. HOME+, infrared remote control for a smart home.
After obtaining the coupon, you can head out to banggood.com to purchase the device. Remember to use it within 48 hours or else it will expire.