Attractive new Smart watch from Elephone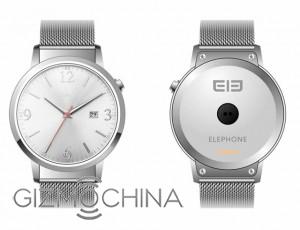 Elephone have today sent over a render of their first foray in to the smart watch market and I would have to say that it is an attractive looking thing.
The new Smart watch from Elephone features a true round faced screen (as opposed to some that are square with the edges hidden behind the bezel and casings) that does not have the flat tyre effect that others like the Moto 360 have been blighted by.
From the limited information provided, Elephone say it will be highly cost-effective and feature exquisite workmanship and come with a heart rate sensor built in.
Style wise if the actual watch lives up to the renders, this certainly looks to be one of the most upmarket watches to come out of China.
What is as yet unknown is the internal specification of the watch, an educated guess would be a Mediatek Aster MT2502A SoC, however if they were to go with the newer MT2601 SoC then support for Android Wear would be possible.
With Google having recently announced their plan to return to mainland China as a provider of consumer Web services (all be it in a cut down manner), it would be a real coupe for a new Smart watch from Elephone if they could get the phone out with Android Wear at a decent price and specification.
Please leave comments and questions below.
Originally posted at gadgetz.tv