Xiaomi sells 1.5 million Redmi Note 2 units in a month!
Xiaomi has broken another record by selling 1.5 million units of the Redmi Note 2 which was just launched a month ago. The smart phone was selling for 125 USD in its 16GB version and 156 USD in its 32 GB model. This has contributed to the record high sales and the projection indicates that the sales for the Redmi Note 2 might exceed 10 million by the end of 2015.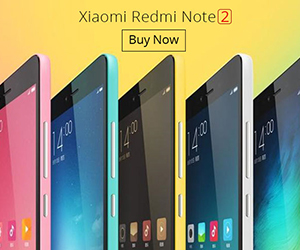 The slim design phone is equipped with 13MP rear camera for full HD great shots and 5MP front camera for a clearer video chats. The bright exterior colors of the cover options give users a wider array of selection. The eight Cortex A53 processor and the 2GB RAM together with the 5.5 inch 1080 pixels HD display create the astonishing user experience. The phone accepts dual Micro-SIMs that can be both 4G technology. The FM radio, the 4.0 Bluetooth and the 802.11ac Wi-Fi radio offer more connectivity solutions. The phone runs on MIUI 6 when unpacked from the box and the Android 5.0 with MIUI 7 skin upgrade is readily available for a manual update.
Unfortunately at the moment, it is reported that the Redmi Note 2 is only available for the Chinese local market. However, Xiaomi's products are showing a huge potential to attract even larger number of buyers in the international market. The company is already expanding to the Indian market and also eying the US for the near future.