Xiaomi Mi4C Front Camera Compared With iPhone 6, Features 5MP 85° Wide Angle Shooter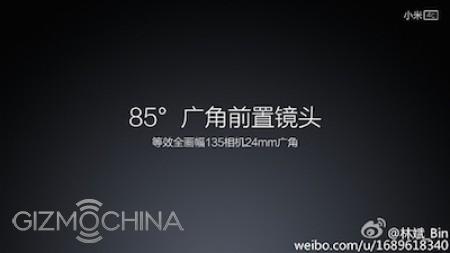 A lot of promotion has been going around about the Xiaomi Mi4C. One of its outstanding features was the 5MP front camera. According to President Lin Bin the co-founder of Xiaomi, the front camera is not just a high resolution snapper but also capable of taking pictures in an 85 degrees wide angle setting. This functionality is intended to support a large group selfie comfortably accommodating six people in a single shot. This is indicated to be equivalent to the functions supported by a 24 mm professional camera.
Buy Xiaomi Mi4c 2GB RAM version from from geekbuying.com
Buy Xiaomi Mi4c 3GB RAM version from from geekbuying.com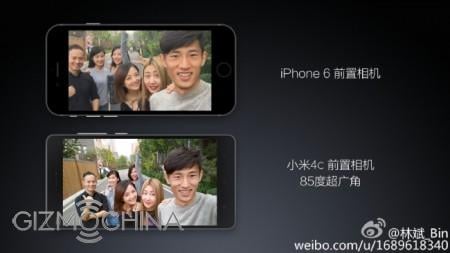 The president also shared two comparative selfie pictures taken by the 5MP Xiaomi Mi4C front camera and by the 1.5MP on the Apple iPhone 6 on his Weibo. The pictures showed that more six people were included with a little bit of the background in the selfie taken by the Mi 4C. The phone also comes with a 13MP main camera that has a dual tone LED flash and self-timer function to take timed pictures.
The new smartphone is expected to debut in a few days' time with the basic model containing 2GB RAM and 16GB storage to be priced at $200 while the larger model containing 3GB RAM and 32GB storage will be priced at $235. Another model with 3GB RAM and 64 GB storage is also being expected. It is said that only 100,000 units of the Mi4C are announced to be made available for the market. But lets wait for an official announcement.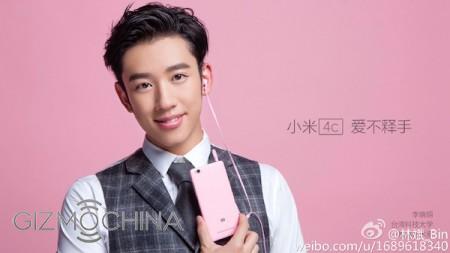 In related news, its almost confirmed that the Mi4C will feature a pink version as well, targeted at women. The picture was posted on Weibo a few hours back by the President.
Buy Xiaomi Mi4c 2GB RAM version from from geekbuying.com
Buy Xiaomi Mi4c 3GB RAM version from from geekbuying.com