1byone Smart LED Bulb Bluetooth Speaker Review
We don't usually think much when we need to replace our broken light bulb as we just go to the store and pick one up. Well, you can do that but if you want to a little bit more style to your home, you may want to check out a cool piece of tech – a smart LED light bulb with the Bluetooth speaker. We have just reviewed on, so you can decide if this is a thing you need for your home.
1byone Smart LED Bulb with Bluetooth Speaker Review: VIDEO
1byone Smart LED Bulb with Bluetooth Speaker Review: UNBOXING AND SETUP

All you are getting in the packaging is the bulb itself and some documentation.
This highly customisable LED bulb is made of glass and plastic and the overall construction looks solid.
The installation is super easy as you just have to replace your regular light bulb. Keep in mind that this bulb is 8cm wide and 14cm long, so it may not fit some lampshades.
The only way to control this 1byone LED bulb is using the Android or iOS app and you can download it by simply scanning the QR code.
1byone Smart LED Bulb with Bluetooth Speaker Review: FUNCTIONALITY

All right, I have already installed the app and connected the smart LED bulb to my phone, which was very easy.
The app itself is very simple to use. It has the integrated music player, which is okay but some sort of equaliser settings would have been nice. All you can do here is to play/pause or change tracks.
The next thing the app allows is to control the colour tone and the brightness of the bulb. A very cool thing is that you can just set it to auto and the bulb will start blinking randomly to the music rhythm you play. What I can say is that it really looks dope!
Also, you can take a full manual control and choose between 16 million color variations. Well, if you can really differentiate so many colours, of course. Also, you can adjust the brightness or just select warm or cold white.
If you want just to listen to music, you can turn the light off and vice versa.
A cool feature is that you can set a timer to turn the lights off and it works well.
A few complaints about the app would be that it has a few poor English translations and sometimes it happens that you can't scroll through the music track normally. Well, this is version 1.0 of the app and hopefully this can be fixed and we may have a more polished app overall.
1byone Smart LED Bulb with Bluetooth Speaker Review: SOUND QUALITY

The sound quality is actually pretty good for the size of the speaker and considering the fact that this is the LED light bulb after all. However, you may hear a few crackling noises at the highest volume setting when playing songs, which have a lot of bass. This is not an issue though as it happened with just a few songs I played.
The volume output is quite impressive as this light bulb can easily fill the largest room.
1byone Smart LED Bulb with Bluetooth Speaker Review: CONCLUSIONS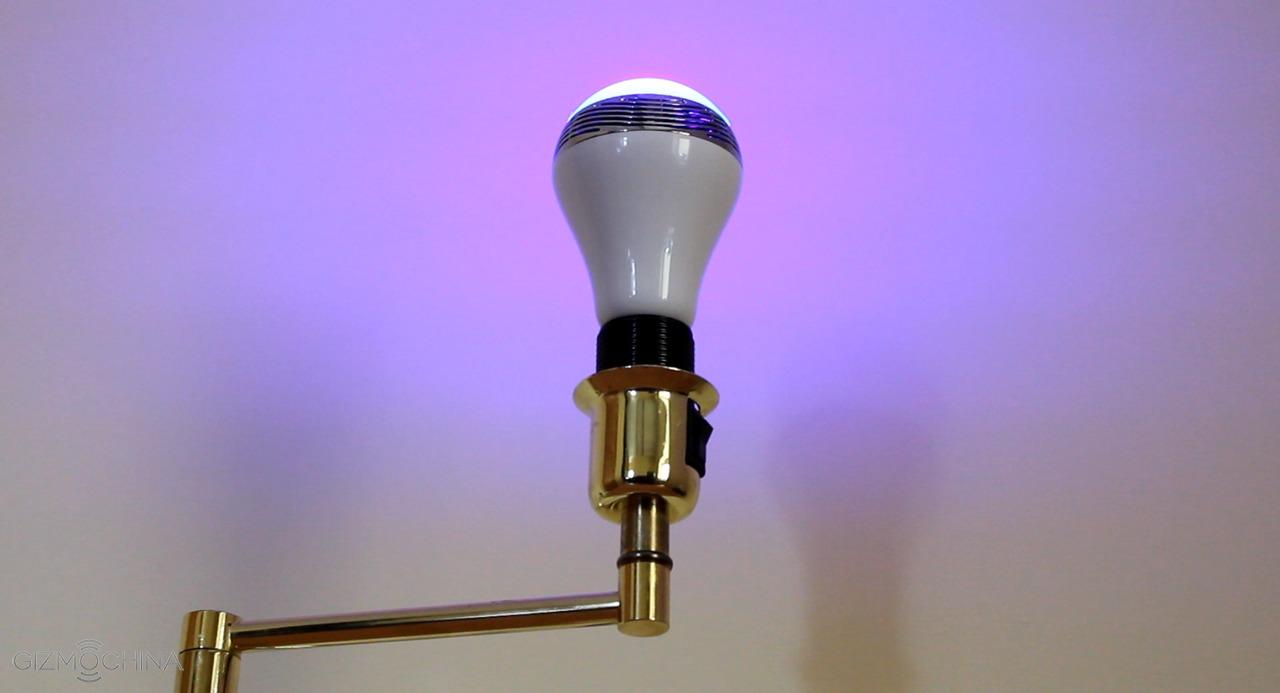 So there you have it, the 1byone smart LED bulb with the Bluetooth speaker. This may not be the cheapest light bulb for $47 but you are getting much more than your regular LED light bulb.
You can either use it as a regular LED bulb, take full manual control of the colour tone or brightness, or just let the light do everything automatically to the rhythm of the music you play.
A loud and quality Bluetooth speaker will definitely impress your friends especially if you play it with the auto lights-on mode. That is my favourite feature, by the way. Also, the bulb takes only 6W of power if you care about that.


However, the app could be a little bit more polished and the music player can have some more features. The thing that sometimes you can't scroll back and forth in the same track can be annoying but hopefully this is something that can be fixed via future software update.
Still, for the price $47 it is a great offering considering the overall package you are getting and a few disadvantages are far from a deal breaker. If you believe this is a gadget you need, you can grab it from the Amazon US or Amazon UK websites from the links below.