No. 1 X6800 IP68 Rugged Smartphone Review
Today we have lots of phones that look nice and they sport premium materials but  usually if you drop them, they suffer from severe damage. No.1 – a Chinese manufacturer – has made quite a few rugged phones and we are looking at one of them today. Meet the X6800.
No. 1 X6800 Review: VIDEO
No. 1 X6800 Review: UNBOXING

The No. 1 X6800 comes in a box, which is full of accessories that include USB brick, two micro USB cables, which have a longer than usual plug meaning that regular USB cables will not work with this phone. This is a huge disadvantage in my opinion. Also, we have a screen protector, some documentation and lastly there is a multifunctional some kind of survival kit…
No. 1 X6800 Review: DESIGN and DISPLAY

First of all, the phone is very huge, thick and heavy due to its ruggedised IP68 rating properties and 5.5" display. Speaking of which, it is far from the best panels we've seen. It is not bright enough and the sunlight visibility is just terrible. Also, the colours are not very accurate and the sharpness could be better.


On the top we have an interpolated 5MP camera, earpiece and the notification LED. On the bottom there are 3 non-backlit capacitive buttons.

The back (the same as the whole device) is made of rubberised plastic. O the top we have an interpolated 13MP shooter with the LED flash and on the bottom there is a loudspeaker.

In order to remove the backplate, you have to unscrew 6 screws, which can take at least a few minutes. A funny thing is that the company did not include the screw driver and the included multifunctional tool is not comfortable to use for this purpose.

Under the hood there is a removable 6000mAh battery and two SIM card slots. I found it very complicated to remove the SIM card with my fingers. Also, the phone has a built-in 800Mah battery as a backup in case the main one dies.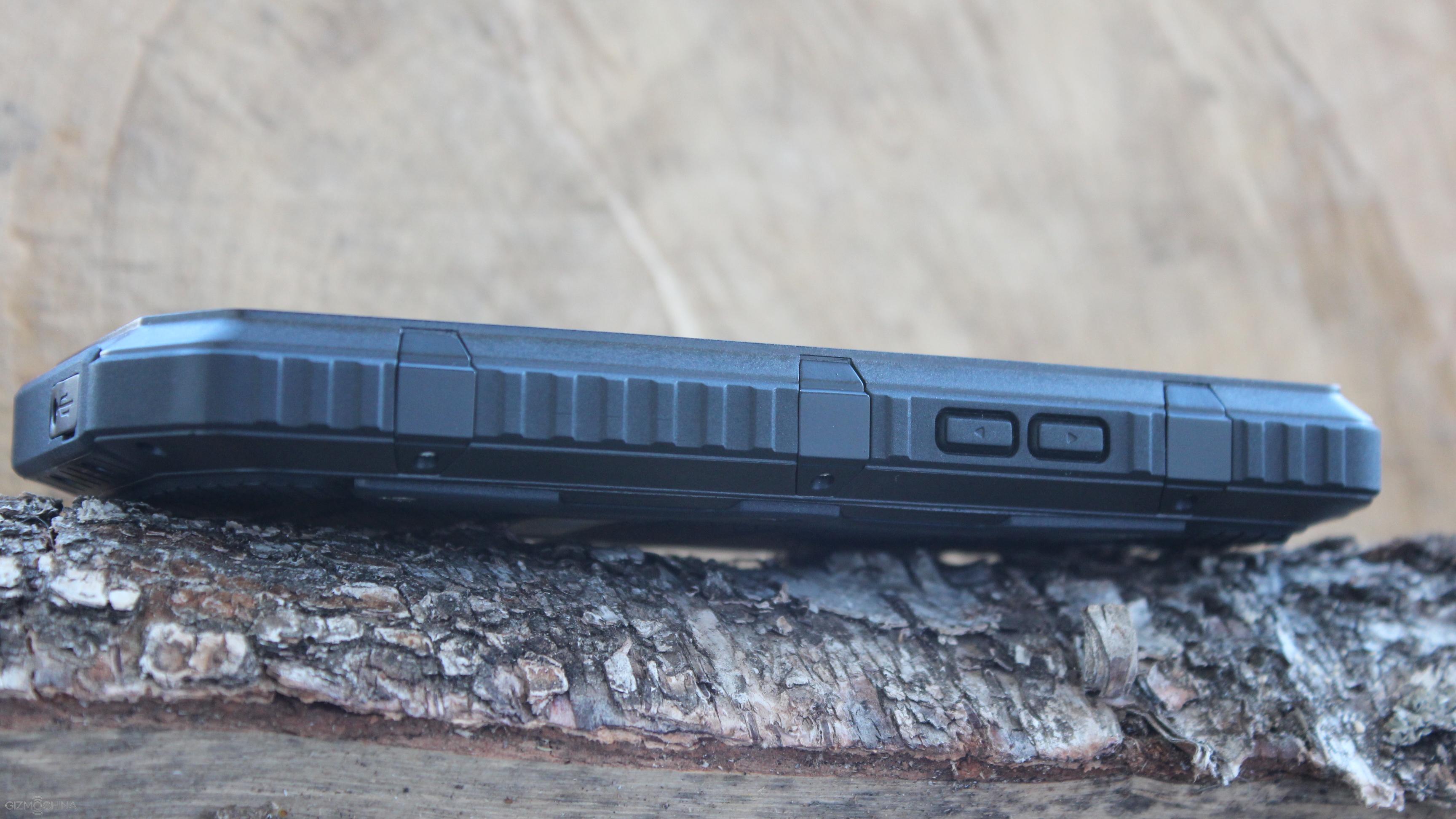 On the left we have a power key and on the right there is a volume rocker, which are very hard to press and inconvenient to use. This is probably the worst buttons implementation I've seen in a while.

On the top we have a headset jack and on the bottom we have a charging port and they are both covered by the flaps as the phone is water and dust resistant. However, the charging port's flap is really hard to open up and I always end up using a screw driver.

Overall, the phone is very huge and it literally feels like a brick. It is very inconvenient to carry in the pocket and hard to open flaps don't make life easier either.
No. 1 X6800 Review: UI
The No. 1 X6800 runs on outdated Android 4.4 Kitkat version. It is a pretty much stock Android experience. It is running smoothly but I encountered with occasional stutter and lag especially after pressing a home button.
The only gesture control is a double tap to wake, which is really essential given a large footprint of the phone and the fact that the power button is the hardest to press I've seen.
However, double tap to wake feature doesn't work all the time and if it works, it is very slow.
Overall, the UI implementation is not the best but not the worst either.
No. 1 X6800 Review: BENCHMARKS
No. 1 X6800 Review: HARDWARE and PERFORMANCE

The phone has a Snapdragon 410 chip, 1GB of RAM and only 8GB of expandable storage.
The 3D games work okay but nothing to be impressed about. There are skipped frames, a bit of stutter and the graphics don't look good.
No. 1 X6800 Review: MULTIMEDIA
Multimedia experience is below average due to mediocre screen quality and a silent, and sounding loudspeaker.
No. 1 X6800 Review: CAMERA
The 13MP interpolated camera does not impress. While it can take some usable images for social media, most of the shots lack in details, sharpness, the sensor sometimes struggles focusing and so on.
No. 1 X6800 Review: CONNECTIVITY
The connectivity options like GPS, Bluetooth and Wifi seem to be working fine.
No. 1 X6800 Review: BATTERY LIFE
The No.1 declares that the phone has a built-in 800mAh and a removable 6000mAh battery. However, everything is not as good as it sounds on paper. Firstly, I suspect that the battery capacity may not be real as all the test apps show that it has only 4000mAh capacity. While it may be the software recognition issue due to the unusual dual battery nature of this phone.
No. 1 X6800 Review: CONCLUSIONS

No. 1 X6800 is a super rugged phone with the IP68 rating with waterproof, dustproof and shockproof properties. It is clearly a niche product and it is not for everyone.

The phone is very big and thick and it is a burden to carry it in the pocket.
The idea behind the No. 1 X6800 is that it can be used in extreme situations and it may be great for some users.

The display quality is far from the best and the direct sunlight visibility is a little poor.
All in all, the No.1 made a big rugged phone that it has a big battery.