Meizu takes a dig at OnePlus, Offers To Swap Your OnePlus 2 For A Meizu Pro 5!
If you have been following the tech world, you would have come across an interesting campaign from OnePlus called as #TakeTheEdgeOff. Under this campaign, Samsung Galaxy Note 5, Galaxy S6, S6 edge, and S6 edge+ users could swap their smartphones for a brand new OnePlus 2. While this sounded like an absurd deal, given that these phones are much costlier than the OnePlus 2, Meizu is here to give OnePlus a taste of their own medicine.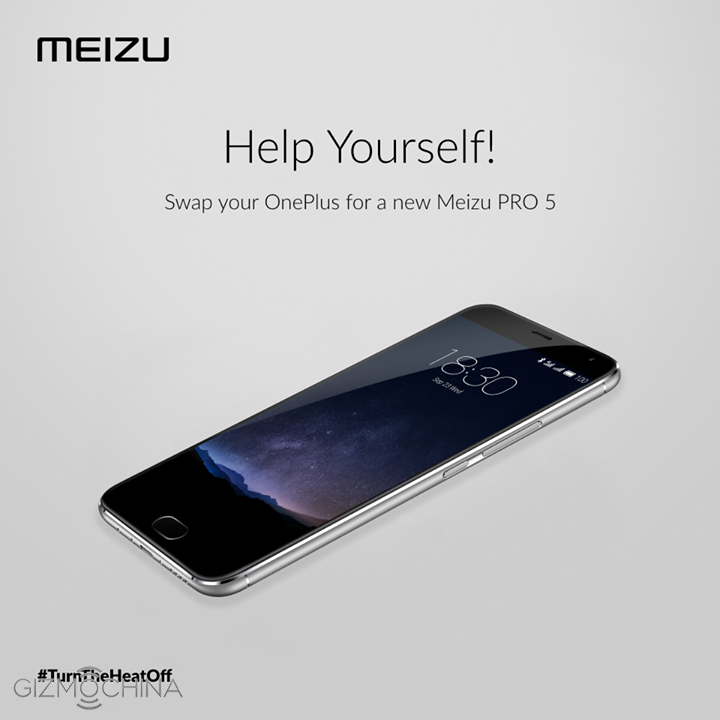 Yesterday evening, Meizu kicked off a campaign wherein OnePlus 2 users could swap their smartphones for a brand new Meizu Pro 5 flagship. If you consider the specifications of the Pro 5, this actually turns out to be a pretty good deal! Well, to make things even more competitive, Meizu's campaign has the hashtag #TurnTheHeatOff. In case you remember, OnePlus's own campaign was called #TakeTheEdgeOFF!
From the hashtag, it looks like the company wants users to swap to a Meizu Pro 5 to get over the heating problems associated with the Snapdragon 810 chipset under the hood. There seems to be limited units available for the swap and according to the page, the lucky winners will be announced via e-mails later this week.
Meizu is yet to reveal details about this campaign like what happens to the OnePlus 2s that they receive, do they donate it or do they use it for some other purpose? Also, its not yet known when and how the actual swap will take place. We hope to get more details pretty soon as the campaign comes to an end.
As for the Pro 5, it features the powerful Exynos 7420 with 3GB/ 4GB RAM options and 21MP/ 5MP cameras. Overall a great deal we would say. So, if you are not happy with your OnePlus 2, this might be a good opportunity to swap your phone for something better without costing you a penny. Just head over to their Facebook page and fill out a form to participate in the campaign.
What do you think about this campaign? Would you trade your OnePlus 2 for a Meizu Pro 5?