Huawei Mate 8 Will Release On November 26!
Ever since the release of the Huawei Mate S flagship back in September, Huawei CEO Yu Chengdong has time and again affirmed the company will release the awaited Mate 8 flagship later this year. He had said in an interview that the flagship was delayed mainly because the company wanted to use the new Kirin 950 chipset, which is said to be more powerful than Exynos or Snapdragon.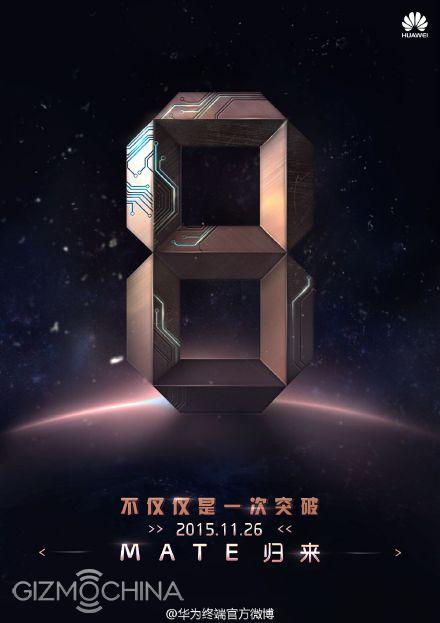 Looks like the time has come for both the Kirin 950 and the Mate 8 flagship to launch. Earlier today, Huawei posted a new teaser via its official Weibo page with the giant number 8 in the center, confirming that the Mate 8 will come on November 26. While, the poster says nothing about the Kirin 950 chipset, Chengdong had said that the flagship will feature high-end chipset which means it could debut along with this device.
It is said that the self-developed Kirin 950 chip will feature quad Cortex A72 and quad Cortex A53 Cores clocked at 2.4GHz. There will be Mali-T880 GPU on board with i7 co-processor, Tensilica Hi-fi Audio DSP and Cat. 10 LTE connectivity. The performance is said to be better than both, Samsung Exynos 7420 and Qualcomm Snapdragon 820.
The Huawei Mate is said to be a very powerful device. It is expected to come with a 6-inch 2.5D Force Touch Display with two versions, the standard edition with 3GB RAM and 32GB ROM and the high-end edition with 4GB RAM and 64GB ROM. There will be 20MP camera at the back and an 8MP shooter up front. The phone will feature all metal design like the Mate S and will come with a large battery to support the high-end specs.
The release of the Mate S will definitely confuse the buyers to some extent. Its quite close to the Mate S flagship that was announced just a couple of months back. However, considering the specifications, we can say that the Mate 8 is kind of the higher end variant of the Mate S with a larger display and a faster processor.
Anyways, since the Mate 8 launch is still about three weeks away, we are sure to see some more information about the device. So, stay tuned.