Leagoo Elite 1 Review – Premium Meets Elegance
Leagoo may not be the first manufacturer you think of when it comes smartphones. The Elite 1 is a very stylish yet affordable device but is it any good?
Leagoo Elite 1 Review: VIDEO
Leagoo Elite 1 Review: SPECS
| | |
| --- | --- |
| Display | 5″ 1080P (FULL-HD) |
| Processor | MTK6753, 64-bit, Octa-core, 1.3GHz |
| RAM | 3GB |
| Camera | 13MP Front/16MP Back |
| Connectivity | Bluetooth, 3G, 4G, GPS, WIFI, GSM,EDGE, GPRS, UMTS, HSPA, HSPA+, dual-SIM, FDD-LTE B1/B3/B7 |
| Battery | 2.400 mAh (non-removable) |
| Dimensions | 14.38 x 6.95 x 0.75 cm / 5.65 x 2.73 x 0.29 inches / 136g |
| OS | Android 5.1 |
| Storage | 32GB (expandable via microSD card slot up to 64GB) |
Leagoo Elite 1 Review: UNBOXING

To be honest this is the first time I am reviewing the Leagoo phone and it made a great first impression by a nice looking box and a great overall presentation.
Everything's packed neatly and the contents include the USB brick and a charging cable, OTG cable, a pair of headphones, SIM ejector pin, instruction manuals and a screen protector. That's quite a bundle, I would say.
Leagoo Elite 1 Review: DESIGN

When it comes to the design, we are looking at a very sleek and premium feeling device, which is very well made and it uses metal and glass sandwich construction. Also, it is quite a compact phone due since it carries only 5" display.

The front is covered with the Gorilla Glass 3 and on the top we have an LED, which can light up in 3 different colours, earpiece, a generous 13MP selfie camera and front firing LED flash.

Leagoo implemented a physical home button, which also doubles as a fingerprint scanner and it is said to be covered with the saphire glass. We also have two backlit capacitive keys next to it.

The back is also covered by the Gorilla Glass 3 but it is a fingerprint magnet as all glass surfaces.

As far as optics, we have a 16MP shooter with dual LED flash.

The Leagoo Elite 1 has a quality metal frame and on the right we have a bunch of controls, which include a volume rocker, power key and guess what, there is a camera shutter button but it only has one stage.

On the left there is a dual SIM or a combo of one SIM and the microSD card slot.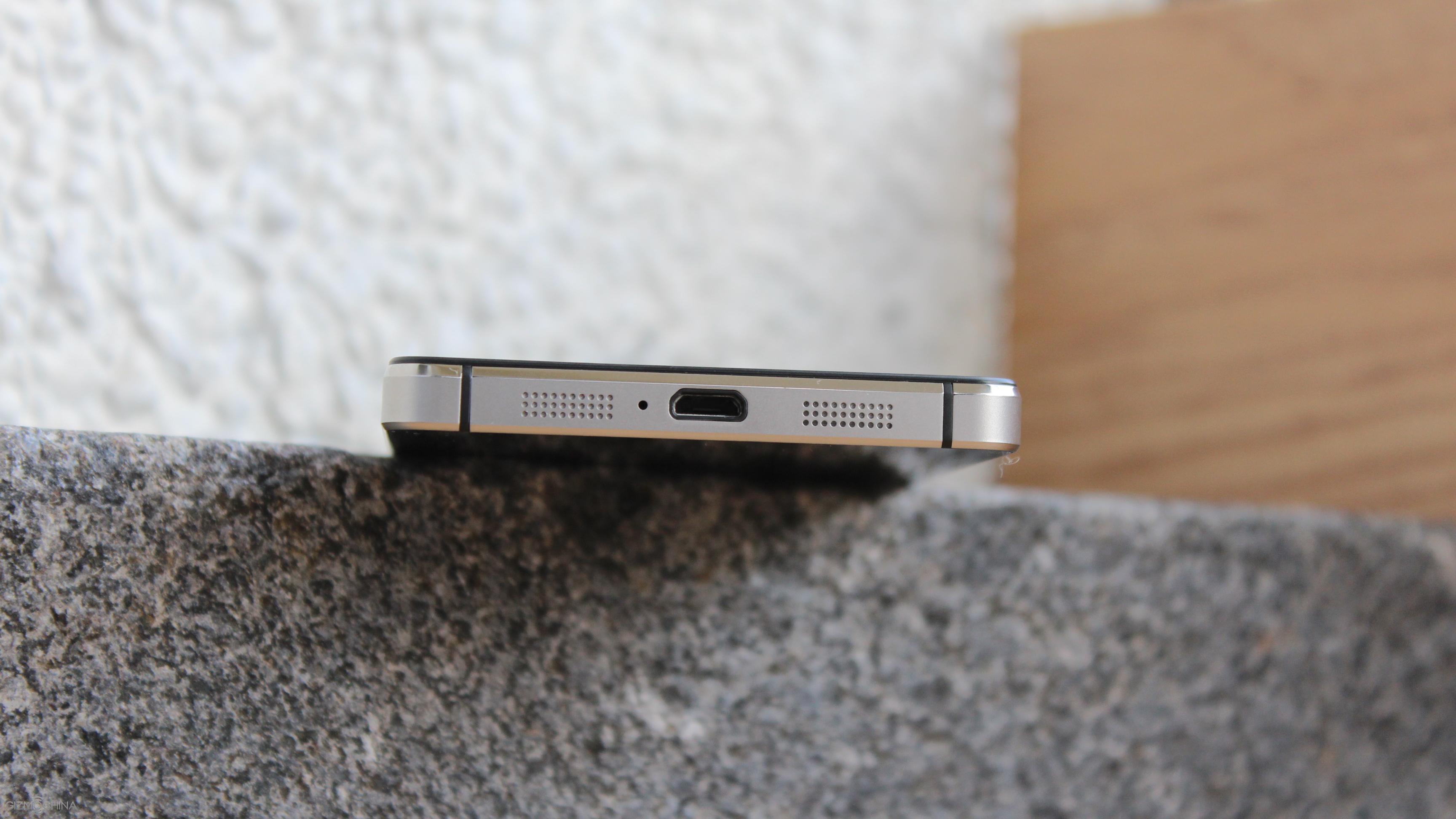 On the top there is a headset jack and on the bottom you can find a mic, a speaker grill and the USB port.
Overall, I have to say that this is a one premium looking phone with very good build quality that can rival much more expensive phones as Leagoo Elite 1 costs just below $200.
Leagoo Elite 1 Review: DISPLAY

When it comes to the display, we have a 5" 1080p IPS panel, which is nice and sharp to look at but I found colours to be on a colder side for my taste.
Leagoo Elite 1 Review: UI
When it comes to the UI, we have a highly customised version of Android 5.1.
First of all, we don't have an app tray but we have a bunch colourful icons and if you don't like them, you can change the whole theme by simply pinching in on the display. Speaking of themes, you can download more of them on the dedicated online store.
Also, we have lots of animated widgets like the music player or gallery.
Whether you like gesture or motions controls or not, Leagoo  included a bunch of them, which are divided into different settings menus for some reason. Usually, I only use double tap to wake feature but I tried a few others and they work pretty good.

When it comes to the fingerprint security, the setup is pretty straightforward but I can't say that the fingerprint scanner is the fastest one. Yes, it is pretty accurate (although not the most accurate) but it just takes time to recognise your fingerprint. Another  con is that it does not work straight from the standby mode.
Overall, the UI is fast on the daily use but you may see some choppiness in animations there and there if you are scrolling through menus very fast. However, it is far from a deal breaker.
Leagoo Elite 1 Review: BENCHMARKS
Leagoo Elite 1 Review: HARDWARE and PERFORMANCE
The Leagoo Elite 1 uses an octa-core 
MTK6753 chip with the clock speeds of 1.3GHz, 3GB of RAM and 32GB of expandable storage. Well, we've seen these kind of specs on a bunch of China phones lately but it all comes to the right implementation. 
Luckily, the phone manages to handle 3D games very well. Honestly, there were just a few minor skipped frames but there is nothing worth complaining and you may get almost stutter free performance. 
Leagoo Elite 1 Review: MULTIMEDIA
When it comes to the multimedia consumption, the loudspeaker is ok but there is nothing to be impressed about. It lacks depth and the sound is a bit tinny but ohh well, this is what you usually get for this price.
The sound via earphones is also okay but it is not stellar.
Despite lots of customisations in the UI, Leagoo decided to go with the stock Mediatek camera app we've seen on a lot of phones and I  guess it's ok.
Leagoo Elite 1 Review: IMAGE QUALITY
When it comes to the actual quality of the images, the 16MP camera is capable of producing some sharp looking photos with a good amount of details, natural colour reproduction and great contrast.
However, the sensor is having a hard time dealing with direct sunlight rays and some of the pictures have softer focus on the corners.
As usual, the quality declines when the sensor does not get as much light but the Elite 1 is not that bad performer. Well, it is not great either as the images have quite a lot of noise, not that much details and the camera does not always illuminate the scene to make it more visible. Still, this phone is a bit better than lots of phones I've tested in this price range.

When it comes to selfies, the camera is inconsistent. Sometimes, you can get a decent looking photo but the problem is that sometimes camera struggles focusing right, which leads to blurry images.
Leagoo Elite 1 Review: VIDEO QUALITY
The 1080P video is above average I would say. Still, the footage could have more details and look a bit sharper overall. See video review for a video sample.
Leagoo Elite 1 Review: CONNECTIVITY

When it comes to connectivity (call quality, signal reception, GPS, Wifi, Bluetooth) everything's working fine and there are no issues here.
Leagoo Elite 1 Review: BATTERY LIFE
The 2400mAh battery does not sound impressive neither on paper nor in reality. I could get maximum of 3 hours of screen-on time with the auto-brightness and one SIM card.
Leagoo Elite 1 Review: CONCLUSIONS

Leagoo Elite 1 is a one pleasant surprise, to be honest with you. The company is pretty serious about the presentation and it can be seen from the packaging to the design and the materials used in this phone.

It is a premium looking device that is compact and the Elite 1 has a feature-rich UI, which is running smoothly most of the times, a well-optimized processing package, which leads to a good gaming performance. Also, the phone has a pretty good but not perfect camera.
However, the Leagoo Elite 1 has a slow yet accurate fingerprint scanner and the battery life does not impress.

Other than that, the phone is a good offering considering the price if you don't mind a few shortcomings… and if you choose the Elite 1, no one will think this is a sub-$200 phone.