Lenovo ZUK Z1 Review: Ferrari Speeds?
ZUK is a new comer to the smartphone game – the affordable yet great ZUK Z1. If you haven't heard of it, ZUK is a start-up, which is backed by the Chinese electronics giant Lenovo. Find out if it is a great smartphone in our full review.
We wanted to say thanks to Coolicool for sending Lenovo ZUK Z1 for a review. Gizmochina readers are getting a special $20 or $30 discount. Grab a discount code at the end of the article!
Lenovo ZUK Z1 Review: VIDEO
Lenovo ZUK Z1 Review: UNBOXING

The phone comes in a neat quality packaging and all the contents, which include the neatly folded USB-Type C charging cable, USB brick and instruction manuals are packed in separate boxes.
Lenovo ZUK Z1 Review: DESIGN

When it comes to the design, the ZUK Z1 is not a small phone as it sports a 5.5" display. However, the bezels on the top and bottom parts make this phone slightly taller than e.g. OnePlus 2.

Still, the phone is manageable with one hand due to rounded corners and it sits very comfortably in the hand.

I have both white and grey models and the differences are, of course in colours, which are different on all sides of the phone. A more significant difference is that the white model has a glossy plastic finish, which attracts smudges and I'm not a huge fan of it.

On the top we have a widely customisable LED light as you can choose any colour you want and assign it to different scenarios. Also, we have a generous 8MP selfie snapper.

On the bottom, there is a very tactile home button, which doubles as a fingerprint scanner and it is blazing fast. Literally, it is one of the faster fingerprint readers I've ever tested and it is super accurate. The setup process is very fast too. Unfortunately, it doesn't work straight from the standby mode.
Next to the home button we have two backlit capacitive keys and if you don't like them, you can always choose the on-screen ones and you can customise them the way you want.

The backplate is made of matt plastic and it is nice to the touch. As far as optics, we have a 13MP Sony camera, which is also optically stabilised and it has a dual LED flash.
The phone is surrounded by a metal frame and on the right there is a volume rocker and a power key, on the left we have a dual nano SIM tray, on the bottom there is a speaker grill and the mic, and finally, on the top there is a headset jack.
Overall, the ZUK Z1 is a very well constructed device and I am completely satisfied with the build quality.
Lenovo ZUK Z1 Review: DISPLAY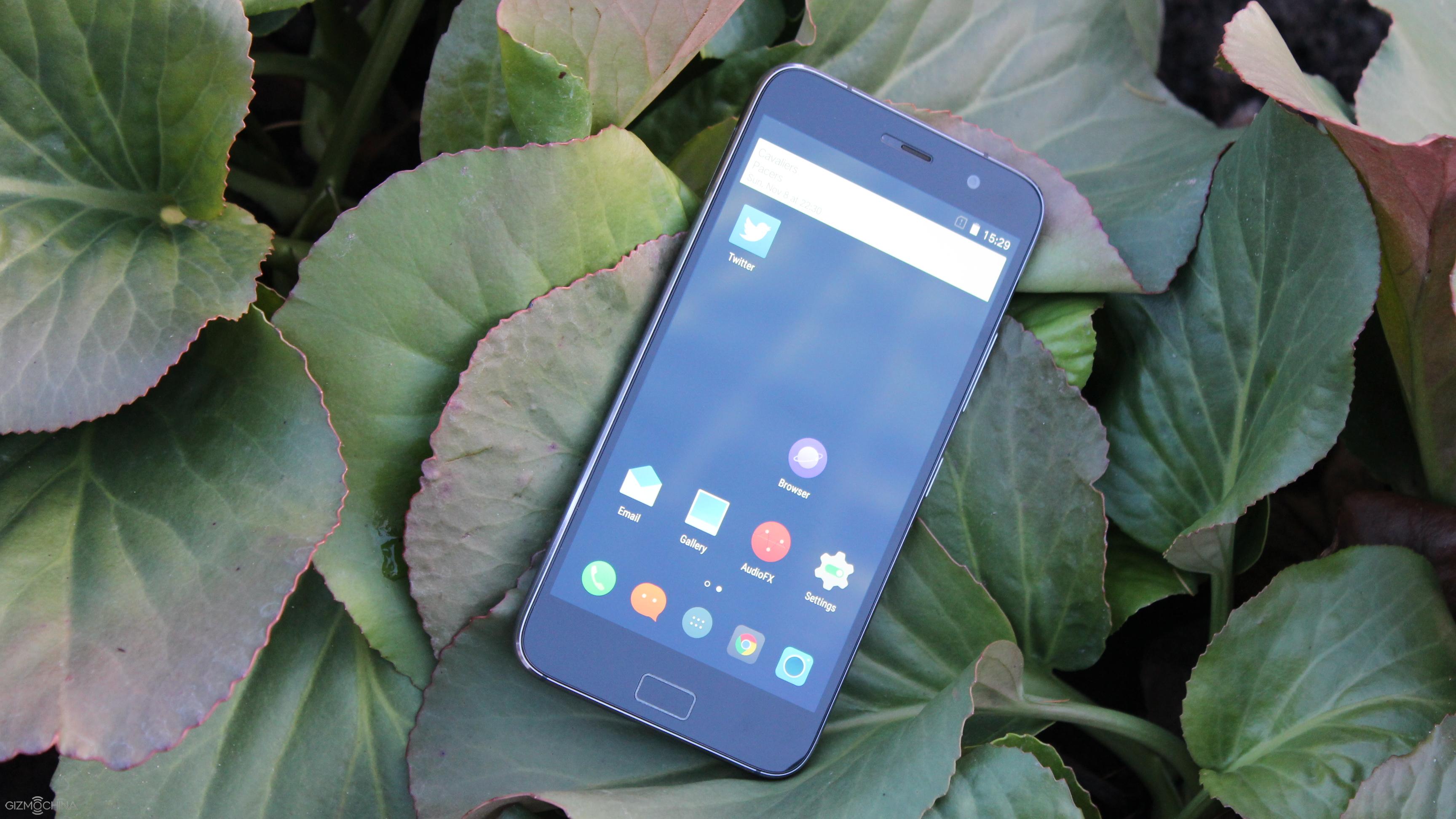 The 5.5" 1080 display is very pleasing to look at. It is bright, crispy and sharp, it has great colour reproduction and good viewing angles. Also, the visibility under direct sunlight is pretty good.
Lenovo ZUK Z1 Review: UI
When it comes to the UI, the ZUK Z1 runs on the well-known Cyanogen Mod 12.1, which is built on top of Android 5.1.
In short, the UI just flies through everything. If you want a long story, let's begin.
Basically, the Cyanogen mod has preserved the looks of the stock Android but it has a lot of neat little features and plenty of tweaks and customisation options, which are very useful and it gives a lot of freedom to the user.
There are familiar gesture controls but we have only those we actually use and they work as advertised. Also, you can assign different tasks to particular buttons, customise LED light, tweak the display density and so on. There are just so many tweaks and just to name a few, you can double click on the notification bar to turn off the display or you can adjust the brightness without even going to the brightness settings.
Overall, despite having lots of tweaks and customisation options, the  UI on the ZUK Z1 is super fast, fluid and responsive, and to be honest, this is definitely on of the fastest UIs on any phone I've ever reviewed.
Lenovo ZUK Z1 Review: BENCHMARKS
Lenovo ZUK Z1 Review: HARDWARE and PERFORMANCE
When it comes to the processing power, the ZUK Z1 is no slouch either as it uses a quad-core Snapdragon 801 with the 2.5Ghz clock speed, 3GB of RAM and whopping 64GB of internal storage as a base model.
Some may say Snapdragon 801 is already an old chip and yes, it has already shown its age due to the mainstream transition to the 64-bit chips. However, everyone will agree that this is still a very powerful processor that can easily handle almost anything you throw at it.
Asphalt 8 runs like a champ, there are no hiccucps whatsoever and even the graphics look almost identical to any of the newest top shelf processors.
Finally, there were no overheating issues.
Lenovo ZUK Z1 Review: MULTIMEDIA
When it comes to the multimedia consumption, the HD content looks nice on a brilliant and vibrant display and you are also getting a pretty good loudspeaker. Well, it could have a bit more depth but still, the sound that is coming out is not bad at all considering the price category of this phone.
Lenovo ZUK Z1 Review: CAMERA
When it comes to the camera, we have a dedicated Cyanogen camera app, which has a fast shutter speed, nice clean design and it is very responsive.
You have some settings to play with and you can adjust some basic stuff or customise the app e.g. with button assignments.
Also, there are some shooting modes and they can be easily changed by swiping anywhere on the screen.
Lenovo ZUK Z1 Review: IMAGE QUALITY
The 13MP camera on the back is capable of producing some nice looking images with a good amount of details, decent colour reproduction and contrast.
The dynamic range is usually good but it is not always accurate. Also, you may get a softer focus on the corners of some images.
When it comes to the night images, they are not very impressive but not bad overall. The level of details is significantly lower and there is plenty of noise.  Well, this is common to most of the phones in this price range anyway.
As far as selfies go, the 8MP snapper is pretty good and it will definitely do the trick for social media but if there is not enough lighting, you may sometimes get a bit blurry image.
When it comes to the 1080P video recording, it is not bad but not great either. There is a decent amount of details but the footage looks shaky and a bit choppy despite the fact that the phone has OIS. See the video review for a video sample.
Full resolution camera samples coming soon (again…. technical issues).
Lenovo ZUK Z1 Review: CONNECTIVITY

As far as connectivity, everything works just fine as I had no issues with the call quality, signal reception, Wifi or GPS.
Lenovo ZUK Z1 Review: BATTERY LIFE
The battery life is one of my favourite parts of the ZUK Z1. The phone has a 4100mAh battery with fast charging capabilities and it performs very well.
I could get almost 7 hours of screen-on time with a light use and the stand-by time was just brilliant.
Naturally, the screen-on time reduces if you do some more intensive tasks but still, I am very happy with the overall battery performance.
Lenovo ZUK Z1 Review: CONCLUSIONS

So, there you have it, the ZUK Z1 by Lenovo. It is a great phone for a lot of reasons, no matter if you look at it like at any other device or a phone that was built by a start-up.
It all starts with a plain yet good looking design and solid construction, and a vibrant display.

Also, you are getting a well implemented UI, which is blazing fast. In addition, the processing power lets you enjoying even the most demanding games, 64GB of internal storage is more than enough to store some good looking images shot by the camera or store lots of songs that sound pretty good via the loudspeaker. Lastly, a generous battery will keep the lights on for a long time.
However, if you are very serious about the night photography or a good video recording is a feature that you can't live without, the ZUK Z1 is not the best performer out there.

All in all, despite a few shortcomings that can actually be fixed with the future software updates, the Lenovo ZUK Z1 is a really good device for the price of just above $300.
Gizmochina readers are getting some generous discounts for the ZUK Z1 when buying from both China and EU warehouses!