ZTE Axon Mini Premium Review – Force Touch and Hi-Fi For the Masses
ZTE is definitely one of the most respectable Chinese smartphone makers since our reviews have already proven that the company is capable of producing high quality products. We have already reviewed the ZTE Axon Elite and even compared it to other Chinese flagships of 2015.
We were definitely impressed by an affordable yet premium handset and this time around we are looking at a little brother – ZTE Axon Mini. It turns out that it is not only another mini version of a flagship but it is one of the world's first Android smartphones (along with the Huawei Mate S Luxury Edition) that has a force touch display technology. Find out more in our full review.
ZTE Axon Mini Review: VIDEO
ZTE Axon Mini: UNBOXING

The ZTE Axon Mini comes in a premium looking packaging where all the items are packed neatly. The contents include the charging plug, USB cable, a pair of earphones, which actually sound pretty good; SIM ejector PIN, some documentation and a soft plastic case, which is always a nice addition to have.
ZTE Axon Mini: SPECS
Display

5.2″ 1080p Amoled (Full-HD)

Processor

Qualcomm Snapdragon 616, 64-bit, octa-core (up to 1.5GHz)

RAM

3GB

Camera

8MP Front/13MP Back

Connectivity

Bluetooth, 3G, 4G, GPS, WIFI, GSM,EDGE, GPRS, UMTS, HSPA, HSPA+, dual-SIM:

Card1:FDD-LTE:B1/3/7/8/12/17/20 TDD-LTE:B38/40/41 WCDMA:B2/5/8 GSM:B2/3/5/8 CDMA:BC0

Card2:GSM:B2/3/5/8

Battery

2.800 mAh (non-removable)

Dimensions

143.5 x 70 x 7.9 mm (5.65 x 2.76 x 0.31 in) / 140g

OS

MiFavor 3.2.0 (based on Android 5.1.1)

Storage

32GB (expandable via microSD card slot up to 128GB)
ZTE Axon Mini: DESIGN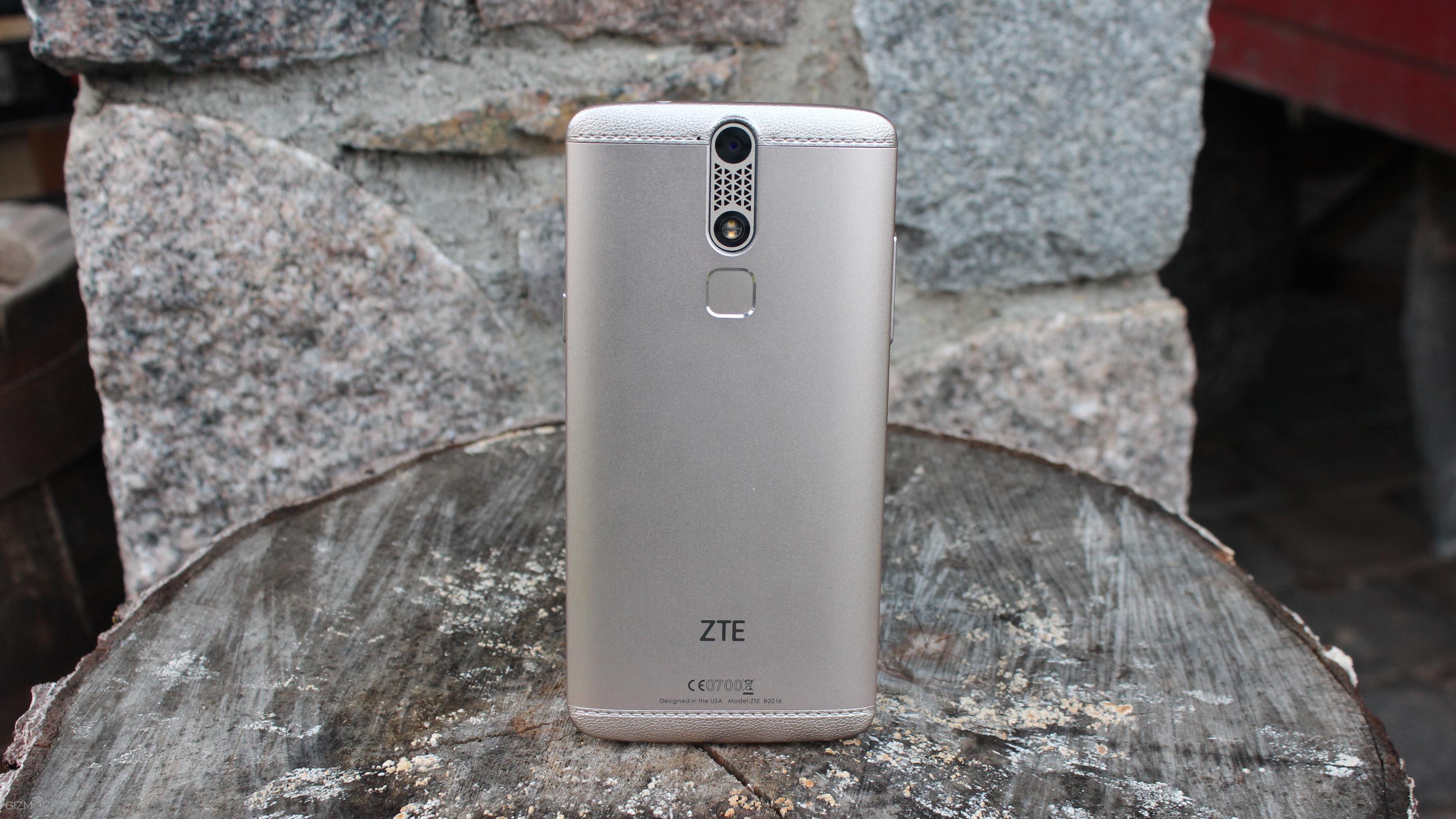 As far as the design, we are looking a really premium and well-crafted handset. It is made almost entirely of metal except for those top and bottom parts on the back, which imitate a leather finish with some fake stitching. It is very subjective and many people may not like it but I have to say that they look okay to me. As a matter of fact, they have a somewhat rubberised finish, which definitely helps with the grip.

The front top and bottom parts may give you an impression that the Axon Mini sports a dual stereo speakers setup. However, the top part is dedicated only for the earpiece, usual set of sensors, notification LED light and 8MP selfie snapper.
The bottom is the place where you can find a front firing speaker along with the main mic.

The ZTE Axon Mini keeps the same design language as its bigger brother but this time around it ditches the dual-camera setup and opts in for a more conventional 13MP shooter with dual-LED flash.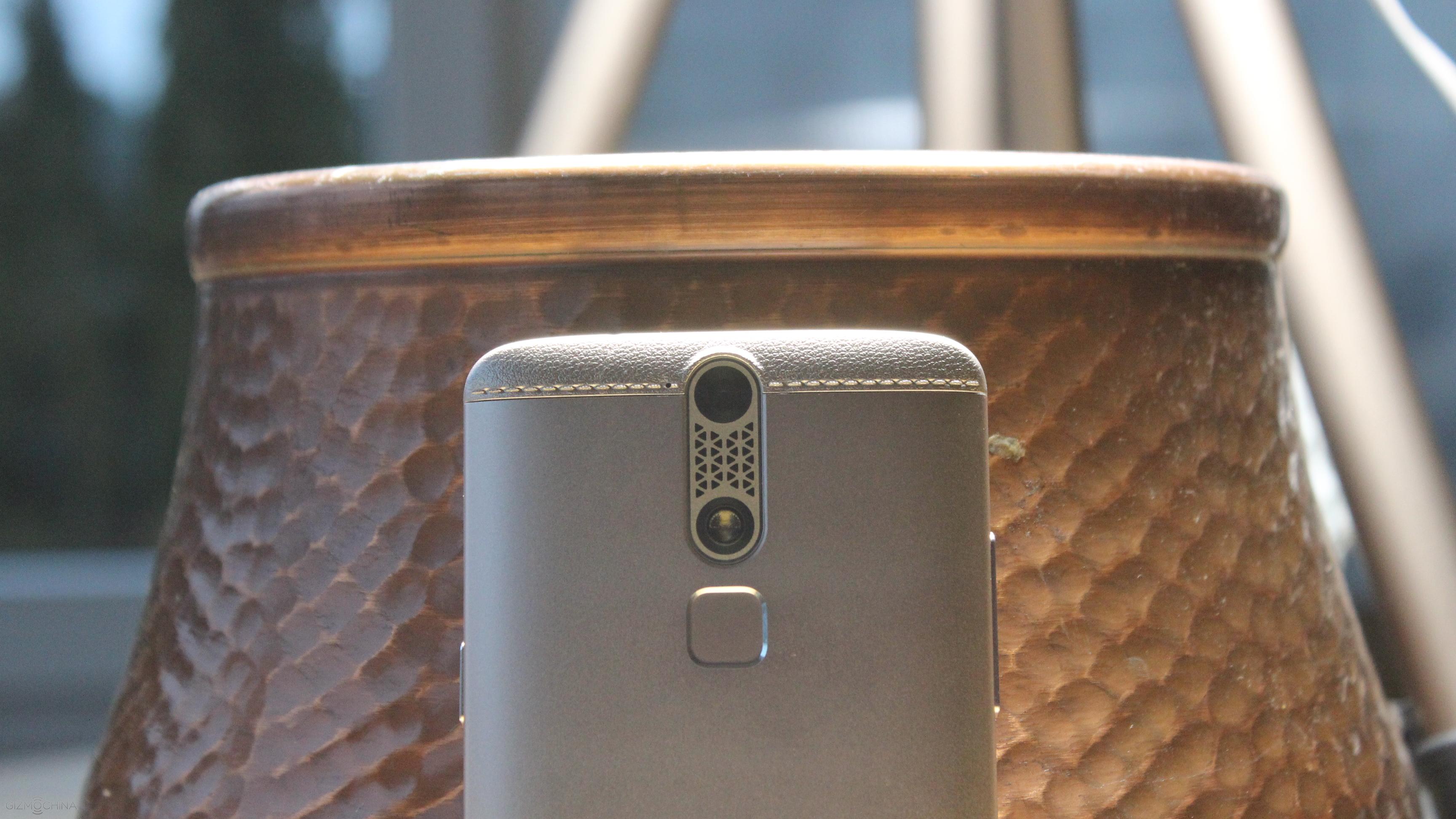 Underneath the camera there is a fingerprint scanner. I've setup it up since the first minute I had the phone and I have to say that it is super easy to setup, very fast and accurate to use. Also, the rear placement of the scanner feels much more natural than on the one found on the front. Again, this may be subjective.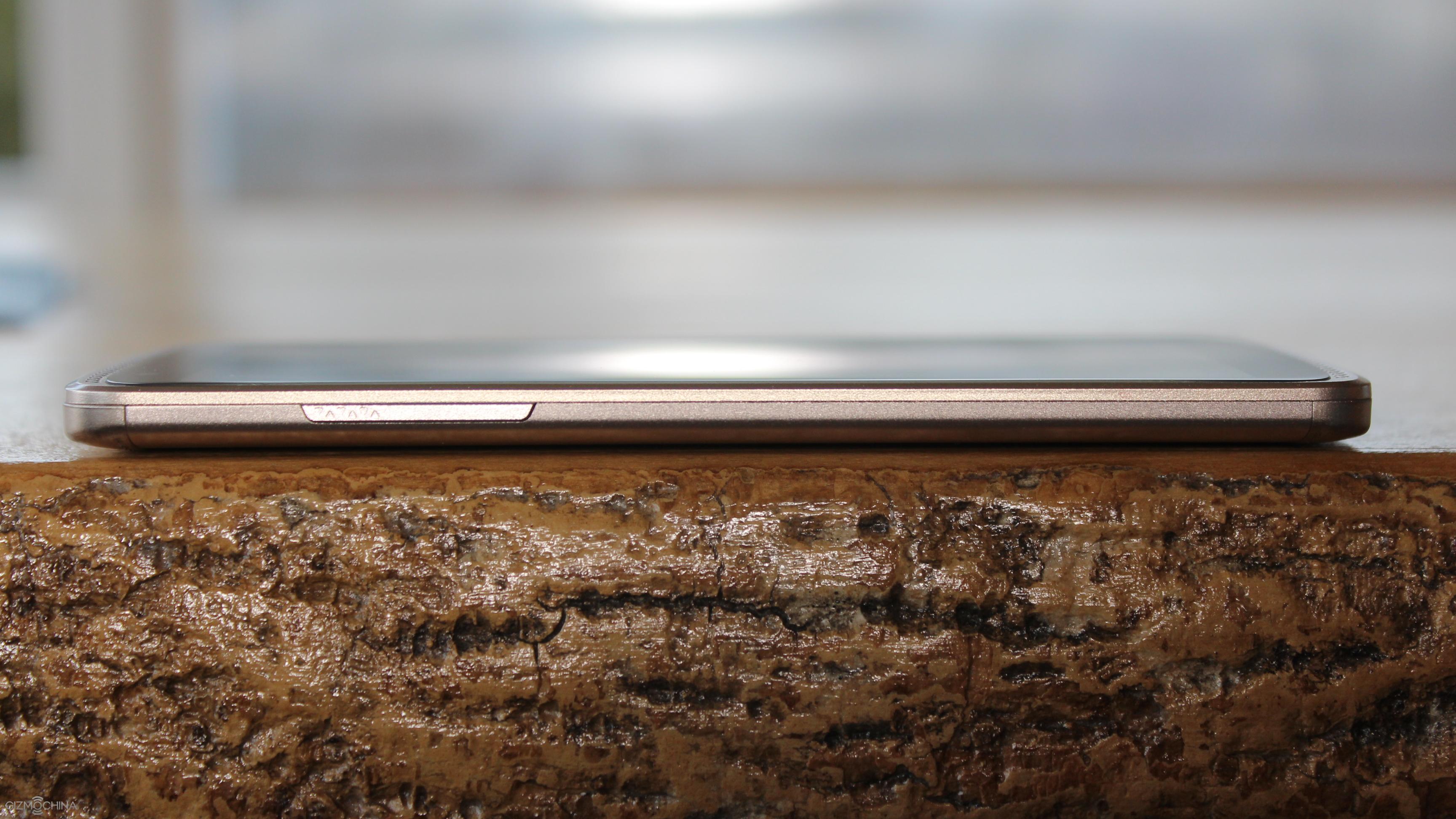 On the top there is a headset jack and on the bottom – a regular micro USB charging port. On the right we have a power key and a dual SIM card and the microSD card slot for storage expansion. On the left, there is a just a volume rocker.
Overall, the build quality is top-notch and I love all-metal design of the phone. The Axon mini definitely feels great in the hand and I really appreciate the fact that it is easily manageable with one hand due to its 5.2″ display.
ZTE Axon Mini: Display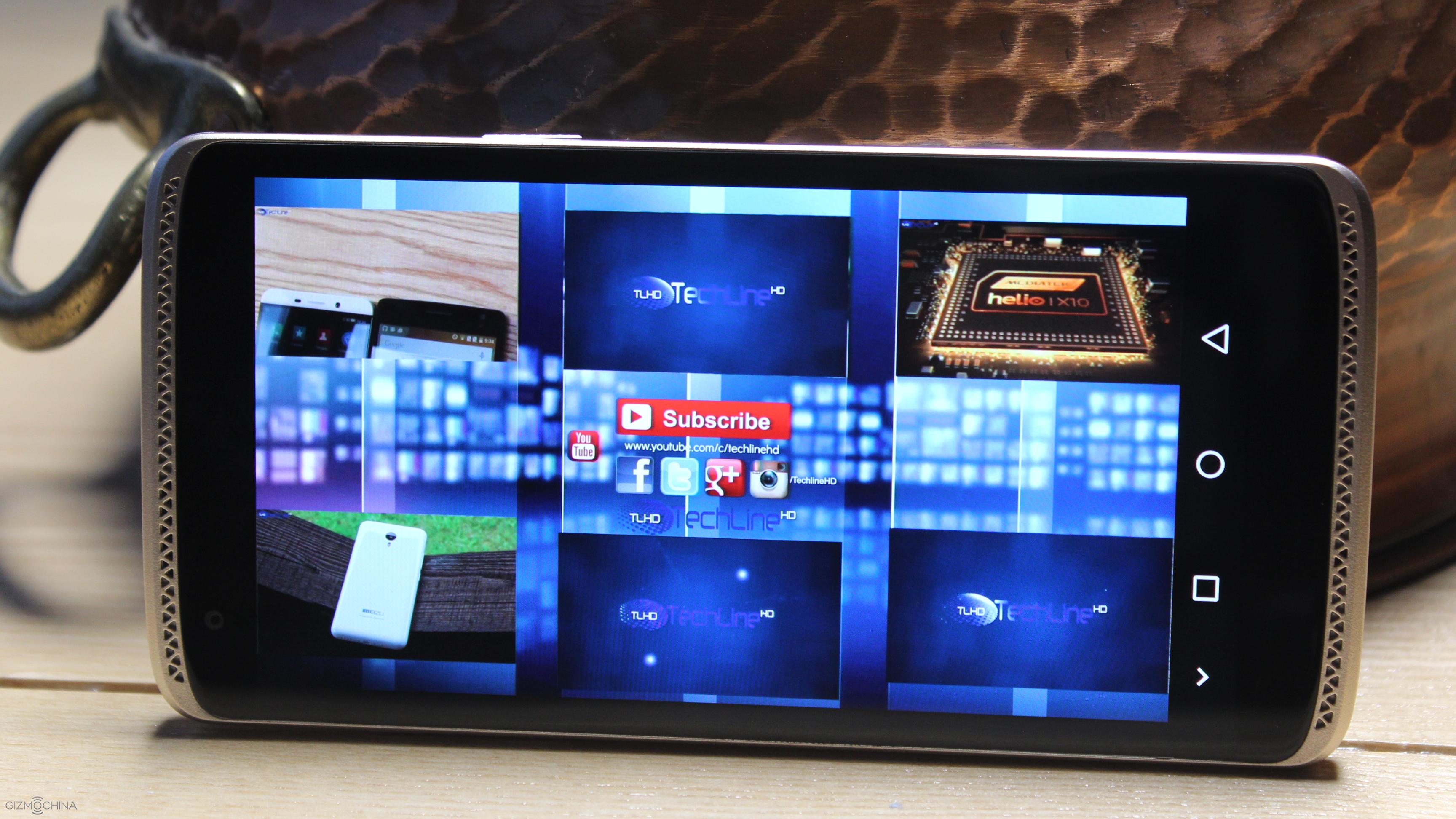 As far as display, we have a 5.2" 1080p Amoled panel, which is just gorgeous to look at. Honestly, it almost looks like an LCD display as it has all the good aspects like colour accuracy, brightness of liquid crystal displays but adds a little bit of punchiness and saturation, which is typical to  Amoled panels.
ZTE Axon Mini Review: UI
The Axon mini comes with the MiFlavor UI, which is built on top of Android 5.1. However, the app drawer has been removed and we are not huge fans of it.
As usual to the Chinese skins, the MiFlavor has quite a few customisation options, gesture controls and a lot of little tweaks and extra features, which work pretty well but it depends on your habits if you will actually use them.
For example, the Axon mini has one of the best implementations of the iris scanner but I'm not sure if this feature is actually needed. Well, it may be cool to show it off to someone in the bar.
The Pressure Sensitive Display Tech: Features and Functionality
We've seen the latter features on other phones but the star of the show here is a force touch display technology and the Axon mini is one of the first Android phones to have it. Basically, it is a pressure sensitive display and, if we use Apple terminology, it works like peek and pop gesture as the panel recognises the amount of force of your pressure of your fingers.
The main question here: is it useful? Once you get used to it, definitely yes. Does it work well? Again, when you get used to it, it is. Most of the force touch features are associated with the built-in apps and gallery, and they work pretty well. If the app does not support this feature, the screen will just blink. However, you may have a few accidental touches there and there. Finally, if you asked me if this feature is really necessary, I would say no but it is definitely a fun and innovative way of interacting with your phone. Also, ZTE did a pretty good job with the implementation. We suggest you checking out the video review to see how this technology works.
All in all, the UI is running fast and fluid, and it is really impressive given the early software build of the phone.
ZTE Axon Mini Review: BENCHMARKS
ZTE Axon Mini Review: HARDWARE and PERFORMANCE
ZTE Axon Mini comes with an octa-core Snapdragon 616 chip with the maximum clock speeds of 1.5GHz, 3GB of RAM and 32GB of expandable storage.
The 3D games work well but you have to make sure that any power saving features are off. The graphics look great although not that spectacular like on flagship phones. I encountered with just a few skipped frames but nothing major.
Finally, the phone doesn't have any overheating issues.
ZTE Axon Mini Review: MULTIMEDIA

As far as multimedia consumption goes, the Axon mini is just fantastic. The front firing speaker is loud and it has quite a lot of depth in its sound. Also, listening to music via earphones is just a blast. The integrated Hi-Fi audio chips really make a difference if you love high quality sound with lots of depth and rich tones.
ZTE Axon Mini Review: CAMERA
As far as the camera app, it is fast, responsive and easy to use. It has a few shooting modes to select but the settings menu works only in the portrait mode for some reason.
The 13MP camera can produce some nice and sharp looking images but it is inconsistent.
The positive side is that you will usually get a good looking image, which has a accurate colours, decent dynamic range and contrast.
If you are not lucky, you may take some daylight images with softer focus and not that impressive level of details.
When it comes to the low light shots, some of them are pretty good but again, the camera is inconsistent as some of the images have a huge amount of noise and the lack of details.
8MP selfie shooter is pretty good and will definitely do the tick for social media needs.
The phone can shoot videos at the max. resolution of 1080p. The most impressive thing is… the quality of sound recording. Other than that, the level of details is decent but the auto-exposure is too aggressive as it is jumping like crazy. Also, the footage looks shaky despite the fact that I tried to hold my hands as steady as possible. See a video review for the video sample.
All in all, the Axon mini has a good overall camera but hopefully we will see a software update as it needs some more polishing to show its full potential and be more consistent.
ZTE Axon Mini Review: CONNECTIVITY

The signal reception has been excellent and the call quality of  the Axon phone is good. Also, other connectivity options like Wifi, Bluetooth, GPS work absolutely fine.
ZTE Axon Mini Review: BATTERY LIFE

The 2800mAh non-removable battery performs very well both in terms of active usage and standby. I could constantly get over 4.5 hours of screen-on time using max. auto-brightness setting, browsing the web, checking emails and social media, taking pictures and so on.
ZTE Axon Mini Review: CONCLUSIONS

So, there you have, the ZTE Axon Mini Premium with a pressure sensitive display tech. I have to tell you that there is a lot to love about this phone. It all starts with great design and all-aluminum-titanium body makes it look like an expensive handset.
Also, the Axon mini is very compact considering today's standards as it has 5.2" display, which is just brilliant to look at and pressure sensitive related features are definitely a fun way of interacting with your phone if you get used to using them.

Also, the phone has a great battery life, a microSD card slot, good performance, fast and accurate fingerprint scanner and high quality sound.
However, while the camera experience is mostly positive and you may get some good looking images, we may want to see a software update to improve its consistency. Also, the video recording quality could be a bit better overall.

Finally, the ZTE Axon Mini Premium is definitely a great all-around phone despite a few shortcomings that may be even fixed with future software updates. All in all, given the current pre-order price of just below $300, it is easy to recommend it.