Snapdragon 650 vs Helio X10 vs Snapdragon 808: AnTuTu Scores Compared!
Just yesterday, Xiaomi announced a new version of the Xiaomi Redmi Note 3 smartphone that comes with Snapdragon 650 inside. In case you don't know, this is the new Snapdragon 618 chipset that was recently rebranded as the 650. However, it's a relatively new chip which means we don't have much idea about how it performs in real life as compared to its competition like Helio X10 or even Snapdragon 808.
But, when it comes to the benchmark scores, the Snapdragon 650 clearly shows its superiority amongst its rivals. So, today, let's take a close look at how the chip stands as compared to competitors i.e. Snapdragon 650 vs Helio X10 vs Snapdragon 808. In this comparison, we will take a look only at the AnTuTu scores, because that's readily available at the moment. This is not an extensive comparison, rather it focuses on just the benchmark scores.
Firs of all, let's take a look at the Snapdragon 650's benchmark scores.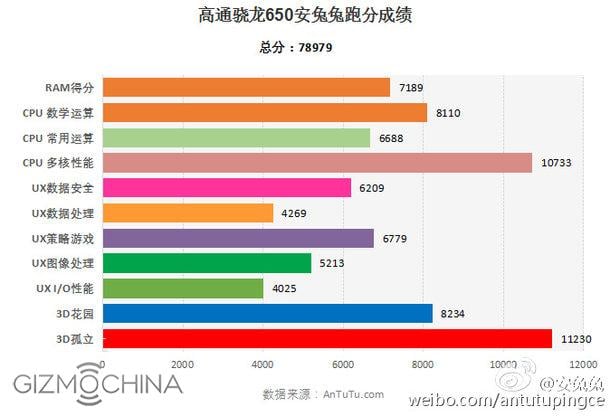 These scores are pretty good considering that the chip managed 78979 on AnTuTu! That used to be flagship level benchmark score on the app, which really shows how much power lies in the chip. The 2 x Cortex A72 cores + 4 x Cortex A53 cores make the chipset powerful as well as efficient. Moreover, Adreno 510 GPU makes sure that the chip's graphics performance is going to be great.
Now comparing the Snapdragon 650 vs Helio X10 chipsets, we can see that Qualcomm has done a good job, making it much more powerful than Mediatek's Helio X10.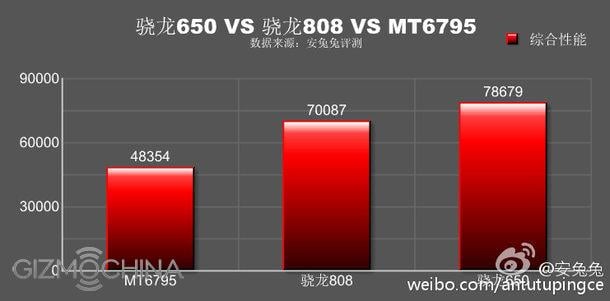 Helio X10 used to be the star of the budget segment, ever since it was featured in the first Redmi Note 3 model. Xiaomi was the first to launch this chip in a 1000 Yuan smartphone and soon, others followed. The chip is actually pretty good for the budget segment and it manages to score about 48000 on AnTuTu.
But when compared to the Snapdragon 650, its no match. As you can see in the image above, Snapdragon 650 not only blows Helio X10 out of the park but its even better than the mid-range Snapdragon 808. Now, considering that hexa-core Snapdragon 808 powers many good smartphones like the LG G4 and the Xiaomi Mi 4C, it's really great to see that the new generation Snapdragon 650 scores even higher than this chip.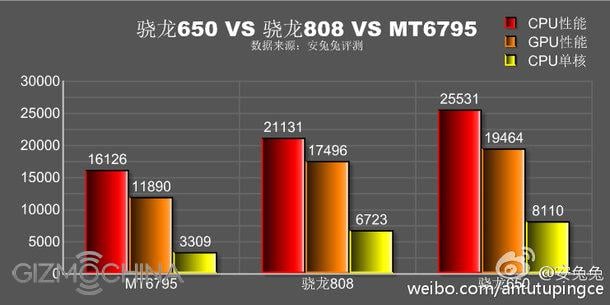 That being said, now digest the fact that this chip powers the entry-level Redmi Note 3 (new generation) and you will understand what level budget smartphones have reached today!
Now, let's take things to another level. Let's bring in last year's best smartphone chipset to the comparison, namely the Exynos 7420. The chip scores around 80K-85K on AnTuTu, which means this chip isn't too far behind. So, performance wise, at least on AnTutu, it's too close to 7420 for a budget chipset.
So, it looks like the Snapdragon 650 inside the new Redmi Note 3 is really quite powerful for a $100 smartphone.
While it's great to see such a chip inside a budget mid-ranger, there is one section of the population that's really going be disappointed to hear this news — EXISTING REDMI NOTE 3 OWNERS. There are a lot of fans who bought the old Redmi Note 3 in the past couple of months and they won't be happy for sure.
So what do you think about the new Snapdragon 650 chipset? Do you think upgrading a phone with better specs every few months is really good for the industry?