QICENT 6-Port 2.4A Smart Usb Charger Review
We have reviewed quite a few multi-port USB chargers lately and this time around we are looking at the 
QICENT 6-Port 2.4A smart USB charger. Find out more in our full review.
UNBOXING

The Qicent 6-Port USB charger comes in a neat packaging and the contents include some instruction manuals and a power cord.
DESIGN

The Qicent USB charger is very compact and it easily fits in the palm of your hand. It is made of glossy plastic, which does not not feel but it attracts fingerprints very quickly.


The star of the show here are 6 USB ports and each of them are capable of providing 2.4A of power output. In addition, each port detects the device you connected at charges it at the maximum possible speed.

The bottom is made of matt plastic (they should have made the top part matt too, in my opinion). Here you can find some specs. However, there is a major disadvantage. There are no silicone or any other pads, which would help the USB hub stick on the table and prevent it from sliding. Of course, it can be easily fixed by buying those pads but we believe each manufacturer should include them either already sticked on the USB charger or packed separately.

On one of the sides there is a power input port.

Overall, Qicent 6-Port 2.4A smart USB charger is sturdy, compact, well constructed and it does not seem to break anytime soon.
FEATURES and FUNCTIONALITY

Once you power the device up, a tiny LED lights up to let you know that the USB hub is ready charge your devices.

I actually needed to find all my USB cables to be able to use all 6 ports to charge my devices. The test results suggest that USB hub works flawlessly. While the Samsung Galaxy S6 Edge did not reach the same charging speeds as with the original charger (the phone ships with a fast charger), other phones indeed charged quickly. In fact, Asus Zenfone 2, which charges extremely slowly with the stock charger, detected Qicent as a fast charger.
CONCLUSIONS

While the market is full of multi-port USB chargers and it may be hard to choose from the variety of them, Qicent is worth your consideration. It does all the things right as far as functionality goes and it indeed charges the devices fast.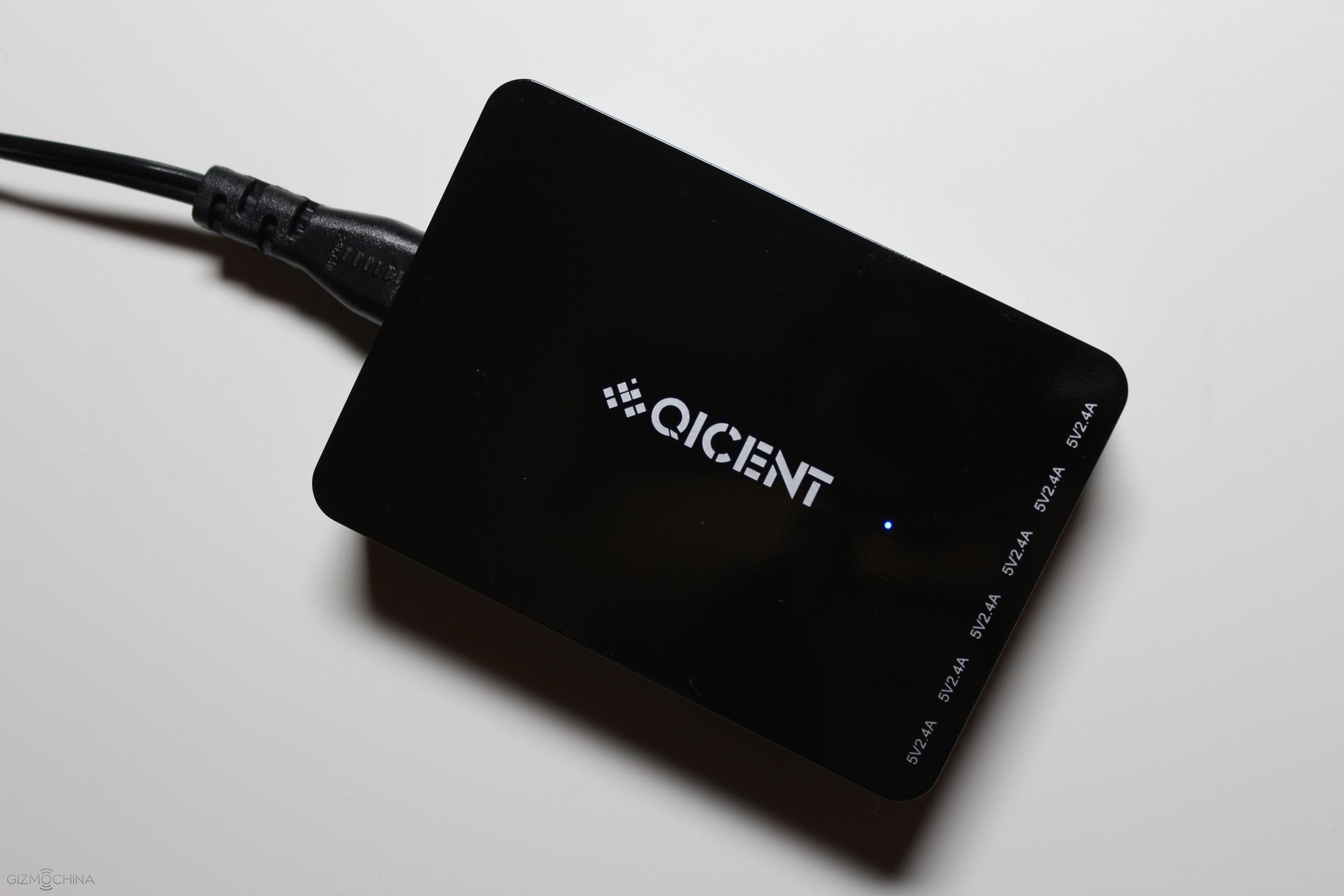 However, a glossy plastic finish attracts fingerprints and smudges easily and the lack of silicone pads on the bottom of the USB charger are a few disadvantages.
Still, the Qicent is well worth the price of just $16.99.