Xiaomi May Release Xiaomi Mi 4S Alongside The Mi 5 Flagship Today
Our wait is almost over. Xiaomi will release the Mi 5 flagship today at its Spring Conference at 2PM Beijing time. However, yesterday, we reported that an analyst said the Mi 5 may not be the only product announced tomorrow. There will be "one more thing" at the event. While at that time, things were unclear, now, we might have a faint idea as to what to expect from the conference.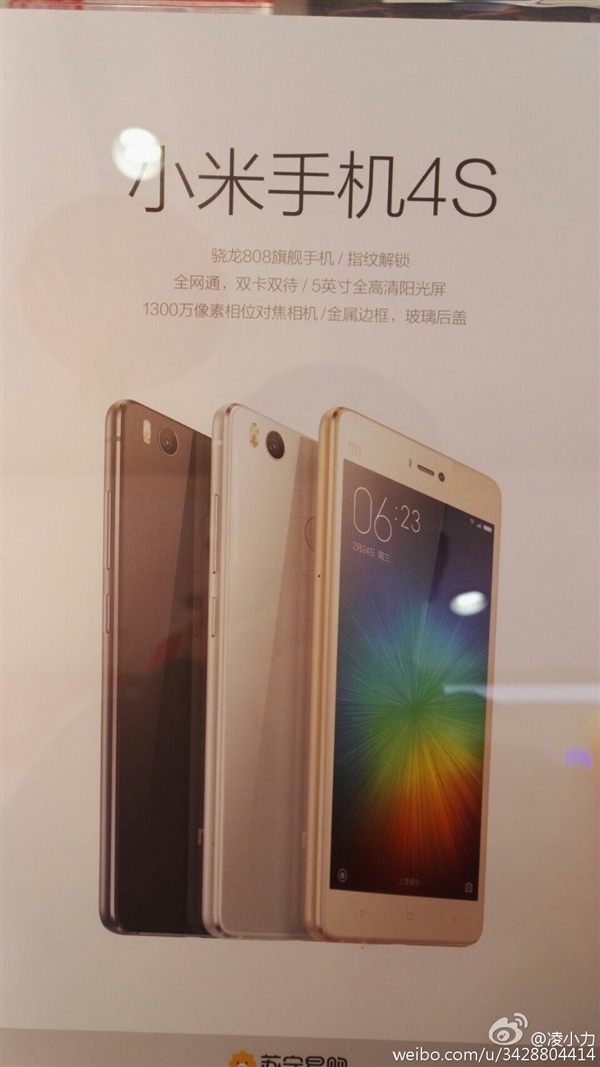 According to a leaked poster from the retailer Suning, Xiaomi will most likely announce another handset at the event, namely the Xiaomi Mi 4S. Like the name suggests, this could be a slightly upgraded version of the Mi 4 flagship, targeted at users who want a cheaper device. From the image, the phone doesn't look like a premium handset. Instead, the company could be looking at the mid-range segment who like thin devices.
The poster also reveals the specs of the Mi 4S. The phone will reportedly come with a 5-inch FHD 1920 x 1080p Sunlight display, with metal and glass body. Under the hood, there will be the Snapdragon 808 hexacore processor, the same one that powers the LG G4. At the back, it will have a 13MP camera with PDAF (Phase Detection Auto Focus) and dual LED flash. The Mi 4S will support all three major carriers in China and will come with dual SIM dual standby. Finally, the device will also feature a fingerprint sensor, which as we can see, will be located on the back side.
Given that the conference is just a couple of hours away, things will get clear quite soon. The specs and the overall image tells us that this device could be much cheaper than the Mi 5. Considering rumors say that the Mi 5 will start at 1999 Yuan, we can expect the Mi 4S to retail at a much lower price tag. If
If it's priced at $220, would you consider it?