Four Xiaomi phones get 3C certification, Could Be From The Redmi Series
by Shine Wong Mar 8, 2016 10:06 am0
Just after announcing its flagship Mi 5 and mid-range Mi 4s, the company seems to be working on a new phone. Four new models 2015810,2015817,2015818 and 2,015,819 were spotted on the 3C certification website recently. They could be variants of the same phone.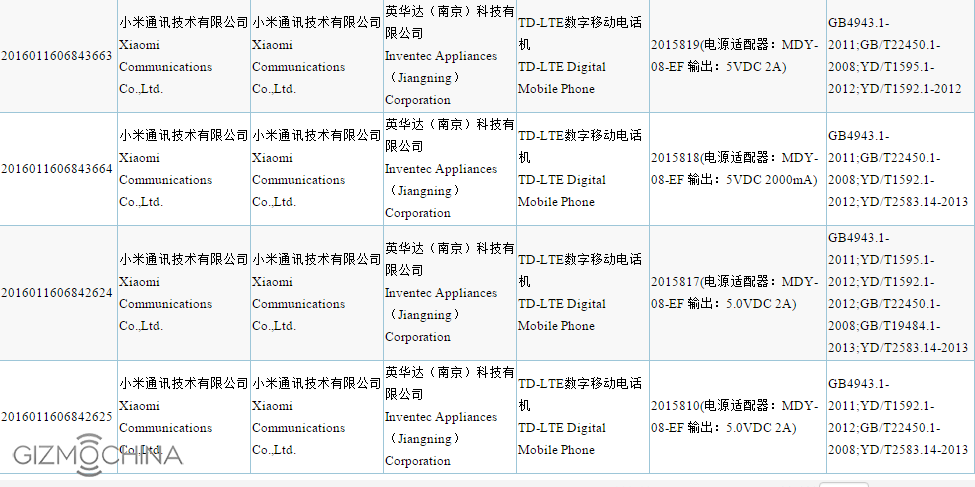 These models are found using charger MDY-08-EF, output specifications for the 5V / 2A. Given that the charger is just 5V 2A which is generally used by the budget Redmi lineup, there's a good chance that these phones might be associated with the Redmi series. The Mi series now comes standard with fast charge support.
However, the Redmi Note series has been updated three times within a few months. The company's last device in the series was the Redmi Note 3 Pro which was launched back in January with snapdragon 650 processor. So, it's likely that this could be an updated model of the low-budget Redmi 3. But we are not quite sure of anything at the moment. Redmi 3 was also announced just a couple of months back. So, will Xiaomi release an update so soon?
We will have to wait and watch. Stay tuned for more details.