Elephone P9000 vs OPPO R9: Helio P10 Powered Phones Compared
A few months back, Elephone unveiled a brand new series of high-end smartphones powered by Mediatek's MT6755 Helio P10 processors. One of the highlights of the lineup was the Elephone P9000 flagship featuring pretty powerful specifications. Now, there's another Helio P10 powered flagship in town, namely the OPPO R9, so it's time for a Elephone P9000 vs OPPO R9 specs comparison. Both are similar in many ways, but differ in terms of some specification. Pricing will be it's biggest difference, which we will elaborate more in the later sections.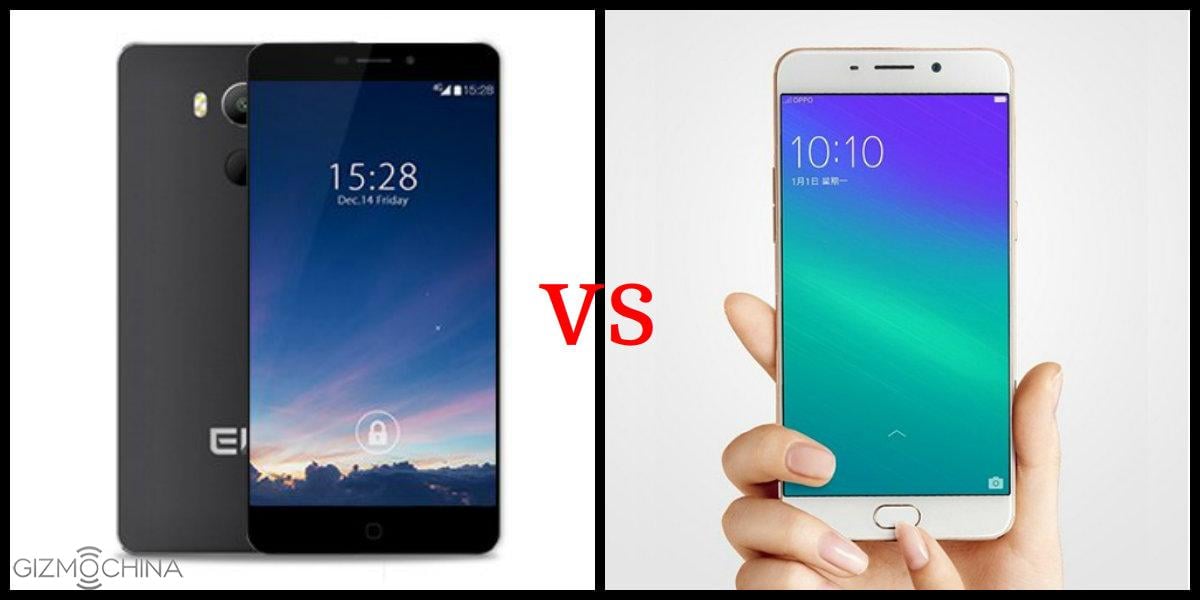 Design & Build:
OPPO R9 comes with an all metal design, while the P9000 features a plastic body. Looks wise, we would have to say that the R9 is much better than the Elephone model. In fact, OPPO boasts that the R9's body features up to 98% metal. Even the build seems to be better on the R9, but it's going to be a personal choice. So, we better leave that for you guys to decide.
Now let's look at what we can actually compare between the two devices i.e. specs.
Elephone P9000 vs OPPO R9: Specs
So, in this department, both feature pretty similar hardware. Both the models are powered by the new Helio P10 MT6755 octa-core chip with Mali-T860 GPU. Both come with 4GB of RAM on board, but the OPPO has an edge when it comes to storage, because it features 64GB internal memory rather than 32GB on the P9000.
Both models come with a 5.5-inch FHD 1080p display with narrow borders. In fact, according to official specs, the OPPO R9 comes with 1.66mm border while the Elephone P9000 features a 1.6mm border around the screen. In terms of battery as well, P9000 has an edge, thanks to its 3080mAh capacity battery instead of 2850mAh on the R9. But the R9 does have the super fast VOOC charging. The P9000 can boast of wireless charging.
Coming to the camera department, both models have 13MP rear cameras, but P9000 adds Laser Autofocus. But we can't really judge the camera performance of both the devices without an official review.
The front camera is definitely going to be the deciding factor. The OPPO R9 comes with a powerful 16MP sensor with the company's self perfection technology as well as beauty 4.0 software. On the other hand, the P9000 features a decent 8MP shooter.
Other features common in both include 4G LTE support and fingerprint sensor. However, you get NFC on the P9000 model which is absent on the R9.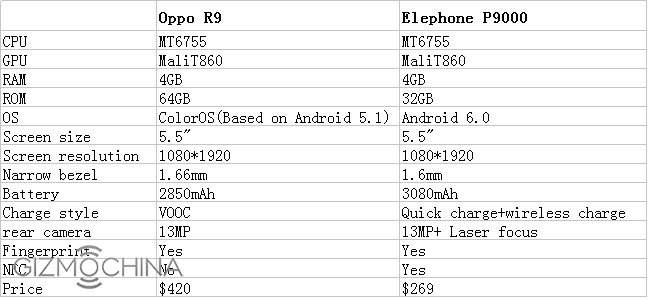 PRICE:
Finally, coming on the price, the OPPO R9 is officially priced at around $420, while the Elephone P9000 currently retails for around $269. Considering the specs on board, the P9000 is not a bad deal.
So, which one would you pick?