Xiaomi Generated More Than $288 Million In Revenue During Mi Fan Festival This Year
Every year, around April 6, Xiaomi kicks off the Mi Fan festival to celebrate its anniversary. The company was founded on April 6, 2010 and we all know where it has managed to reach in the past six years. The company now operates in a number of markets, two of them being the world's top smartphone markets, India and China. Thanks to its aggressive pricing and customer oriented approach, Xiaomi has managed to gather fan following in millions.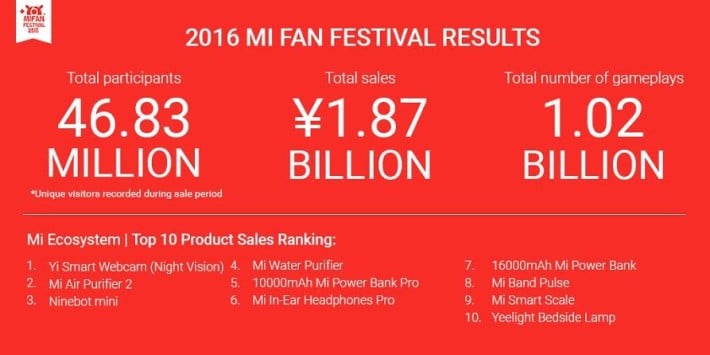 Like tradition, this year as well, Xiaomi had the Mi Fan festival and the numbers are impressive than ever before. The company managed to break previous records by generating a revenue of 1.87 billion Yuan which is nearly $289 million. In comparison, last year, the company managed to make 1.25 billion Yuan in revenue, so this year is definitely a level up. The company saw over 46.83 million participants during the sale period.
Simultaneously, Xiaomi also had the Mi Fan festival in India, wherein the company managed to sell over 100,000 smartphones and accessories. Yesterday being the major sale day for the company, its website saw over 1.2 million unique visitors in one day. The company had a lot of devices up for sale during the festival period, which includes new products like the Xiaomi Mi 5 Pro, Redmi 3 Pro, Induction Cooker, Mi Water Purifier and Mi TV 3S. All these products were announced a couple of weeks back in China.
In the past couple of years, Xiaomi has managed to diversify its porfolio of products by investing in a number of different companies and startups. This has led to the birth of many Xiaomi branded products other than the core business that comes under the new Mi ecosystem brand called as Mijia.
So how many Xiaomi products do you own?