Limited OnePlus 3 Units Goes On Sale In China On June 6
OnePlus 3 is going to sell its upcoming OnePlus 3 flagship even before its official launch. The company has just revealed that a few limited units (1000) will be up for sale on June 6. So, you could very well be one of the first users to get hold of the device in China. The company has priced the device at 2999 Yuan (around $455). OnePlus adds that this is not the official price tag of the product, instead, this price is for the early adopters. It's likely that the OnePlus 3 flagship starts at a much lower figure than this, as revealed by earlier rumors.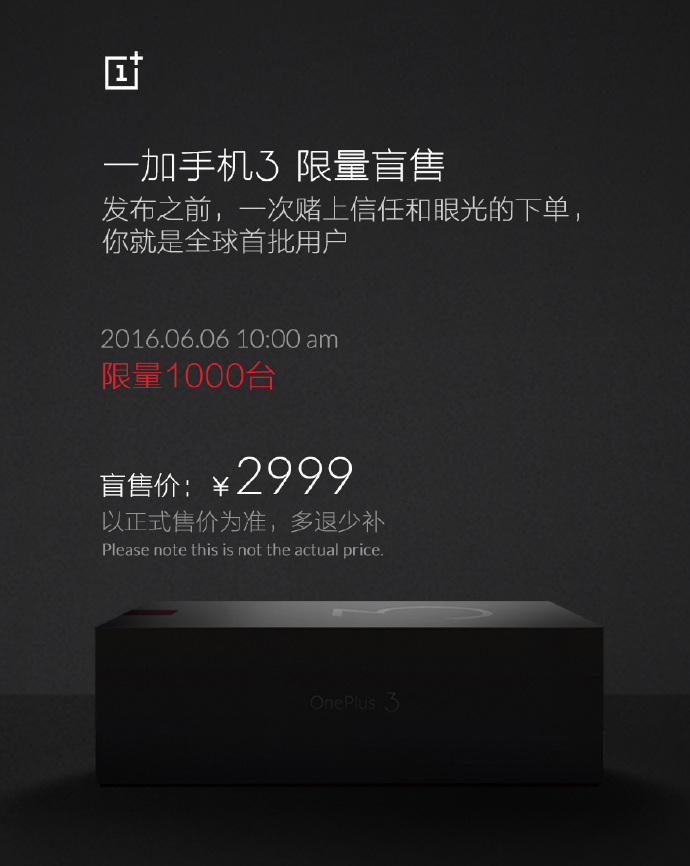 So, why would you even consider paying $455 for the new device? Well, if you want to be one of the first ones to experience the OnePlus 3, then this is a good opportunity. Further, the company is said to give out a few extra presents to the early adopters. What makes this sale interesting is that the price you pay will be matched by the official price tag announced on June 15 in China. So, if the official price is greater than 2999 Yuan, you will have to shell out more to compensate for the difference. If the price is less than this figure, OnePlus will refund the difference back to you. Further, you have 7 days to cancel the order — till June 14 6PM Beijing time, i.e. if you change your mind.
As for the shipments, the OnePlus 3 will be shipped on the same day as the announcement, i.e. June 15. So, your OnePlus 3 should arrive at least a couple of days before the regular orders.
You can check out more details about this sale from here (in Chinese): http://rush.oneplus.cn/a-smarter-gift.html
If you don't want to shell out this much for the device, you can try to get into the peer community review program from the company. Read more about that from here.