OPPO R9 FC Barcelona Edition With Messi, Neymar & Suarez's Signatures Sold For $13,500
OPPO recently released the OPPO R9 FC Barcelona Edition in two colors, blue and red. The customized version looks very good and I am sure many of Barcelona fans will try their best to get hold of one of these devices. However, apart from the regular FC Barcelona edition, the company had a special OPPO R9 FC Barcelona MSN Edition in blue with the signatures of three great footballers, Messi, Neymar and Suarez. The company recently auctioned off the device on JD.com and guess what, the phone managed to fetch nearly $13,500!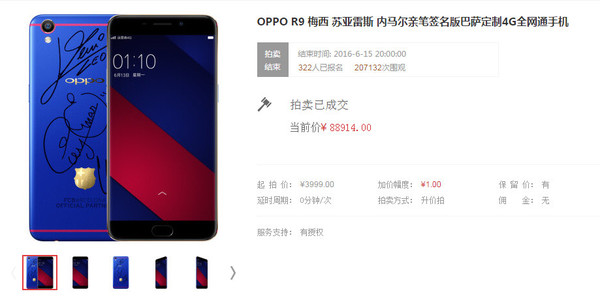 This customized OPPO R9 FC Barcelona edition comes with an 18K gold plated team logo at the back which is reportedly crafted by hand. Further, the signatures of the above-mentioned footballers can be found on the back of the device. A lot of fans participated in the auction on JD's website, and this customized version was finally sold for a whopping 88,914 Yuan which comes to around $13,494. That's a lot of money for a smartphone. The starting price was 3999 Yuan ($607) and in a matter of 10 hours, after fierce competition, it was sold off for the above price.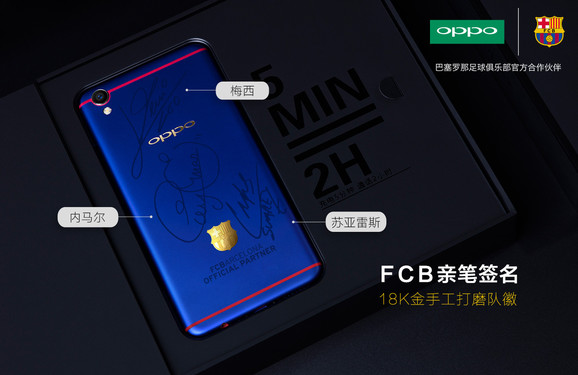 In case you are wondering, OPPO is not looking to make profits from this auction, instead, it will donate the money received for the phone to charity. So, it seems to be a win-win situation for all. The buyer gets a brand new OPPO R9 with FC Barcelona customizations and the signatures of Messi, Neymar and Suarez. The money goes to charity and OPPO gets its fair share of spotlight.
Meanwhile, you can check out the unboxing pictures of the FC Barcelona Edition from here.