Jim Wicks, Head of Motorola Design Team is Leaving The Company
by Habeeb Onawole Jun 22, 2016 4:30 am0
Following the exit of Rick Osterloh (Former President of Motorola Mobility) in March, the company will be bidding farewell to another executive, in person of Jim Wicks who heads the design team.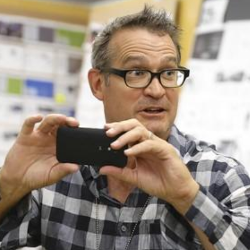 Mr. Wicks had the opportunity of working on some of the company's iconic devices such as the Motorola RAZR, Motorola Droid, Moto X, Moto G and Moto 360. He is said to be leaving next month for Northwestern University's McCormik School of Engineering. What better way to go than to pass on that wealth of experience to the next generation?
Mr. Wicks will be replaced by Ruben Castano who is a senior design director at Motorola.
Following the exit of Jim Wicks, the Lenovo-owned company might be heading towards a new direction with respect to what new devices will look like. Let's just hope they ditch the flat tire design on the Moto 360 and keep the much-loved batwing logo.