Vernee Thor Getting a Third OTA Update Next Week
by Habeeb Onawole Jun 25, 2016 6:10 am1
If you were to conduct a survey to ask why people choose a particular brand over another, regular updates and support will most likely be the response. Personally, it is a deal breaker for me when a device doesn't get support anymore a few months after purchase just because there's a newer phone available (manufacturers that release new phones every month should take note). So when I see a brand that takes updates very important, I tend to give them a little more respect.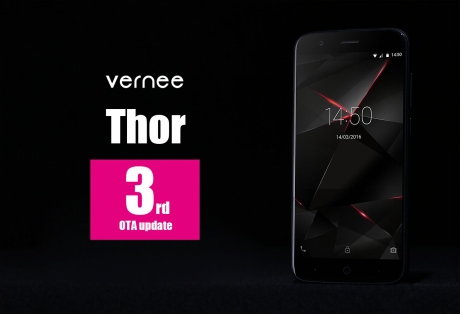 The Vernee Thor has already received two updates since its release and the company is telling their fans to prepare for a third one next week. They've released a change log detailing what fixes will be coming to the phone below:
Fixed the problem of proximity sensor failing under direct sunlight.
Lowered standby power consumption when cellular data, WiFi  or Bluetooth is on.
Addressed potential security or storage leakage issue when WiFi or Bluetooth is on.
Enhanced 2G network access speed.
Fixed WiFi On but no internet connection when the device is far from AP.
Google Security Patch.
The Vernee Thor has a 5" HD screen, 3GB RAM, 16GB of ROM, dual SIM slots, 13MP/5MP cameras, a fingerprint scanner, runs android marshmallow, and sports a 2800mAh battery.