Umi Announces a Euro 2016 Limited Edition of the Super
by Habeeb Onawole Jun 25, 2016 3:03 am1
Following the launch of Umi's latest flagship device, the Umi Super, the company has not left any stone unturned in a bid to win over more customers with the 4GB RAM metal beast. The latest trick they've pulled is releasing a Euro 2016 Edition which sees the phone clad in Royal Blue.  And trust me when I say it is a beauty to behold.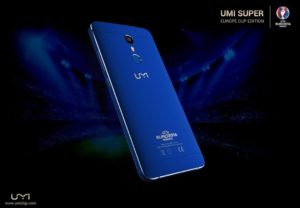 Apart from the visible change to the exterior, the limited edition of the super will feature the same specifications as the original version such as a 5.5" FHD screen, 4GB of RAM, an octa-core Helio P10 processor, 32GB of ROM and a 4000mAh battery which charges from 0 to 75% in 30 minutes. There is also no mention of any added changes on the software side or accessories part, similar to what Samsung did with the Samsung S6 Iron Man Edition which has a dedicated Iron Man theme and a wireless charger styled to look like Tony Stark's Arc Reactor.
The company has however not stated if this limited edition will be bearing the $179 price tag as the original or if it will be priced higher, and how many units will be available for purchase. We are however sure that it'll be out of stock in a very short time after release.