Dedicated Account For Xiaomi's VR Found on Weibo
by Habeeb Onawole Jun 27, 2016 4:20 am0

The big players are already into VR: Google, HTC, Samsung, Facebook, and OnePlus, to name a few, so one would expect Xiaomi should have joined the party too, even before Google listed them as one of the manufacturers that they partnered with to make Daydream ready smartphones during this year's I/O conference.
Seems they already did, because today we found a dedicated Weibo account for Xiaomi's VR project with the username @XiaomiVR.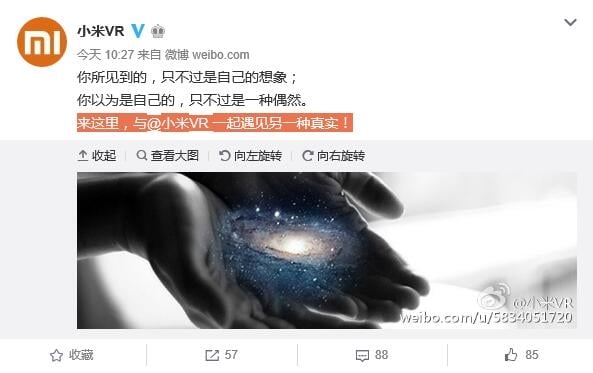 Xiaomi's GM, Tang Mu, stated that the company will release its VR headset in August and but there's no information regarding the price and the specifications. We also do not know if the headset will work for current Xiaomi devices or if it is a step towards the daydream project.
We sure will update you when we get more details about the device.