Xiaomi Redmi Pro could be using OLED display, hints teaser
Apart from the Mi Notebook laptop launching on July 27, Xiaomi is expected to unveil a new flagship smartphone in the Redmi series. All along, the device was tipped to be the Redmi Note 4 since logically the current latest is the Redmi Note 3, until it was outed that the flagship may likely be called Redmi Pro.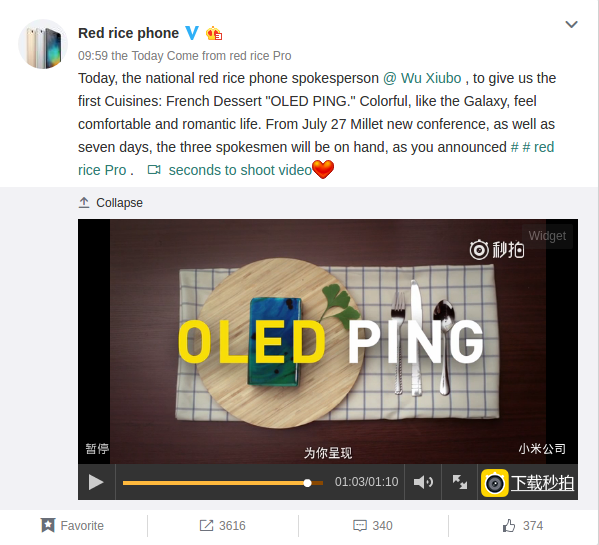 Xiaomi has released a video teaser on its Weibo page that seems to suggest that the Redmi Pro would sport an OLED display. The video teaser and its attached text tells us that one of Xiaomi's new spokesperson, @Wu Xiubo would serve today's first Cuisine which it named as French dessert "OLED PING" and described as "Colorful, like the Galaxy, feel comfortable and romantic life". The message went on to disclose that from today and in the next seven days before the July 27 Xiaomi news conference, the three spokesmen will be involved with the launch of the Redmi Pro.
Read More: Xiaomi Redmi Pro May Carry A Higher Price Tag Than Its Predecessors
The video teaser almost confirms that the Redmi Pro will feature an OLED display. The OLED display will be featured on the 5.5-inch 1080p display which the Redmi Pro has been touted to tag along. Other specs expected on the device includes; a deca-core Helio X25 processor, 4GB of RAM, Android 6.0 Marshmallow-based MIUI, dual cameras, dual SIM and lots of stunning features which would keep you hooked on this device.