OnePlus 3 DASH Charge floors Samsung Galaxy S7's Fast charge in test (Video)
OnePlus released the OnePlus 3 flagship smartphone with a new feature which they called DASH charge which provides up to a day's charge of the device in just 30 minutes. Basically, smartphone batteries have seen little or no improvement in the type of battery in use, perhaps due to advancement in RAM, processor, display technology which is believed now makes the smartphones use less battery capacity.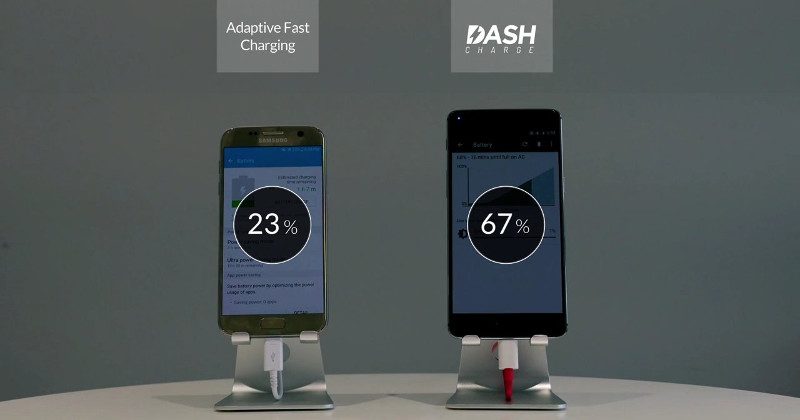 The only noticeable advancement that has come to the battery should be that of Fast Charging technologies which usually give the impression that instead of hours of charging, you can now achieve a reasonable amount of charge capacity in just minutes. Now OnePlus, with its DASH charge technology isn't intent on keeping quiet about the capabilities of its charging technology.
Recently, the guys at OnePlus pitched the OnePlus 3 DASH charge against the Samsung Galaxy S7's Adaptive fast charge and the results showed the OnePlus 3 DASH charge performed better than the Galaxy S7's. It's all up in a video clip if you're interested in having a peek.
It is quite surprising that the pocket-friendly flagship OnePlus 3 can compete with the top-end, expensive Galaxy S7 (some thinks Samsung's just got the name, not the juice) but then charge time varies depending on phone configuration, settings, usage while charging and power source and OnePlus stated that fact in the video.
Both smartphones were subjected to their own charging technologies for 30 minutes, with both starting off from 1% of battery power left. In the end, when the results rolled in, the OnePlus 3 was able to achieve up to 64% charge while the Samsung Galaxy S7 reached just 50%.
That's not all, another test was done with both displays turned on and this time the results were incredible, if not embarrasing. Starting off from 5% apiece, while OnePlus 3 was able to achieve 67% charge capacity in 30 minutes, the Galaxy S7 only got to 23% in the same time duration! Here though, the display resolution of both smartphones would play a vital role, with the Galaxy S7 sporting a higher QHD dsplay than OnePlus 3's FHD. Also, even though both flagships boast of 3000mAh batteries, Samsung's TouchWiz user interface could have made the difference, with a notorious reputation of exerting too much strain on the battery.
In all, the OnePlus 3 DASH charging technology deserves some accolades for this feat and it only shows OnePlus means business when they say their smartphones are flagship grade with affordable price tags.
As mentioned, there can be quite a few factors that affect charging times and rates, even if both smartphones have equal 3,000 mAh batteries. Samsung's TouchWiz interface has been notorious for being a resource hog, though it has certainly improved over the years. Still, the Galaxy S7 is loaded with features that could affect how fast it can gulp power, especially when the display is left on.
Still, it's an impressive feat for OnePlus, especially considering the DASH Charge technology hasn't been out the market for even three months. The company is definitely not shy about singing its praises, going as far as showing how fast it works even while playing a game, one of those "don't try this at home" scenarios. The one drawback to DASH Charge, aside from lacking long-term real-world tests, is that it will work only with OnePlus' USB-C cable in addition to the official charger. Considering how OnePlus 3 is not exactly using the standard USB Type-C, that might mean having to carry around another compliant USB Type-C cable for everything else other than the OnePlus 3.